You can help Campaign Life Coalition by attending all-candidates meetings during election time and asking questions on life/family issues that force the candidates to divulge their position. Then report the answers back to us.
Sample questions you can ask at All-Candidates Meetings
Do you support the alleged right of a woman to kill the child in her womb?
Will you support measures to stop funding abortions with taxpayer money in Ontario?
Do you acknowledge that human life begins at conception (fertilization)?
Do you agree women have the right to be thoroughly informed about the serious health consequences of abortion, the development of their child in the womb and the alternatives to abortion?
Will you support legislation which will acknowledge the right of health care workers to refuse to participate in procedures which are in violation of their religious or conscientious beliefs?
Project: Citizen Journalist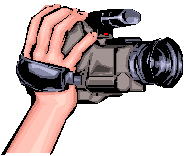 Our website now features the capability of showing video clips of MPs and candidates. Please volunteer as a reporter with PROJECT: CITIZEN JOURNALIST
Tools required: (1) friend, (1) camcorder or video enabled camera / phone
Step 1: Find the date(s) of upcoming all candidates meetings (or nomination meetings) in your riding.
Step 2: Attend the meeting with your friend.
Step 3: Try getting seats as close as possible to stage (for best sound quality)
Step 4: Ask one of the sample questions above.
Step 5: While you are questioning, and the candidates are responding, your friend is filming their answers.
Step 6: Contact CLC to arrange getting the video to us. If the video is good, we will post it on the candidates' personal web profile (see sample below), so that all voters can know their position.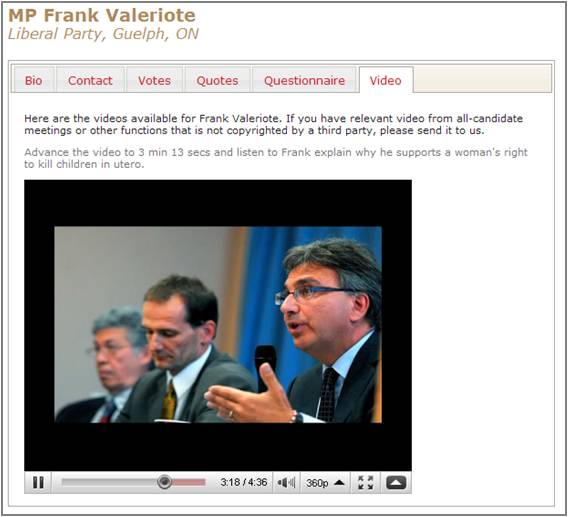 Locations and dates for Provincial all-candidates meetings
1. OTTAWA-SOUTH (for Ontario provincial byelection)
Date: Wednesday July 17 , 2013
Time: 7:15am - 9:15 am
Location: RA Centre - Clark Hall, 2451 Riverside Dr, Ottawa, ON K1H
(see map)
Hosted by: Professional Engineers of Ontario
Note: Although this debate is open to the public, the host states on their website that the focus of the debate will be on regulatory issues of importance to engineers. This may or may not mean that audience questions will be tightly screened.
2. OTTAWA-SOUTH (for Ontario provincial byelection)
Date: Sunday July 21 , 2013
Time: 12 noon (approximately)
Location: Resurrection of Our Lord Catholic Church, 1940 Saunderson Dr., Ottawa, ON, K1G 2C9
(see map)
Note: This all candidates debate will take place in the church hall, right after the 11am worship service.
2. WINDSOR-TECUMSEH (for Ontario provincial byelection)
Date: Thursday July 18, 2013
Time: 7:30pm - 9:00pm
Location: G Caboto Club, 2175 Parent Ave, Windsor, ON N8X 4K2
, (see map)
Hosted by: Windsor-Essex Chamber of Commerce
Note: Unfortunately, they are charging a $13.27 entry fee to the public. You must pre-register through the Chamber's website and their is no guarantee your question will reach the microphone.