You can help Campaign Life Coalition by attending an all-candidates meeting during election time and asking questions on life/family issues that force the candidates to divulge their position. Then report the answers back to us.
Sample questions you can ask at All-Candidates Meetings
1. Do you support the alleged right of a woman to kill the child in her womb?
2. If elected, will you strive to introduce and pass laws to protect unborn children from the time of conception (fertilization) onward?
3. If elected, would you support all legislative or policy proposals that would result in a meaningful increase of respect and protection for unborn human life?
4. Are there any circumstances under which you believe a woman should have access to abortion?
5. If elected, will you oppose any legislative or regulatory measures designed to permit the deliberate euthanasia of a human being or designed to permit "doctor-assisted suicide"?
Project: Citizen Journalist
Our website now features the capability of showing video clips of MPs and candidates. Please volunteer as a reporter with PROJECT: CITIZEN JOURNALIST
Tools required: (1) friend, (1) camcorder or video enabled camera / phone
Step 1: Find the date(s) of upcoming all candidates meetings (or nomination meetings) in your riding.
Step 2: Attend the meeting with your friend.
Step 3: Try getting seats as close as possible to stage (for best sound quality).
Step 4: Ask one of the sample questions above.
Step 5: While you are questioning, and the candidates are responding, your friend is filming their answers.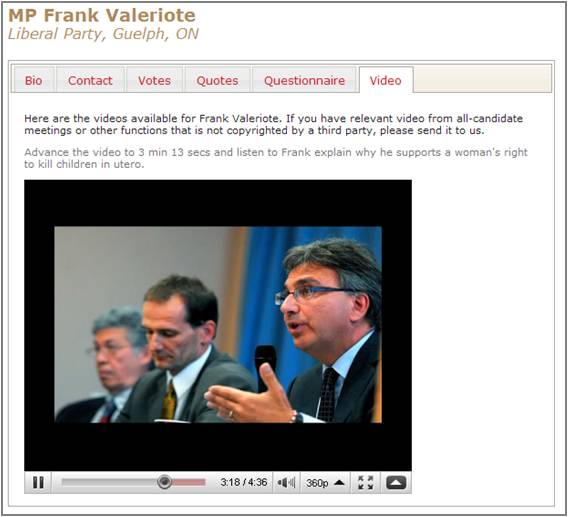 Step 6: Contact CLC to arrange getting the video to us. If the video is good, we will post it on the candidates' personal web profile (see sample right), so that all voters can know their position.
Locations and dates for key all-candidates meetings
Ancaster-Dundas-Flamborough West
June 2, 7:00pm at Rockton Fairgrounds – 812 Old Highway 8, Rockton, ON L0R 1X0
June 9, 7:00pm at Waterdown District High School – 215 Parkside Drive, Waterdown, ON L0R 2H9
Candidates: Donna Skelly (PC), Alex Johnstone (NDP), Ted McMeekin (LIB)
Barrie
June 7, 8:30am at ANAF Crystal Room - 7 George St, Barrie, Ontario, Canada, L4N 2G5
Candidates: Rod Jackson (PC), David Bradbury (NDP), Ann Hoggart (LIB)
Bruce-Grey-Owen Sound
June 3, 7:00pm at Owen Sound Chamber of Commerce - 704 6th St E, Owen Sound, N4K 5N7
June 6, 6:30pm at St. Andrews Church - 865 2 Ave W, Owen Sound, ON
Candidates: Bill Walker (PC), Karen Marilyn Gventer (NDP), Ellen Anderson (LIB)
Burlington
June 6, 7:30am at Burlington Gold and Country Club - 422 North Shore Blvd E, Burlington, ON L7T 3Z9
Candidates: Jane McKenna (PC), Jan Mowbray (NDP), Eleanor McMahon (LIB)
Etobicoke Centre
May 26, 7:00pm at Markland Wood, Home Owners Association - 145 The West Mall, Etobicoke, ON M9C 4V3
Candidates: Pina Martino (PC), Chris Jones (NDP), Yvan Baker (LIB)
Etobicoke-Lakeshore
May 27, 7:00pm at Lambton Kingsway Middle School – 525 Prince Edward Drive, Etobicoke, ON M8X 1S9
Candidates: Doug Holyday (PC), PC Choo (NDP), Peter Milczyn (LIB)
Haldimand-Norfolk
June 4, 7:00pm at Greens Of Renton – RR # 4, 969 Concession 14, Simcoe, ON N3Y 4K3
Candidates: Toby Barrett (PC), Ian Nichols (NDP), Karen Robinson (LIB)
Halton
May 28, 6:30pm at Glenabby United Church – 1469 Nottinghill Gate, Oakville ON L6M 1X7
Candidates: Ted Chudleigh (PC), Nik Spohr (NDP), Indira Naidoo-Harris (LIB)
Huron-Bruce
June 2, 7:00pm at Royal Canadian Legion – 56 Kingston St., Goderich, ON
June 3, 7:30pm at Tesswater Community Centre – 28 Clarinda St., Tesswater, ON
Candidates: Lisa Thompson (PC), Jan Johnstone (NDP), Colleen Schenk (LIB)
Kitchener-Conestoga
June 4, 4:00pm at Woolwich Memorial Centre – 24 Snyder St. S. Elmira, ON
Candidates: Michael Harris (PC), James Villeneuve (NDP), Wayne Wright (LIB)
Kitchener-Waterloo
June 2, 4:00pm at Waterloo Recreation Complex – 101 Father David Bauer Drive, Waterloo, ON
Candidates: Tracey Weiler (PC), Catherine Fife (NDP), Jamie Burton (LIB)
Lambton-Kent-Middlesex
June 2, 8:00pm at Kent Council Chambers, 315 King Street W, Chatham, ON N7M 5K8
June 3, 7:00pm at Legacy Centre – 16 Allen Street, Thedford, ON N0M 2N0
June 9, 7:00pm at Caradoc Community Centre, 565 Lions Park Dr, Mt Brydges, ON N0L 1W0
Candidates: Monte McNaughton (PC), Joe Hill (NDP), Mike Radan (LIB)
London West
May 29, 7:00pm at Oakridge Presbyterian – 970 Oxford St W, London, ON N6H1V4
Candidates: Jeff Bennett (PC), Peggy Sattler (NDP), Nick Steinburg (LIB)
Mississauga South
June 3, 7:00pm at Clarkson Secondary School – 2524 Bronsgrove Rd, Mississauga, ON L5J 1L8
June 10, 7:00pm at Cawthra Senior Center – 1389 Cawthra Road Mississauga, ON, L5G 4L1
Candidates: Effie Triantafilopoulos (PC), Anju Sikka (NDP), Charles Sousa (LIB)
Newmarket-Aurora
May 30, 7:00pm at Newmarket Theater – 505 Pickering Crescent, Newmarket, ON, L3Y 8H1
Candidates: Jane Twinney (PC), Angus Duff (NDP), Chris Ballard (LIB)
Nipissing
May 28, 6:00pm at Clarion Hotel – 201 Pinewood Park Drive, North Bay, ON P1B8Z4
Candidates: Vic Fedeli (PC), Henri Giroux (NDP), Catherine Whiting (LIB)
Northumberland-Quinte
May 29, 7:00pm at Brighton Legion – 25 Park St, Brighton, ON K0K 1H0
Candidates: Rob Milligan (PC), Kira Mees (NDP), Lou Rinaldi (LIB)
Oakville
May 27, 7:00pm at St. Annes in Gwen Abby – 4675 Doug Wright Drive Burlington, ON L7M 0N9
Candidates: Larry Scott (PC), Che Marville (NDP), Kevin Flynn (LIB)
Ottawa South
May 29, 7:00pm at Hillcrest High School, 1900 Dauphin Road, Ottawa, ON
Candidates: Matt Young (PC), Bronwyn Funiciello (NDP), John Fraser (LIB)
Ottawa-Vanier
June 3, 7:00pm at Centre de services Guigues - 159 Murray St, Ottawa, ON
Candidates: Martin Forget (PC), Herve Ngamby (NDP), Madeleine Meilleur (LIB)
Ottawa West-Nepean
June 5, 7:00pm at F.J. McDonald School, 2860 Ahearn Ave. Ottawa, ON
Candidates: Randall Denley (PC), Alex Cullen (NDP), Bob Chiarelli (LIB)
Perth-Wellington
May 29, 7:00pm at Stratford Rotary Complex – 353 McCarthy Rd, Stratford, ON N5A 7S7
Candidates: Randy Pettapiece (PC), Romayne Fullerton (NDP), Stewart Skinner (LIB)
Peterborough
June 2, 7:00pm Lions Community Center – 347 Burnham, Peterborough, ON K9H 1T5
Candidates: Scott Stewart (PC), Sheila Wood (NDP), Jeff Leal (LIB)
Prince Edward-Hastings
June 4, 7:00pm at Huntingdon Veteran Community Centre in Ivanhoe – 11379 Hwy 62, Madoc, ON, K0K 2K0
June 5, 6:00pm at Empire Theatre Belleville – 323 Front, Belleville, ON K8N 2Z9
Candidates: Todd Smith (PC), Merrill Stewart (NDP), Georgina Thompson (LIB)
Scarborough-Guildwood
June 3, 7:00pm at 43 Division Police Station community room – 4331 Lawrence Ave E, Toronto, ON
Mitzie Hunter (LIB), Ken Kirupa (PC), Shuja Syed (NDP)
Simcoe North
May 28, 7:00pm at Orilla Council Chambers – 50 Andrew Street S, Orillia, ON L3V 7T5
May 29, 5:00pm at Midland Cultural Centre – 333 King St, Midland, ON L4R 4K4
Candidates: Garfield Dunlop (PC), Doris Middleton (NDP), Fred Larsen (LIB)
Stormont-Dundas-South Glengarry
May 29, 7:00pm at Cornwall Civic Complex – 100 Water St E, Cornwall, ON K6H 6G4
June 5, 6:00pm at South Nation Headquarters – 38 Victoria St, Finch, K0C 1K0
Candidates: Jim McDonell (PC), Elaine MacDonald (NDP), John Earle (LIB)
Thunder Bay-Superior North
June 5, 5:45pm at Thunder Bay Chamber Of Commerce – 200 Syndicate Ave S, Thunder Bay, ON P7E 1C9
Candidates: Derek Parks (PC), Andrew Foulds (NDP), Michael Gravelle (LIB)
Toronto Centre
June 4, 6:30 at Rosedale United Church – 159 Roxborough Drive, Toronto, ON
Candidates: Martin Abell (PC), Kate Sellar (NDP), Glen Murray (LIB)
Wellington-Halton Hills
May 28, 7:30pm at John Elliott Theatre, 9 Church St, Halton Hills, ON L7G 2A3
June 5, 7:00am at Ares Family Restaurant, 232 Guelph St, Georgetown, ON L7G 4A8
Candidates: Ted Arnott (PC), Dale Hamilton (NDP), Dan Zister (LIB)
Windsor West
May 29, 8:30am at Caboto Club – 2175 Parent Ave, Windsor, ON N8X 4K2
Candidates: Henry Lau (PC), Lisa Gretzky (NDP), Teresa Piruzza (LIB)
York-Simcoe
June 4, 7:00pm at Bradford & District Community Centre – 125 Simcoe Rd, Bradford, ON
Candidates: Julia Munro (PC), Laura Bowman (NDP), Loralea Carruthers (LIB)
Vaughan
June 5, 7:00pm at Vellore Village Community Centre – 1 Villa Royale Ave, Woodbridge, ON
Marco Colette (NDP), Steven Del Duca (LIB), Peter Meffe (PC)