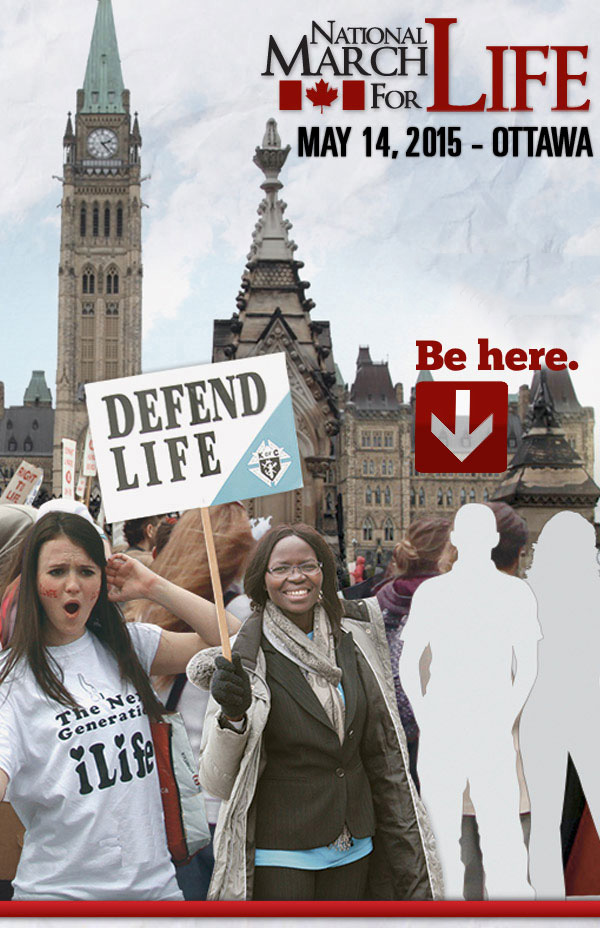 On May 14th, 2015 march like
someone's life depends on it!
Each year at the National March For Life, tens of thousands gather to demand protection for children before and after birth. Last year, an estimated 23,000 pro-lifers assembled on Parliament Hill and marched through downtown Ottawa to inform Canadians that we are the only western nation with no protection for the unborn. Provincial Marches For Life also take place simultaneously across Canada, drawing thousands more.

Since 1969, over 4 million children have been killed by abortion in Canada. In 2015, another 100,000 babies will be put to death, at taxpayer expense, while society turns a blind eye. This event is a great opportunity for people of all ages to join in the civil rights movement of our day. By your presence, you can show lawmakers that the abortion issue is not settled.
The Main Event!

Starting May 14th at 12 Noon

Leading up to the March through the streets, the gathered crowd first hears inspiring addresses by MPs, senators, religious and pro-life leaders.
| | |
| --- | --- |
| above: some of the MPs who addressed the crowd in past | above: some religious leaders address the crowd |
| After speeches, the March begins at Parliament Hill, through downtown Ottawa, and returns again to Parliament. From the Hill, women and men then share personal testimonies about the damage of abortion-choice in their lives. | |
Evening Functions
Rose Dinner

Youth Banquet

We invite you to attend the annual Rose Dinner on May 14th at Ottawa's Hampton Inn for an opportunity to hear notable pro-life speakers (reserve tickets in advance 1-800-730-5358).

We anticipate 1,000 young people will attend this Youth Banquet at the Hampton Inn on May 14th after the march. It's a fun event with engaging speakers that motivate youth. Order tickets in advance at 1-800-730-5358 or your local CLC office.

Ticket price: $90 per person or $900 to
block a table of ten (includes taxes)


Ticket prices: $45 for students, $75 for teachers and chaperones

March For Life promotional literature
| | | |
| --- | --- | --- |
| Brochures: | English - coming soon | French - coming soon |
| Poster, 8.5x11: | English - coming soon | French - coming soon |
| | | |
To order physical copies of the brochures or posters for your church or school, contact CLC Ottawa at 613-729-0379 or email debbie@campaignlifecoalition.com. These attractive items serve as great church bulletin inserts or posters for classroom doors and hallways.
Become a Facebook fan of the National March for Life here.