You can help Campaign Life Coalition by attending all-candidates meetings during election time and asking questions on life/family issues that force the Public School Trustees and candidates to divulge their position. Then report the answers back to us.
Sample questions you can ask at Trustee All-Candidates Meetings
(For Ontario) The Ontario government wrote a new sex ed curriculum that was set to begin Sept 2010, but has been postponed for the time being. It will teach 8 year-olds about homosexuality and so-called gender identity. It will subject 6th graders to instruction on the pleasures of masturbation and vaginal lubrication, and 12 year-olds to lessons on oral sex and anal intercourse. This is the corrupting of our children. Will you or will you not oppose implementation of this sort of curriculum in our schools?
Do you agree that parents, not the state, have the inherent right of primacy in education of children?
Will you defend the inherent right of parents to be notified, in advance, about any lesson, speaker or presentation involving controversial issues such as abortion, contraception and homosexuality?
Do you agree that parents should have the right to withdraw their children from classroom lessons or presentations involving controversial issues such as abortion, contraception and homosexuality?
Project: Citizen Journalist

Our website now features the capability of showing video clips of MPs and candidates. Please volunteer as a reporter with PROJECT: CITIZEN JOURNALIST
Tools required: (1) friend, (1) camcorder or video enabled camera / phone
Step 1: Find the date(s) of upcoming all candidates meetings (or nomination meetings) in your riding.
Step 2: Attend the meeting with your friend.
Step 3: Try getting seats as close as possible to stage (for best sound quality)
Step 4: Ask one of the sample questions above.
Step 5: While you are questioning, and the candidates are responding, your friend is filming their answers.
Step 6: Contact CLC to arrange getting the video to us. If the video is good, we will post it on the candidates' personal web profile (see sample below), so that all voters can know their position.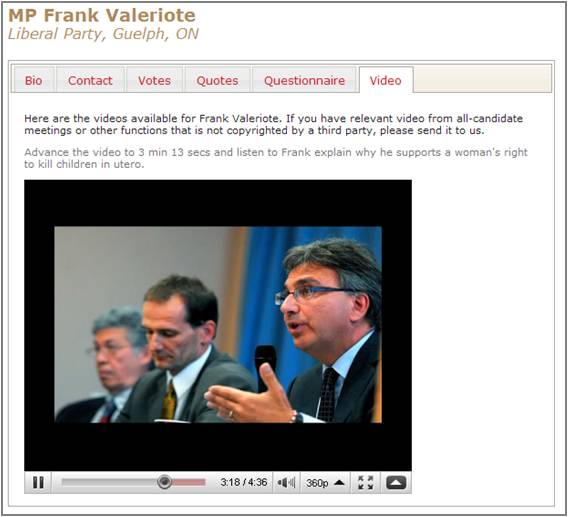 Locations and dates for key all-candidates meetings
NO MEETINGS TO REPORT AT THIS TIME.