Join the next internationally coordinated campaign to save lives, this Fall from September 23 - November 1, 2020!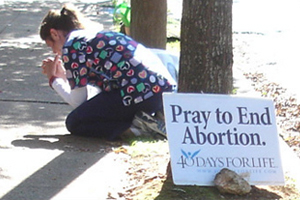 This Fall, there will be hundreds of communities in North America, including several Canadian cities, simultaneously hosting a 40 Days For Life campaign from September 23 - November 1, 2020.
If you wish to join 40 Days For Life in your community, please contact your local campaign coordinator (below) and find out how you can join a prayer vigil. If you wish to bring 40 Days for Life to your community go to www.40daysforlife.com to apply to host a campaign.
Please consider becoming a prayer volunteer by donating at least 1 hour of prayer and fasting in front of the local abortion facility. If you are part of a church community, perhaps your pastor would like to "Adopt a day"? Do you belong to a lay movement or ministry? Why not book a full day of prayer for your group?
Fall 2020 locations
ALBERTA
BRITISH COLUMBIA
MANITOBA

NOVA SCOTIA
ONTARIO

QUEBEC
**** **** ****
What is 40 days For Life™
40 Days for Life is a focused pro-life effort that consists of:
40 days of prayer and fasting for an end of abortion
40 days of peaceful vigil
40 days of community outreach
Watch The Official Promo Video
The fruits of 40 Days For Life and its history in Canada
17,226 lives saved!
After witnessing tremendous success by the 40 Days For Life program in the United States, Campaign Life Coalition brought it into Canada for the first time in 2007, holding our nation's first 40 day vigils in Ottawa and Halifax. Since then, CLC volunteers and other pro-life groups and individuals have organized 40 Days For Life campaigns in more than 20 cities across Canada. Some cities run the campaign twice a year (Spring & Fall). Other cities run them only once annually.
Since 2007, 7,440 individual campaigns have taken place in hundreds of cities in 63 nations across the world, bringing together 1,000,000 people in this historic display of unity, prayer and fasting for an end to abortion.
40 Days For Life has succeeded in shutting down 107 abortion facilities, and has documented saving at least 17,226 babies. In addition to the babies, 206 abortion workers have quit their jobs and walked away from the abortion industry and thousands of women have been spared the suffering and trauma that comes with the decision to abort one's own child.
Impact of No-Free Speech, abortion bubble zones
In recent years, many provincial governements have passed draconian laws criminalizing pro-life expression (and even silent prayer) within 50 metres of an abortion facility. These are totalitarian anti pro-life speech laws which aim to criminalize offering support and resources on alternatives to abortion to women in crisis.
Therefore, these prayer vigils will be taking place just outside the 50 metre censorship zone.