They want to jail us
October 24, 2017

Dear Ontario pro-lifers,

Within 24 hours, your member of provincial parliament will be voting on a totalitarian piece of legislation that, if passed, will put pro-lifers in jail for peacefully witnessing outside abortuaries!

Not only will it become illegal to peacefully witness against the violence of abortion, but this legislation, drafted by Kathleen Wynne's Ontario Liberals together with her allies at Planned Parenthood, threatens law-abiding citizens who offer information and support to women contemplating abortion with fines of up to $5,000 and six months in jail.

Can you believe it? Peaceful, prayerful, and compassionate support for pregnant women will now be a crime!

Last week, the government and opposition parties cut a deal to fast-track this bill.

At the bill's second reading vote last week, only one MPP said no! Jack MacLaren was the lone MPP who voted no. (He should be commended for his courage)

The third and final vote is this week. Contact your MPP now, and demand that they stand up for freedom of speech and freedom of assembly. Urge them to stand against the powerful abortion industry and to stand up for the citizens who lovingly reach out to women who so often "choose" abortion only because they feel hemmed in by external pressures or even by outright coercion. Tell them to vote no on Bill 163.

Campaign Life Coalition is working in overdrive to fight this evil bill.

Last week, we handed in thousands of signed petitions to numerous MPPs across the province.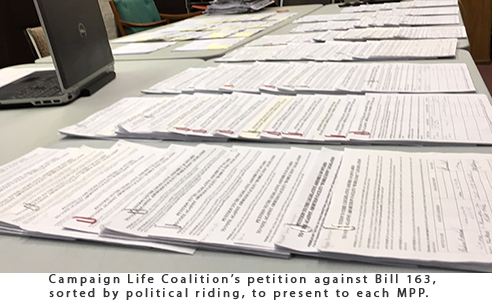 Our CLC experts testified at the Bubble Zone committee hearings at Queen's Park. On your behalf, Campaign Life Coalition took a stand for free speech. We defended the right of women to have access to alternatives to abortion when our spokespersons presented at the Committee Hearing.

But they didn't listen. The Liberal-dominated committee members wouldn't even dare to look at the photos of moms and their babies who chose life because of pro-life witness. Watch video below starting at 46 minutes until 46 min 50 seconds.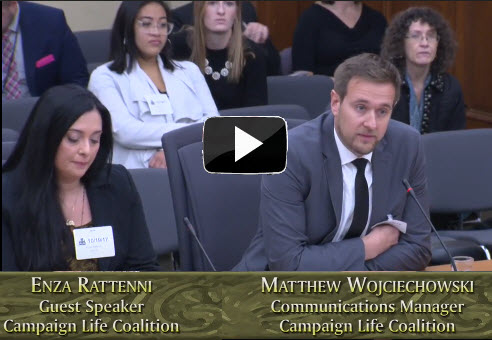 Campaign Life Coalition held a press conference at the Queen's Park press studio which featured an experienced side-walk counselor, a 40 Days for life local organizer, and a post-abortion healing ministry who all shared the other side of the story. But the politicians and the media didn't listen.
We've reached out to spiritual and political leaders, whose silence has been deafening, to defend the pro-life movement. All the good pro-lifers who've stood in the gap, dedicating their their lives to helping women choose life deserve that support.

Will you listen? Will you help?

Pick up the phone now and call your MPP. Find your MPP at this link here and phone their Queen's Park legislative office where they are working today.

If Bill 163 passes, the abortion extremists won't stop there.

Their next step will be to shut down Life-Chain, the March for Life, to silence any type of opposition in the public square, and to arrest anyone who doesn't comply.

In France, the socialist, anti-life government made it illegal to dissuade women from choosing abortion on the internet, voting to ban pro-life websites. Might that be in store for our future?

As CLC spokesperson, Matthew Wojchiechowski, told the Committee, "This legislation is anti-free speech, anti-science, and is a contradiction to those who claim to be pro-choice. This isn't about being pro-choice. In this bill, there is only one choice, and that is abortion."

Contact your MPP now!


Thanks, and God bless,

The Campaign Life Coalition Team
www.CampaignLifeCoalition.com


P.S.: Please help us continue to fight against the criminalization of pro-life speech on taxpayer-owned, public sidewalks. Make a generous donation to help CLC continue this battle.