Tanya can win - debate performance proved it.
February 16, 2018
Our only endorsed PC Leadership candidate, Tanya Granic Allen, participated yesterday in the first TV debate between the four Leadership contenders, hosted by TVO's Steve Paiken.
We're excited to tell you that Tanya easily won!
She handily outperformed Doug Ford, Christine Elliot and Carolyn Mulroney, and set the agenda for the debate.
In a tweet, even Mike Crawley, a journalist from the very liberal CBC, agreed: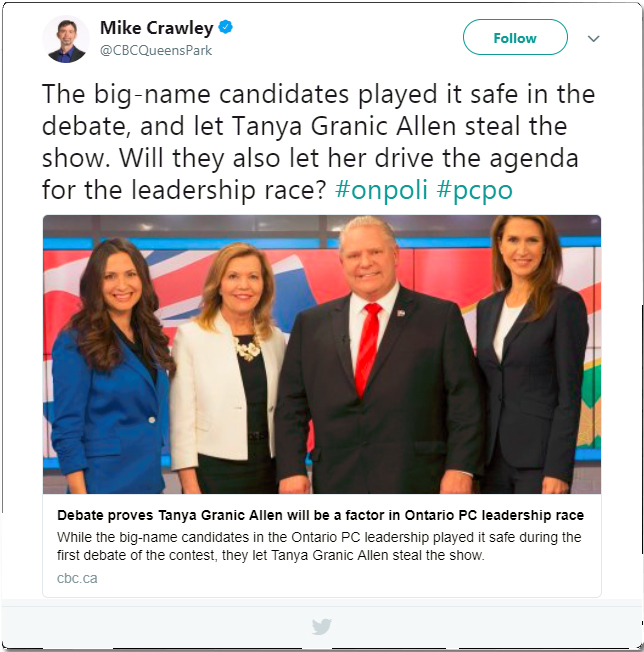 In a subsequent column, the CBC reporter added:
"...she more than held her own against Christine Elliott, Doug Ford and Caroline Mulroney, firmly establishing herself as a factor in the race. It's a sign that social conservatives intend to have an influence over who becomes the next PC leader, and possibly the next premier."
Watch video highlights of Tanya's best moments during the debate:
In these "best of Tanya" clips that we compiled for you, Tanya shreds Kathleen Wynne's perverted sex curriculum, and takes Elliott to task for supporting a bill that made it illegal for parents to get therapy for their gender-confused children.
More evidence that Tanya is a serious contender is an opinion poll on the website of the uber-liberal Toronto Star.
As of this writing, Tanya is the #2 preferred choice of the 4 candidates to win the race, just a touch behind Christine Elliott.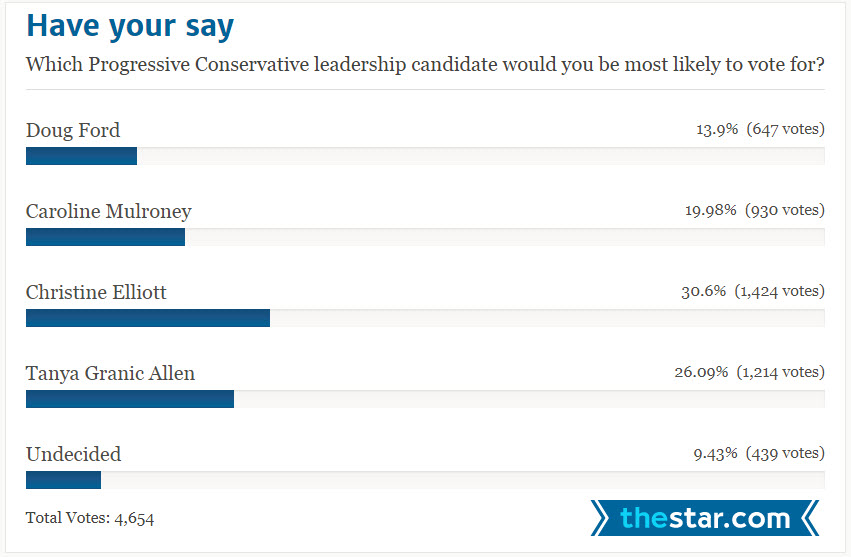 To vote in this poll, click here and scroll halfway down the page.
Please share the poll and ask your friends to vote.
Campaign Life Coalition is grateful to our many supporters who signed Tanya's nomination papers, donated towards her campaign, and have become PC members.
We believe that Tanya Granic Allen has a real chance of winning this thing.
The whole shebang.
To ensure that happens, please buy or renew your PC Party membership by clicking here. (Note: do not fill out the "I was personally recruited by" field. If you were to fill in that you were recruited by Campaign Life Coalition, liberal-progressive staffers within the party might find a way to make your membership accidentally "vanish".)
The deadline to become a voting member online is 11:59pm Friday February 16th.
If you'd like to contribute towards her leadership campaign, donate here.