Voter fraud in the 2018 Ontario PC Convention
August 29, 2019
Dear Ontario Supporters,
Last November 2018, the Ontario PC Party held a convention to elect a new party executive (including a new party president) and consider a range of policy proposals and constitutional amendments.

Heading into the convention, Campaign Life Coalition endorsed individuals running for six positions on the Ontario PC Party executive, including for the positions of President (Jim Karahalios) and 1st Vice President (Hayden Faus).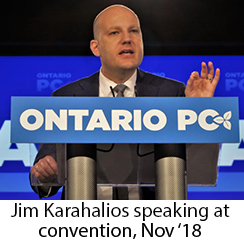 We also helped to pass three parental rights policy resolutions, a conscience rights policy to protect medical practitioners, plus other socially-conservative policies. Finally, we supported 12 proposed constitutional amendments that would have helped level the playing field for pro-life and pro-family PC members who have been treated unfairly for too long.
Chicago mob style fraud during Executive Committee votes
CLC encouraged many of you to be elected as PC delegates and to spend hundreds of dollars to attend convention. We have a moral obligation to report to you the troubling results of unethical and fraudulent voting practices that have since been uncovered. As a result, attendees of the PC convention were defrauded of their right to cast a vote in a process that was free, fair, and democratic.

At convention, CLC was very confident in the chances of success for our Executive candidates (especially for President) and the constitutional amendments we endorsed. We were surprised when party officials announced only three of the six CLC endorsed candidates were successful. We also found it odd that the voting results from the executive election were not provided by the party.

Now we know why.

Since convention, Jim Karahalios' lawyer conducted an investigation in order to document the details of the voter fraud that occurred. You can see the summary by clicking here.

Karahalios' lawyer has uncovered information from witness statements that shows staff from Ontario PC Party headquarters and staff from Premier Doug Ford's office, orchestrated, promoted, and permitted, significant voting irregularities and fraud to occur in order to stop the candidates that CLC endorsed in favour of the candidates that Doug Ford and his staff cut a deal in order to support.

The investigation by Karahalios' lawyer reveal that MORE BALLOTS THAN VOTES were counted in the election for party executive. The investigation into the results of the vote for party president revealed:
1,179 delegates were reported as registered and eligible to vote at the party convention;
Less than 1,000 of those eligible delegates voted for the position of party president;
607 of these individuals voted for Jim Karahalios over Brian Patterson (this is a majority, which means Jim should've won);
1,230 people voted – over 230 more people than were eligible to vote;
1,345 ballots were cast – over 345 more ballots than the eligible voters who voted;
What the above numbers indicate is that Karahalios received more than 60% of the vote for Party President, to Brian Patterson's less than 40%. And yet, Patterson was declared the winner.
Karahalios's investigation has also revealed how the staff was able to pull this off.
The voters list during the executive election was changed mid-election making it impossible to track who had already voted and thus allowing individuals to vote more than once;
Encouraging or allowing individuals to vote who were not properly registered or eligible as elected delegates from their ridings;
Conducting the election with ballots that were not unique and could be easily reproduced by a black and white photocopier;
Failing to provide for a proper reconciliation of the ballots with the voters list because the results showed that more ballots than votes were cast.
Following convention, Karahalios' repeated requests to review and inspect the ballots and the voter list were denied by the Ontario PC Party - even though his lawyer asked the Ontario PC Party to preserve the ballots during the election.
In addition, Karahalios reports that during the voting on constitutional amendments that took place while the executive election ballots were being counted, individuals who were not eligible to vote received delegate badges in order to stop key constitutional amendments from passing.

This resulted in 100 more votes being cast during the constitutional plenary as compared to the policy plenary that was held the day before. These extra ineligible voters were the reason why 9 of the 12 constitutional amendments CLC endorsed failed to achieve the necessary 66% required to pass even though they achieved over 50% support.
Karahalios has posted a survey for those interested to share their opinion on his investigation. We encourage you to review the full details of his investigation and complete his survey by visiting www.jimkarahalios.ca/survey.
Supporting Karahalios and his campaign for justice
CLC feels badly for Karahalios. It has not been an easy couple of years for him in his efforts to fight for free, fair, and democratic elections in the Ontario PC Party.

You might remember Karahalios led the Axe the Carbon Tax and Take Back Our PC Party campaigns that focused on fighting the corruption of the Ontario PC Party's policy and nomination process during the reign of Patrick Brown.
For his efforts, Karahalios was on the receiving end of unprecedented retribution. The party temporarily revoked his membership, denied him entry to the PC Party's 2017 convention, and he was even sued by the party. Luckily, thank God, he won the lawsuit when a judge ruled it was an egregious effort to silence his participation in the political process.
It is because of Karahalios' campaigns that the Ontario PC Party changed their mind on a carbon tax and Doug Ford eventually repealed Ontario's cap-and-trade carbon tax. For a brief time, it also appeared that the Ontario PC Party would finally respect the voice of grassroots conservatives.
We had thought corrupt voting practices would have come to an end under Doug Ford's leadership. Unfortunately, that has not been the case.
Permitting and accepting corrupt voting practices in internal Ontario PC Party races is the most significant threat that we face in our fight to elect pro-life and pro-parental rights conservatives.
This practice cannot be tolerated.
The above shows the extreme lengths that staff at the Ontario PC Party and the PC Leader's office will go to in order to stop candidates, policies and constitutional amendments from passing that are endorsed by CLC and by the vast majority of Ontario PC Party delegates who also lean socially-conservative.
Threat to PC candidate nomination elections
The reason why CLC is supporting Karahalios' effort to expose and correct the injustice that occurred during the election for Party President is near and dear to CLC's regular pro-life work. We recognize that if the party gets away with cheating on the Executive Elections, it will be emboldened to cheat on candidate nomination votes, whenever it wants.
For instance, if a pro-life/pro-family MPP has been too outspoken on our issues for Ford's liking, let's say a Sam Oosterhoff type, why not cheat with fake ballots and illegal votes in that individual's next nomination challenge before the next election? The Party or the Premier's office can simply eliminate that unwelcome voice by rigging the nomination vote and replacing him/her with someone of the establishment's choosing.

In another realistic scenario that we fear could result from the PC establishment getting away with cheating on the Party President vote, is that they might decide they can also get away with not allowing any more "trouble-making" social conservatives to become candidates. Why not, if they can just rig the nomination contest to ensure outspoken pro-life and pro-family nomination candidates never win?

This is an existential threat to CLC's political work and goal of electing a pro-life, pro-family majority to Queen's Park
We must do all we can to help Karahalios clean out corruption in the PC Party.
Thank you and God bless.

Jeff Gunnarson
National President
Campaign Life Coalition
www.campaignlifecoalition.com
www.voteprolife.ca
P.S. You can review the full details of the unethical and fraudulent voting practices that occurred at the Ontario PC Party's convention by clicking here https://www.jimkarahalios.ca/pc-party-executive-election.
P.P.S. You can show your support for Jim Karahalios's fight against voter fraud by taking the survey at this link https://www.jimkarahalios.ca/survey.