Voter's Guide to B.C. Provincial Election
October 21, 2020
Campaign Life Coalition is pleased to share with you our Voter's Guide to the British Columbia provincial election.
Part 1 - Supportable Candidates
There are only 10 candidates we have deemed to be "Supportable" by pro-life voters, based on their public statements or actions.
Four of them are in the BC Liberal Party, four are in the Christian Heritage Party, and two in the BC Conservatives. Unfortunately, all other candidates in the remaining ridings either did not respond to CLC's questionnaire, were not reachable, or have a record or policy position that is not pro-life or pro-family.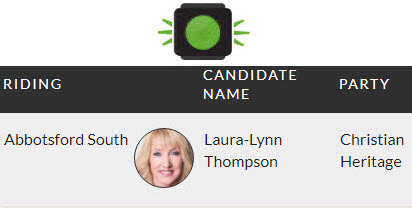 Click Laura-Lynn's photo to learn more


Click Simon's photo to learn more
Note: Two pro-life options in Abbotsford-Mission


Click Aeriol's photo to learn more


Click Laurie's photo to learn more


Click Shelly's photo to learn more
Note: Two pro-life options in Langley


Click Mary's photo to learn more

Click Margaret's photo to learn more
Note: Two pro-life options in Langley East


Click Ryan's photo to learn more


Click Dan's photo to learn more


Click Dee's photo to learn more


Click Rod's photo to learn more
To see how Campaign Life Coalition has rated candidates in the remaining 80 ridings not listed above, click here to search by riding name, or here to find your local riding by postal code.
Part 2 - Comparing Party Platforms & Leaders
We will look only at the five main provincial parties in our analysis.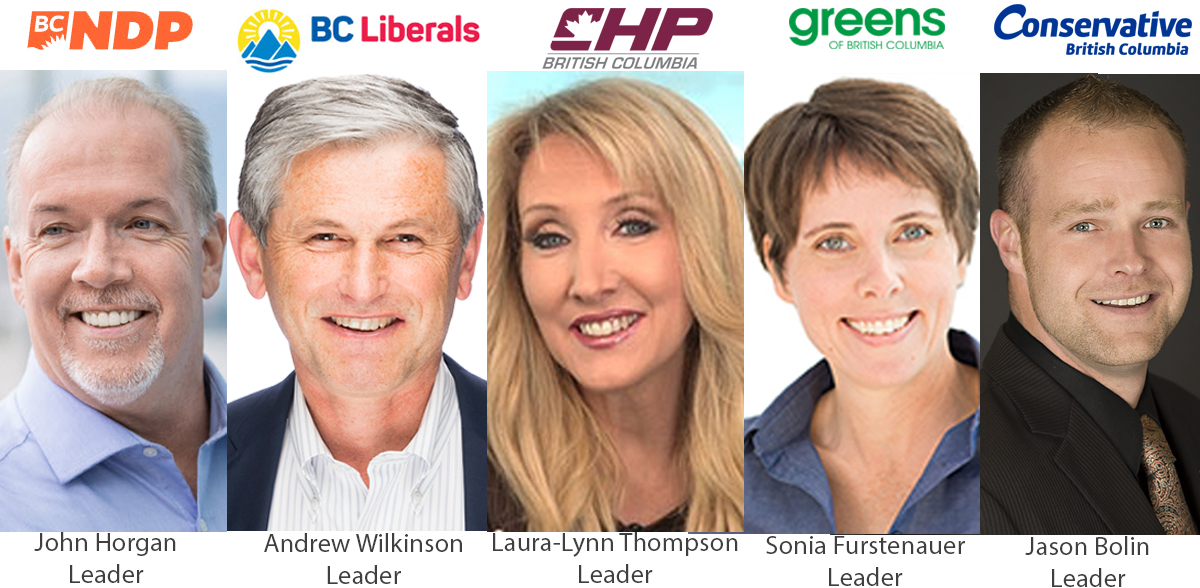 2.1) ndp Platform & leader john horgan
Both John Horgan and the NDP are officially pro-abortion, pro-euthanasia and pro-LGBT ideology.
The John Horgan NDP government has shown a hateful intolerance towards Christianity, which is absolutely palpable. It ordered a pro-life palliative care facility operated by the privately-owned Irene Thomas Hospice to begin committing euthanasia or else lose public funding. The hospice, unable to participate in a procedure its staff and Directors believe is murder, voluntarily offered to give up public funding, and operate from private donations, in order to avoid coercion to commit euthanasia.
The response of the Horgan NDP was to reject the offer and announce that it would seize the private assets of the hospice (paid for with $9 million of private donations), shut it down, and then re-open it as a government-run palliative care facility that also lethally injects its patients upon request. The pro-life hospice is currently fighting John Horgan in court, to not be coerced to choose between their vocation and killing their patients.
The Horgan NDP made a decision to fully-fund the chemical abortion pill, Mifegymiso. During the initial Wuhan virus lockdown, the NDP shut down all elective surgeries – including for breast and other cancers, but… kept medically-unecessary abortions going full steam, by declaring abortion to be an "essential service" during the pandemic.
It was the NDP, elected in 1990, that introduced regulations within the province's Health Act, to force hospitals within each region of the province to provide "abortion services", even where the hospital board of directors had voted against the practice. In 2001, the ruling NDP government issued one of the most radical pro-abortion resolutions ever seen in North America which included increased funding for the medical training of abortionists; enhanced access to abortifacient morning-after pills; and increased fees for abortionists.
The NDP also passed a "bubble zone" censorship law to prevent peaceful, pro-life protests in front of abortuaries, still in effect today.
The BC NDP is also opposed to traditional family values. Its constitution includes a "Lesbian-Gay-Bisexual-Transgendered Caucus" within the party. It was the NDP who spearheaded a successful effort to demand the apology of Christian MLAs in the Liberal Party for advertising in a Christian magazine that adheres to biblical beliefs on marriage and gender.
2.2) Liberal PARTY PLATFORM & LEADER andrew wilkinson
For a long time, the BC Liberal Party has been the mainstream political party that many pro-life and pro-family politicians call home. The BC Liberals have been tolerant of traditionally-principled views and allowed its pro-life MLAs to speak at the March For Life.However, Andrew Wilkinson has been an exceedingly disappointing Liberal Leader and he is remaking the party into a place that is no longer safe for pro-life and pro-family British Columbians.
Wilkinson publicly supports abortion and he voted in favour transgender ideology. He is always quick to please the left-wing media, even if it means throwing the socially-conservative members in his party, and in the electorate, under the bus.
After the NDP and media feigned outrage at the fact that some of his Christian MLAs placed a small advertisement in a Christian magazine that adhered to the biblical view of marriage, Wilkinson condemned the ad and promised journalists his MLAs woudn't advertise there again.
On October 15, 2020, in order to please the howling NDP socialists, Wilkinson forced the pro-life Liberal MLA Laurie Throness, to resign over comments he made in opposition to the NDP's scheme to provide free, tax-payer-funded contraception throughout the province. Throness thoughtfully compared the NDP's contraception drug-pushing to a kind of soft eugenics, which would implicitly encourage the poor to contracept themselves out of existence. In addition to condemning the very reasonable assessment by MLA Throness, Wilkinson reassured the media that the BC Liberal Party, under his leadership, is pro-abortion and supports the NDP plan to fund all contraception with taxpayer dollars.
2.3) Green PARTY PLATFORM & LEADER sonia furstenau
We have not been able to find a clear statement outlining the BC Green Party's position on abortion. However, its 2020 election platform includes a pledge to cover the cost of all contraceptives, which would include abortifacients like the morning after pill, for every person under the age of 25. In a campaign video which sounded like classic euphemistic references to abortion, the Green Leader, Sonia Furstenau, mentioned advocacy for "women's rights" and boasted that she was part of a "women's rights march" when she was young.
The official Green Party platform includes introducing legislation to ban so-called "conversion therapy", which would:
criminalize parents who try to help their gender-confused children to be at peace with their bodily reality,
criminalize pastors who agree to provide voluntary spiritual counselling to people who ask for guidance with their unwanted gender confusion or same-sex attraction, and
criminalize licensed psychotherapists and psychologists who agree to provide helpful talk therapy to patients who request assistance with unwanted gender confusion or same-sex attraction
The Green Party platform includes decriminalizing possession of ALL drugs. This includes crack, cocaine, crystal meth, heroin and so many dangerous narcotics. The Greens want to set up government-run, heroin shooting galleries throughout the province. These are euphemistically called "safe consumption sites" in order to gloss over the dangerous and fool-hardy public health policy that has worsened the drug problem and destroyed local communities in places like Vancouver and Toronto.
2.4) Christian heritage party (CHP) PLATFORM & LEADER laura-lynn thompson
The CHP is an officiallly pro-life, pro-family and pro-religious freedom party. Indeed, the CHP is the party best aligned with Campaign Life Coalition's values on life, family and freedom. The CHP Leader, Laura-Lynn Thompson, has been a tireless advocate for parental rights, anti-child sexualization, religious freedom and the sanctity of life.
The CHP election platform includes:
Delisting elective abortions from the list of procedures covered by the province's health insurance plan.
Repealing the NDP's abortion "bubble zone" censorship law which outlaws peaceful, pro-life expression on taxpayer-owned, public sidewalks.
Restore access to information for statistical information about abortions performed in all BC hospitals and private clinics. (This information was hidden from the public by order of a previous BC government.)
Defend its senior citizens and those with disabilities from attempts to institute euthanasia.
Believes in the right and duty of parents to raise their own children responsibly according to their own conscience and beliefs.
Believes that the institution of marriage should be restricted to the union of one man and one woman.
Eliminate the BC Human Rights Tribunal, a biased kangaroo court that is often used by radical LGBT activists to harass and silence Christians and conservatives.
2.5) conservative PARTY PLATFORM & LEADER Trevor Bolin
Although the Conservative election platform is silent on abortion, it does include the following worthy policies and/or statements:
A condemnation of the NDP's attack on the Delta Hospice Society, in which the NDP commanded the former's pro-life palliative care facility to commit euthanasia upon its patients, and is now planning to shut it down and seize its assets because it still refuses to kill.
A statement that hospices should have the right to opt out of providing euthanasia.
A guiding principle that declares: "freedom of speech is a hallmark of a free society. Compelled speech in any form is a violation of the Canadian Charter of Rights and Freedoms. Individual freedoms of thought, belief, opinion, and expression supersede all compelled speech".
A guiding principle that declares "it is unethical and wrong to require applicants for government-funded programs to sign a values test attestation endorsing government ideology in order to be eligible to receive government funding".
Adding the protection of parental rights as a new responsibility of school trustees under the British Columbia School Act.
A "School Choice" policy that provides equal funding, per student, whether parents enroll the child in a public, charter or independent school.
Amend the biased Human Rights Tribunal to require rules of evidence and procedures to be followed as they would be in a court of law. The HRT is routinely abused by radical LGBT activists to persecute and harass Christians and conservatives.
Recognizes that families are the most important building blocks of our communities and our society and must be supported.
The Leader, Trevor Bolin, has not made any public statements on abortion that CLC has been able to find, but he did speak out against the NDP government coercing the Delta Hospice Society to violate its religious and ethical beliefs by demanding the palliative care facility participate in euthanasia.
---
If you have not yet voted, we hope this Voter's Guide is of some help to you. To find your voting location, look it up at the Elections BC website here.