Stop the 'Bathroom Bill'. Don't put men inside girls washrooms!
Petition to the assembled House of Commons against the "Bathroom Bill"
WHEREAS the Liberal Government's transgender 'Bathroom Bill', C-16, will grant biological males the legal right to access girls' washrooms, change rooms and showers, by merely claiming to be a woman inside their minds, even if they have never undergone sex-change surgery, and even if they fully have the appearance of a man;

AND WHEREAS this would create a legal loophole for male sexual predators who will pretend to be transgendered in order to get in close quarters with their potential female victims;
AND WHEREAS there has already been an alarming rise in the incidence of bathroom attacks and voyeurism on unsuspecting young girls and women, which legislators should be hesitant to accelerate across Canada;
AND WHEREAS MPs should be hesitant to contribute to sexual assaults on women, by learning a lesson from the conviction of sexual predator, Christopher Hambrook, who was jailed indefinitely in 2014 after pretending to be a transgender "woman" named Jessica in order to obtain entry to women's shelters in Toronto, where once inside, he sexually-assaulted two vulnerable women;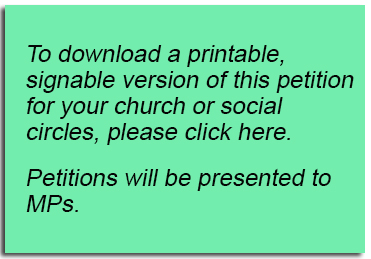 AND WHEREAS MPs should learn a lesson from the 2015 voyeurism incident at the UofT's University College, where male students held their cell phones above the shower stall dividers in the politically-correct, gender-neutral, communal washrooms, to record female students as they showered;
AND WHEREAS the Liberal government's "Bathroom Bill" represents an assault on the privacy and security rights of women and young girls, which puts them at greater risk from sexual predators;
Therefore, we, the undersigned residents of Canada ask the House of Commons to vote against Bill C-16, and say NO to placing more men inside girls washrooms.
Thus far 5507 signatories
Page 1 of 368
Tracy Sullivan
CALGARY, AB
Jul 22, 2017 - 06:31pm
Jose Pablo Antillon
Ottawa, ON
Jul 19, 2017 - 10:20am
Jose Pablo Antillon
Ottawa, ON
Jul 19, 2017 - 10:16am
francois panetta
Courtenay, BC
Jul 17, 2017 - 02:22pm
Shawn Raftus
Flesherton, ON
Jul 6, 2017 - 12:15pm
Anonymous
Peterborough , ON
Jul 4, 2017 - 01:30pm