Don't turn public property into 'No Free Speech Zones'. Public sidewalks must remain open to free expression & assembly.
Petition to the assembled Legislature of Ontario, to vote against abortion facility "bubble zone" law
WHEREAS MPP Yasir Naqvi, the Attorney General of Ontario, plans to introduce "bubble zone" legislation that prohibits pro-life sidewalk counsellors and any form of pro-life expression from coming within a certain distance of Ontario abortion facilities, including public sidewalks;
AND WHEREAS this is an infringement of Canadians' fundamental rights under Section 2 of the Charter of Rights and Freedoms which states: "2. Everyone has the following fundamental freedoms: a) freedom of conscience and religion; b) freedom of thought belief, opinion and expression, including freedom of the press and other media of communication; c) freedom of peaceful assembly; and d) freedom of association";
AND WHEREAS thousands of cases of Canadian women who changed their minds about abortion after speaking to pro-lifers or taking literature during peaceful demonstrations, and who expressed gratitude, is proof that pro-life information is desired and appreciated by many women entering these facilities;
AND WHEREAS the presence and conduct of pro-lifers at abortion facilities is peaceful, prayerful, and the ability of "customers" to enter the abortion business is not obstructed;
AND WHEREAS laws already exist to prohibit violent or abusive behavior in public spaces, this new legal restriction would not only violate Charter rights, it would also be unnecessary and redundant;
Therefore, we, the undersigned ask the Legislative Assembly of Ontario to oppose the Liberal Government's plan to transform public sidewalks into "No Free Speech Zones".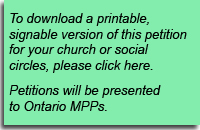 Sign This Petition Now!
* - Required Fields
Signatures
Thus far 1277 signatories
Page 1 of 86
Norma Trivino
Richmond Hill, ON
Sep 20, 2017 - 10:54am
Sandra Dykstra
Dundas, ON
Sep 20, 2017 - 10:38am
Wayne Shepard
St. Catharines, ON
Sep 20, 2017 - 09:49am
Marlene Mendonca
London, ON
Sep 19, 2017 - 07:19pm
Nancy Winslow
Beamsville, ON
Sep 19, 2017 - 07:16pm
Robert Sinke
Vineland Station , ON
Sep 19, 2017 - 06:25pm
Terence Dyson
Welland, ON
Sep 19, 2017 - 05:05pm
Anonymous
Niagara Falls, ON
Sep 19, 2017 - 03:44pm
Annette Loeffen
St. Catharines, ON
Sep 19, 2017 - 02:30pm