Defund abortion in Saskatchewan
---
TO The Members of the Legislative Assembly of Saskatchewan: - -
WHEREAS In Saskatchewan, abortion is a service covered by the provincial Medical Care Plan, paying for more than 2,000 elective abortions annually, at a cost to taxpayers of at least $2-million dollars per year;
AND WHEREAS pregnancy is not a disease, injury or illness; an elective abortion is not a medical necessity and therefore should not be covered by the Medical Care Plan health insurance program.
WE the undersigned petition the Legislative Assembly of Saskatchewan as follows: -
To cease providing taxpayers' dollars for the performance of abortions by delisting abortion from the services covered by Saskatchewan's Medical Care Plan.
To download a paper copy for your church or social circles, click the thumbnail below.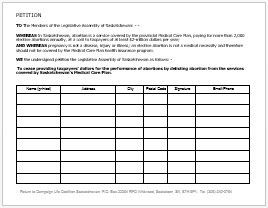 Signatures
Thus far 426 signatories
Page 1 of 29
Anonymous
Prince George, BC
Sep 26, 2022 - 05:08pm
Sep 11, 2022 - 05:42am
DEFUND ABORTION IN SASKATCHEWAN
Anonymous
Victoria bc, BC
Aug 30, 2022 - 03:52pm
Choose life
Aug 29, 2022 - 03:25pm
Defund abortion in Saskatchewan. Stop killing babies and stop putting blood on our hands!
Dorothy H.
Main Centre, SK
Jul 6, 2022 - 02:14pm
We have been wanting to defund abortion for a very long time.