Petition to Doug Ford - repeal sex ed by September
---
Repeal Kathleen Wynne's radical sex curriculum in time for the Sept. school year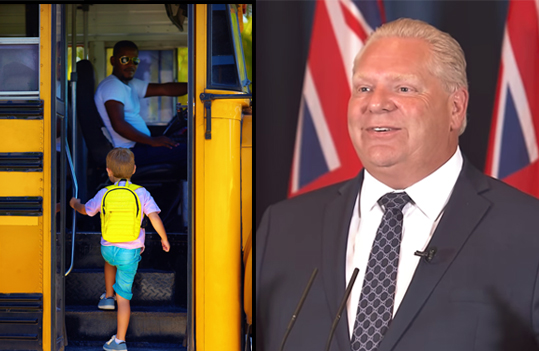 Dear Premier Doug Ford,
I am asking you to repeal Kathleen Wynne's radical sex ed curriculum by the start of the new school year on Tuesday, September 4, 2018.
Your campaign platform featured the repeal and replacement of the child-abusive, Liberal sex program as a key promise. Ontario voters gave you an overwhelming mandate to follow through on your campaign promises. Now we want you to deliver, pronto.
There's no reason to delay. We, the voting public of Ontario, have given you a clear mandate to repeal the Wynne/Levin sex curriculum by awarding you a super majority.
Please act immediately to instruct schools to stop teaching Kathleen Wynne's radical sex program as of September 2018, and to revert to the previous curriculum until such time as a new one is developed based on a genuine consultation with parents.
I am counting on you, Premier Ford, to not let another school day go by where our innocent children are subjected to ideological Liberal indoctrination and anti-scientific theories, such as the radical notion that being a boy or a girl is unconnected to one's biological reality.
Defend our parental rights. Protect our children from explicit, age-inappropriate topics like anal sex and masturbation. Repeal the sex curriculum by September.
Sincerely,
Your name
Sign This Petition Now!
* - Required Fields
Signatures
Thus far 16546 signatories
Page 1 of 1104
Jul 16, 2019 - 02:59pm
Jesus Christ is King of Kings and Lord of Lords. He is the only way to the Father. There is no other way, Put your Faith in Jesus. Time is short. He loves you, He loves me and He loves everyone. He is the only one with the authority to save no other relig
Jun 23, 2019 - 09:07pm
I don't want my kids being taught gay is okay. Kids shouldn't be learning how to have anal sex.
Henry V.
New LIskeard , ON
May 28, 2019 - 05:56pm
Please repeal Wynne's radical sex Ed curriculum. I r eally feel it is immoral and contains subject material not appropriate for or children.
Marilyn C.
Lake St. Peter, ON
May 27, 2019 - 10:18pm
Anonymous
Leslieville , AB
Apr 19, 2019 - 12:47pm
Mar 17, 2019 - 01:38pm
When children are thought sex education, their innocents shatters.
Charlene C.
Kitchener, ON
Mar 1, 2019 - 11:10am
We want biblical common sense.