Petition to Doug Ford - repeal sex ed by September
---
Repeal Kathleen Wynne's radical sex curriculum in time for the Sept. school year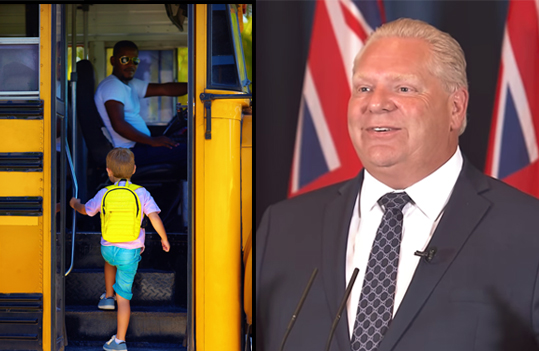 Dear Premier Doug Ford,
I am asking you to repeal Kathleen Wynne's radical sex ed curriculum by the start of the new school year on Tuesday, September 4, 2018.
Your campaign platform featured the repeal and replacement of the child-abusive, Liberal sex program as a key promise. Ontario voters gave you an overwhelming mandate to follow through on your campaign promises. Now we want you to deliver, pronto.
There's no reason to delay. We, the voting public of Ontario, have given you a clear mandate to repeal the Wynne/Levin sex curriculum by awarding you a super majority.
Please act immediately to instruct schools to stop teaching Kathleen Wynne's radical sex program as of September 2018, and to revert to the previous curriculum until such time as a new one is developed based on a genuine consultation with parents.
I am counting on you, Premier Ford, to not let another school day go by where our innocent children are subjected to ideological Liberal indoctrination and anti-scientific theories, such as the radical notion that being a boy or a girl is unconnected to one's biological reality.
Defend our parental rights. Protect our children from explicit, age-inappropriate topics like anal sex and masturbation. Repeal the sex curriculum by September.
Sincerely,
Your name
Sign This Petition Now!
* - Required Fields
Signatures
Thus far 16547 signatories
Page 3 of 1104
Anonymous
Stouffville, ON
Dec 18, 2018 - 08:01am
Dec 15, 2018 - 09:21pm
Keep the radical Marxist homosexual agenda out of the schools and away from innocent vulnerable children!
Elizabeth H.
NEWCASTLE, ON
Dec 4, 2018 - 11:24am
You promised you would completely repeal every problematic element of Wynne's sex curriculum, including the terrible theory of gender identity. Save our children and future from this lie. Stand strong with the people who VOTED for your party. Make a dif
Myriam G.
South Porcupine , ON
Nov 28, 2018 - 11:53pm
Nov 26, 2018 - 11:34am
I voted for "YOU" to destroy the Wynne LIBERAL Gov't Sex Education not change your mind as YOU go now stand behind your word or you will not see OUR vote again!
Anonymous
RICHMOND HILL, ON
Nov 18, 2018 - 12:55am
The government needs to stop pretending to be morally virtuous over the people. Stop confusing our children and indoctrinating them on a governmental theology that is simply not fact based.