Petition to Doug Ford - repeal sex ed by September
---
Repeal Kathleen Wynne's radical sex curriculum in time for the Sept. school year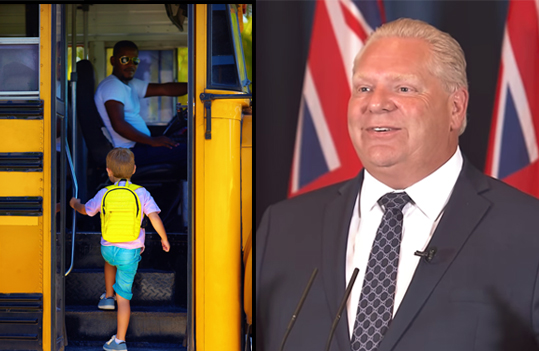 Dear Premier Doug Ford,
I am asking you to repeal Kathleen Wynne's radical sex ed curriculum by the start of the new school year on Tuesday, September 4, 2018.
Your campaign platform featured the repeal and replacement of the child-abusive, Liberal sex program as a key promise. Ontario voters gave you an overwhelming mandate to follow through on your campaign promises. Now we want you to deliver, pronto.
There's no reason to delay. We, the voting public of Ontario, have given you a clear mandate to repeal the Wynne/Levin sex curriculum by awarding you a super majority.
Please act immediately to instruct schools to stop teaching Kathleen Wynne's radical sex program as of September 2018, and to revert to the previous curriculum until such time as a new one is developed based on a genuine consultation with parents.
I am counting on you, Premier Ford, to not let another school day go by where our innocent children are subjected to ideological Liberal indoctrination and anti-scientific theories, such as the radical notion that being a boy or a girl is unconnected to one's biological reality.
Defend our parental rights. Protect our children from explicit, age-inappropriate topics like anal sex and masturbation. Repeal the sex curriculum by September.
Sincerely,
Your name
Sign This Petition Now!
* - Required Fields
Signatures
Thus far 16546 signatories
Page 4 of 1104
Theresa F.
Kincardine , ON
Nov 16, 2018 - 04:57pm
Nov 14, 2018 - 01:43pm
Please protect our children.
Anonymous
Young Dr Brampton , ON
Nov 9, 2018 - 08:54am
Nov 1, 2018 - 04:36pm
I do not support the Liberal Sex Education plan. It is a parents right to educate their child at the maturity of the child and according to the principles and values of the parent. This is an overstepping move on the Liberal parties part. The extreme left
Oct 31, 2018 - 12:08am
fdksjkbafn
Anonymous
Mississauga, ON
Oct 25, 2018 - 03:41pm
MUHAMMAD Aqeel O.
Brampton , ON
Oct 24, 2018 - 08:34am
I'm student and I'm against it