Petition to Premier Ford - keep defending free speech
---
Repeal the NO FREE SPEECH ZONES created under Kathleen Wynne's Bill 163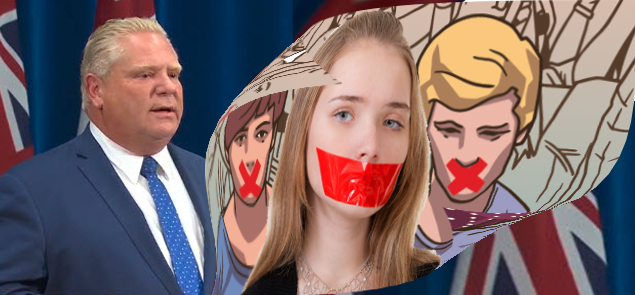 Dear Premier Ford,
You've demonstrated that protecting free speech from the ongoing assault by liberal ideologues is a high priority for your administration.
Thank you for the recent policy announcement that universities will lose government funding if they don't respect free speech on campus.
However, please don't stop at protecting free speech on college campuses. Remember that the Liberals established draconian NO FREE SPEECH ZONES on taxpayer-owned, public sidewalks across Ontario. This soviet-style censorship cannot be allowed to stand.
In 2017 the Wynne Liberals passed an unconstitutional censorship law, Bill 163, which criminalized peaceful pro-life expression – even silent prayer - on public property.
Ontarians possess a constitutional right to freedom of expression and freedom of assembly.
But now, they'll be arrested if they pray silently on a taxpayer-owned, public sidewalk within a radius of up to 150 metres of an abortion facility.
This means that a little old lady, silently praying on public property, not saying a single word to anybody, can be arrested and face serious jail time. Does that sound like a just law for a nation that claims to be democratic and free?
Laws already exist against harassment, assault and uttering threats, so the censorship legislation isn't even necessary… except for liberals to be able to silence a point of view with which they disagree.
If any demonstrator assaults or utters threats to clients of the abortion facility, by all means, they should face the sanctions authorized by criminal laws that already exist. But those kinds of things were never happening anyway, as police reports have proven.
The claims of pro-lifers spitting on women were fabricated by dishonest left-wing activists who often lie to push their agenda.
Pro-lifers are peaceful, respectful and never prevent abortion customers from entering the facility. Causing someone to feel "offended" by exposing them to an opinion with which they disagree does not constitute assault. The law must not pretend it does.

Premier Ford, I ask you to defend free speech once more by repealing Bill 163, and thus, eliminating the NO FREE SPEECH ZONES that Liberals established on taxpayer-owned, public sidewalks.
Sign This Petition Now!
* - Required Fields
Signatures
Thus far 1414 signatories
Page 6 of 95
Caitlin P.
ST CATHARINES, ON
Oct 13, 2018 - 10:02pm
I was raised pro life. My mom had me at 19, and I am so thankful to my her! I have a beautiful little boy because I believe in life! Plz protect my right Mr. Ford to pray for & maybe educate other young women & girls from killing their babies. My
Lisa W.
ST CATHARINES, ON
Oct 13, 2018 - 09:44pm
All we who are pro life wish to do is exercise our Rights to freedom of expression, freedom of religion, freedom of thought, and most importantly, freedom of speech, as protected and guaranteed to us under the Charter. I know your a man of principle Mr Fo
Oct 12, 2018 - 06:39pm
Please reconsider and repeal the bubble-zone law. This anti pro-life speech law must go!!!
Oct 12, 2018 - 12:31pm
Surely, we should be able to express our views in the public square and should have the right of association becoming of a democracy.
Virginia M.
Sebringville, ON
Oct 11, 2018 - 02:37pm