Petition to Cardinal Collins: Urge Catholic Trustees to reject the Theory of Gender Identity
---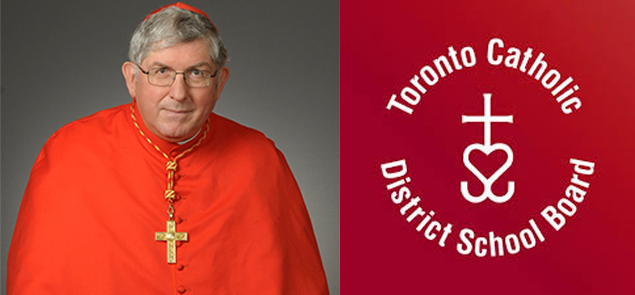 Your Eminence,
Toronto's Catholic lay faithful turn to you, successor of the Apostles, to teach, preach and when necessary, to correct those who have gone astray and who are leading others to error or sin.
With great respect and filial affection, I humbly implore you to make a public statement urging Toronto's Catholic School trustees to reject a motion being considered, that, if passed, would add the terms "Gender Identity" and "Gender Expression" to the TCDSB's Code of Conduct.
These ideological theories are incompatible with Christian anthropology of the human person and can never be accepted by Catholics, much less by an official arm of the Catholic Church like the TCDSB.
The Catholic Church, including Pope Benedict XVI and Pope Francis, has always condemned transgender ideology.
In the words of Pope Francis:
"Gender ideology is demonic!" [Pope Francis, January 30, 2014]
"Gender theory is an error of the human mind that leads to so much confusion…So the family is under attack." [Pope Francis, March 21, 2015]
Addition of these terms to a Code of Conduct presumes that a Catholic religious school would actually have cross-dressing teachers in its employ, and students dressed in drag roaming its halls.
The practical implications of requiring students, teachers and staff to "respect" gender identity and gender expression in the Code of Conduct, is that Catholic schools would have to permit:
Boys to wear dresses and female make-up (and vice –versa)

Male teachers to dress up as women, to undergo sex-change surgeries, and to present themselves to their classes as the opposite sex (and vice-versa)
Section 93 of the Constitution Act empowers the diocesan bishop and/or a Catholic School Board, to reject any law or regulation that adversely affects the content of faith and morals.
Your Eminence, Cardinal Thomas Collins, please make a public statement urging the TCDSB to vote AGAINST adding the transhumanist terms of "gender identity" and "gender expression".
Sign This Petition Now!
* - Required Fields
Signatures
Thus far 1296 signatories
Page 1 of 87
Wilfred S.
Elliot Lake, ON
Oct 19, 2019 - 08:01pm
When will this foolishness end.
Kathleen and John L.
Toronto, ON
Oct 19, 2019 - 07:04pm
Anonymous
Mississauga, ON
Oct 19, 2019 - 06:51pm
Dieudonne P.
Saint-Francois, NB
Oct 19, 2019 - 06:42pm
Stefanie R.
Stoney Creek, ON
Oct 19, 2019 - 01:12pm