Petition to Cardinal Collins: Reverse the Archdiocese of Toronto's acceptance of Gender Theory at the Toronto Catholic District School Board
---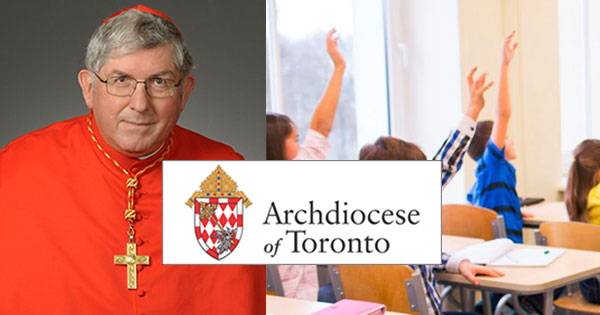 Your Eminence,
I am deeply disturbed and outraged by the decision of the Toronto Catholic District School Board, acting under your spiritual direction, to incorporate "Gender Ideology" into its Code of Conduct.
"Gender Ideology" makes the erroneous claim that one's gender may be divorced from one's God-given biological sex. It asserts that a person may claim to be "born in the wrong body", and that he or she may choose whatever gender "feels right" among a vast assortment of new and novel "gender identities", including "no gender".
This is an abominable affront to God, whose design for mankind is clearly revealed in Holy Scripture, and affirmed by the teaching of the Church for over 2,000 years.
The Book of Genesis states: "So God created man in His own image; in the image of God He created him; male and female He created them." (Genesis 1:27).
The Lord Jesus teaches: "But from the beginning of the creation, God 'made them male and female.'" (Mark 10:6).
According to the Catechism of the Catholic Church, "By creating the human being man and woman, God gives personal dignity equally to the one and the other. Each of them, man and woman, should acknowledge and accept his sexual identity." (2393).
Your Eminence, I am convinced that, by adopting Gender Ideology, Catholic schools will now be complicit in the confusion, corruption, and abuse of children. Many children will be swayed by transgender ideas and adopt a harmful and conflicted self-image. Some will be lured into receiving dangerous artificial hormone therapy or mutilating "gender reassignment" surgery with or without the consent of their parents. Many young girls will be exposed to trauma as biologically male transgenders assert their "right" to use girls' intimate facilities, including changerooms, showers, and washrooms in Catholic schools.
The claim that Gender Ideology can "be interpreted through the lens of the Catholic faith as articulated by the teachings of the church" is patently false. How can something that is incongruous with Catholic teaching be incorporated into Catholic education? As St. Paul writes, "For what fellowship has righteousness with lawlessness? And what communion has light with darkness? And what accord has Christ with Belial? Or what part has a believer with an unbeliever? And what agreement has the temple of God with idols? For you are the temple of the living God." (2 Corinthians 6:14-16).
As Cardinal of the Toronto Catholic Archdiocese, a pre-eminent moral and spiritual leader within the Catholic community nation-wide, and as a visible representative of Christianity to society at large, your words, advice, and direction carry enormous weight. You have the power to promote Catholic values and uphold the Christian worldview, or to undermine and discredit those values and that worldview. I believe you are doing the latter, bringing great harm to the Church and to "the least of these" – the children – who rather ought to be protected and nurtured by the teaching ministry of the Church through the Toronto Catholic District School Board.
I pray that you will reconsider your position in support of Gender Theory and direct the School Board to reject the addition of "gender identity" and "gender expression" to the Code of Conduct.
Sincerely Yours,
Signatures
Thus far 1596 signatories
Page 102 of 107
Brian S.
Sault St Marie, ON
Nov 8, 2019 - 05:08pm
This is an abomination to the Lord. Capitulation to the God of this world. This reminds of the church in Pergamos in Revelation. It is a church yet Satan's throne is in this church
Nov 8, 2019 - 05:07pm
This is not the Catholic church that I was born in anymore, I am disappointed!
Nov 8, 2019 - 05:06pm
Very disappointing and unbiblical!
Robbin M.
Belle river, ON
Nov 8, 2019 - 05:01pm
Really? that is not a Christian stance at all..
Marianne J.
Thunder Bay, ON
Nov 8, 2019 - 04:56pm
We need you to have the courage to protect children, families and educators from having to choose God's will over man's laws. This is not God's will to blur our identities with populist theories. Lord, have mercy. Holy Spirit, help us, in love, yo speak a
Nov 8, 2019 - 04:55pm
Only in fantasy & delusions is there Gender Fluidity. Not in Science.