Petition to Cardinal Collins: Reverse the Archdiocese of Toronto's acceptance of Gender Theory at the Toronto Catholic District School Board
---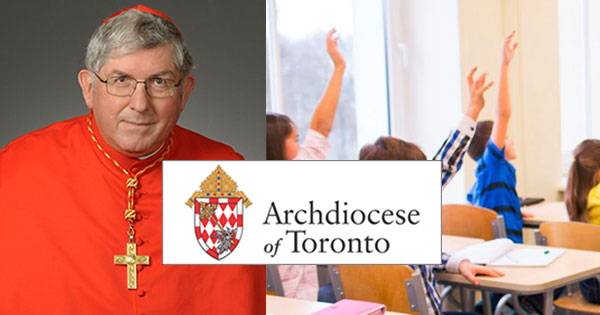 Your Eminence,
I am deeply disturbed and outraged by the decision of the Toronto Catholic District School Board, acting under your spiritual direction, to incorporate "Gender Ideology" into its Code of Conduct.
"Gender Ideology" makes the erroneous claim that one's gender may be divorced from one's God-given biological sex. It asserts that a person may claim to be "born in the wrong body", and that he or she may choose whatever gender "feels right" among a vast assortment of new and novel "gender identities", including "no gender".
This is an abominable affront to God, whose design for mankind is clearly revealed in Holy Scripture, and affirmed by the teaching of the Church for over 2,000 years.
The Book of Genesis states: "So God created man in His own image; in the image of God He created him; male and female He created them." (Genesis 1:27).
The Lord Jesus teaches: "But from the beginning of the creation, God 'made them male and female.'" (Mark 10:6).
According to the Catechism of the Catholic Church, "By creating the human being man and woman, God gives personal dignity equally to the one and the other. Each of them, man and woman, should acknowledge and accept his sexual identity." (2393).
Your Eminence, I am convinced that, by adopting Gender Ideology, Catholic schools will now be complicit in the confusion, corruption, and abuse of children. Many children will be swayed by transgender ideas and adopt a harmful and conflicted self-image. Some will be lured into receiving dangerous artificial hormone therapy or mutilating "gender reassignment" surgery with or without the consent of their parents. Many young girls will be exposed to trauma as biologically male transgenders assert their "right" to use girls' intimate facilities, including changerooms, showers, and washrooms in Catholic schools.
The claim that Gender Ideology can "be interpreted through the lens of the Catholic faith as articulated by the teachings of the church" is patently false. How can something that is incongruous with Catholic teaching be incorporated into Catholic education? As St. Paul writes, "For what fellowship has righteousness with lawlessness? And what communion has light with darkness? And what accord has Christ with Belial? Or what part has a believer with an unbeliever? And what agreement has the temple of God with idols? For you are the temple of the living God." (2 Corinthians 6:14-16).
As Cardinal of the Toronto Catholic Archdiocese, a pre-eminent moral and spiritual leader within the Catholic community nation-wide, and as a visible representative of Christianity to society at large, your words, advice, and direction carry enormous weight. You have the power to promote Catholic values and uphold the Christian worldview, or to undermine and discredit those values and that worldview. I believe you are doing the latter, bringing great harm to the Church and to "the least of these" – the children – who rather ought to be protected and nurtured by the teaching ministry of the Church through the Toronto Catholic District School Board.
I pray that you will reconsider your position in support of Gender Theory and direct the School Board to reject the addition of "gender identity" and "gender expression" to the Code of Conduct.
Sincerely Yours,
Signatures
Thus far 1616 signatories
Page 6 of 108
Dec 27, 2020 - 11:13am
our faith in our leaders is falling apart.
Anonymous
Gjirokaster, AB
Dec 24, 2020 - 12:04pm
yyy
Dec 15, 2020 - 06:15pm
This is not right in the Lord and you know it.
Dec 15, 2020 - 05:36pm
This is unBiblical and you know it.
Dec 14, 2020 - 06:33pm
Defend Catholic teachings
Dec 12, 2020 - 11:08am
There is a God given reason why we are born male or female. Lets keep it that way.
Dec 9, 2020 - 10:21pm
Follow the teachings of the church.
Brian O.
Prince George, BC
Dec 5, 2020 - 06:02pm
Jesus I trust in you. O Holy Mary PFUS. St.Michael the Arch Angel defend us in battle be our protection against the wickedness and snares of the devil may God rebuke him we humbly pray and do thou O Prince of the heavenly host cast into hell satan and all the evil spirits who prowl about the world seeking the ruin of souls Amen
Dec 4, 2020 - 06:16am
there is a difference between tolerance and encouragement.
Anonymous
Eugenia (Flesherton), ON
Dec 2, 2020 - 02:09pm
Please DON'T let the young MARXIST-indoctrinated zombies get their way in anything whatsoever!!!
Nov 29, 2020 - 06:08pm
Not for gender theory
Nov 29, 2020 - 06:07pm
Not for gender theory
Nov 27, 2020 - 08:59am
This is against our beliefs
Nov 24, 2020 - 05:09pm
The Catechism of the Catholic Church is the standard of Catholic teaching. NOT popular culture!
Nov 19, 2020 - 05:38pm
HI