Don't Bring Anti-Free Speech Bubble Zones to Nova Scotia!
---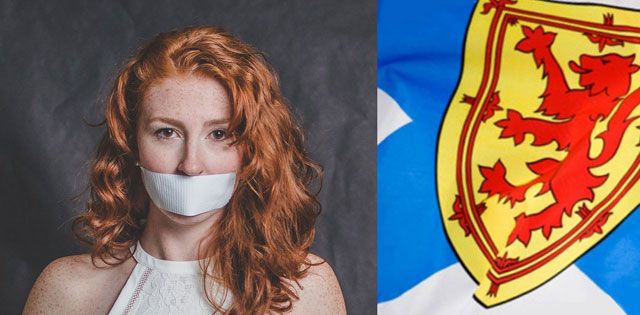 Dear Minister Mark Furey and Minister Randy Delorey,
I want to express my concern over the push for a "bubble zone" law by pro-abortion lobbyists.
A "bubble zone" law serves no purpose but to restrict the constitutional rights of Nova Scotians. It discriminates on ideological grounds, suspending the free speech rights of pro-life citizens in the public spaces surrounding abortion facilities.
The public sidewalks, streets, and lands in these large, city block-sized areas would no longer be open to everyone. Ordinary citizens would be restricted in what they can say, do, and even pray in these "bubble zones". Our freedom of expression and peaceful assembly, guaranteed in the Charter of Rights and Freedoms, would be stripped in these zones in order to serve the political agenda of a small, vocal group of pro-abortion ideologues.
While some abortion lobbyists make the claim that a "bubble zone" law is needed to prevent violence against women, the truth is there is no violence. According to a report published by the Abortion Rights Coalition of Canada, there have been no incidents of anti-abortion violence in Canada for nearly 20 years.
Furthermore, there are already laws in place to protect women from harassment, intimidation, and violence. Section 264 of the Criminal Code of Canada prohibits harassment of any kind under threat of a ten year prison sentence.
The pro-abortionist demand for a "bubble zone" law appears to be a pretense for censoring and stigmatizing the pro-life community in Nova Scotia.
According to a 2017 poll, 24% of Canadians object to the availability of elective abortion through all nine months of pregnancy (the current status quo in Canada). You cannot deprive nearly one in four citizens of their right to peaceably speak and share their concerns in public.
It is also wrong to deny pregnant women the right to seek and receive alternative counsel at any point they choose, wherever they choose. Many pregnant women are grateful for literature, conversations, or support options offered to them by pro-life individuals outside abortion facilities. It is wrong to deprive a woman of the chance to learn about other, life-affirming options like adoption, and to give her no choice but to abort her child once she enters a "bubble zone".
I urge you to stand up for the basic rights and freedoms of all Nova Scotians. You must not allow the law to be misused as a political tool to favour pro-abortion interests and suppress all other perspectives. Pro-life Nova Scotians must not be treated as second-class citizens with lesser civil rights.
Signatures
Thus far 3149 signatories
Page 1 of 210
Miranda B.
Peace River , AB
Feb 21, 2020 - 01:52am
The creation of a "bubble zone" law is yet another attempt to diminish freedom of speech within our country. In this instance it also restricts access to alternate options and potential support for the pregnant mother.
Feb 19, 2020 - 09:04am
Bubble zone; more like communist zone. We are regressing instead of progressing as a "free" country. At this point, what makes Canada any different than a 3rd world country??
Josée H.
Trois-Rivières, QC
Feb 14, 2020 - 09:37am
charlene k.
fletchers lake, NS
Feb 13, 2020 - 10:44am
Donald C.
Lower Sackville, NS
Feb 11, 2020 - 09:20pm
Blair H.
North Battleford, SK
Feb 10, 2020 - 01:22pm
Sharon H.
North Battleford, SK
Feb 10, 2020 - 01:21pm
Anonymous
Breadalbane, NB
Feb 4, 2020 - 08:51am