Don't Fund Private Abortion Business
---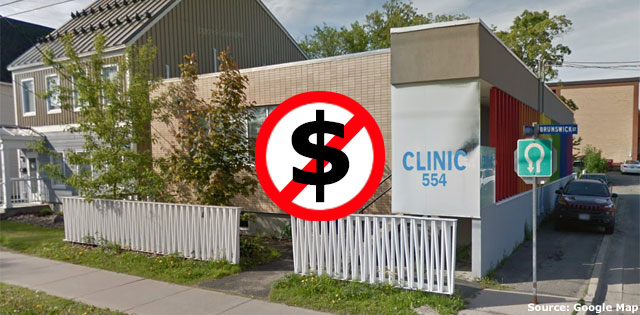 TO: Hon. Blaine Higgs, Premier
CC: Hugh Flemming, Minister of Health
CC: Ernie Steeves, Minister of Finance
I urge you to stand firm against the funding of private abortion facilities in New Brunswick.
Clinic 554 (the former Morgentaler Clinic), is a private, for-profit abortion facility. After years of fiscal incompetency, it recently announced it will permanently close by the end of this year, admitting "financial instability". (The business closed once before in 2014 for the same reason.)
Some pro-abortion activists are calling on the government of New Brunswick to bail out Clinic 554 by paying for the abortion procedures it commits. A number of meddling politicians from outside the province are also demanding the same. However, this would be a contravention of the Medical Services Payment Act (84-20, Schedule 2), which forbids the government from funding abortions outside of approved public hospitals.
In fact, the Canada Health Act prohibits the funding of private healthcare services, as provided by Clinic 554.
The citizens of New Brunswick do not want their tax dollars wasted on propping up a failed business that has proven itself financially unstable. They are also unwilling to support said business for its controversial and morally repugnant practices, namely the killing of preborn babies. Taxpayers do not want their hard-earned money lining the pockets of those who get rich off the human tragedy of abortion.
Please stand up for the citizens of New Brunswick and the laws they elected you to uphold. Do the right thing and refuse to fund Clinic 554!
Sincerely,
[Signature]
Signatures
Thus far 3433 signatories
Page 1 of 229
Anonymous
Swift Current, SK
Feb 24, 2021 - 04:02pm
Feb 12, 2021 - 04:32pm
You must really be afraid of those activists to consider funding private abortion clinics when there are 2 Canadian laws that prohibit this. Is breaking the law the new normal you want for the New Brunswick government? Activists are not holding a gun to your head. Think and act like a responsible governing body.
Feb 12, 2021 - 04:26pm
The people of New Brunswick know what they do NOT want. Two laws in Canada prohibit the funding that pro-abortion activists are calling for. Is the government of New Brunswick going to break 2 Canadian laws to appease activists ? That is a criminal act that will cost you dearly.
Anonymous
Sherwood Park, AB
Jan 26, 2021 - 02:45am