PETITION: Re-instate Jim Karahalios as a Conservative Leadership Contestant
---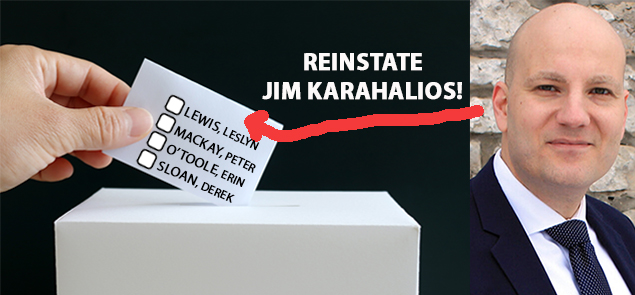 TO: National Councilors, Conservative Party of Canada (CPC)
Leadership Election Organizing Committee (LEOC)
As a Conservative Party member and supporter, I demand that CPC National Council, the elected body which oversees the governance of the party, immediately reinstate Jim Karahalios as a candidate in the Conservative Leadership race.
His disqualification at the hands of the party's Dispute Resolution Appeals Committee (DRAC) is illegitimate. According to the published leadership election rules, this small group of anonymous people on DRAC do not possess the authority to disqualify candidates.
More importantly however, even if they did have that authority, National Council would still be morally obligated to override the decision and reinstate Karahalios as a candidate. That's because the complaint(s) against Karahalios which requested his disqualification are considered by many, including myself, to be mere cover to rig the election in favour of the party establishment's preferred red Tory candidates, Peter MacKay and Erin O'Toole.
LEOC erected unprecedented barriers to entry in the leadership race – a $300,000 buy-in plus 3,000 nomination signatures from card-carrying members – which were clearly designed to keep out grassroots, non-establishment individuals like Karahalios. This was a strategy to continue concentrating power in the hands of a small number of progressives in the party establishment.
Nonetheless, Karahalios raised the onerous $300K entry fee plus the 3,000 signatures, earning his spot on the ballot. No one questions that he is a life-long, hard core Conservative – a true blue Conservative – heavily involved in the party for years, including serving on its National Policy Committee and as a past EDA President for Cambridge. And therefore, he has earned the right to be on the ballot.
Accordingly, grassroots party members have a right to vote for him in this leadership race!
Karahalios has been an advocate for fundamental principles and policies held dear by the Conservative Party's grassroots and the CPC Policy Declaration: axing the carbon tax, free votes, party democracy, fair nominations, transparency and grassroots ownership of the policy process. Could there be a candidate more representative of the values of grassroots Conservatives than Mr. Karahalios?
Furthermore, his criticism of Sharia Law is not a legitimate reason to disqualify him. Our Conservative Policy Declaration contains no policy in support of Sharia, nor any policy condemning criticism of Sharia, therefore it cannot be reasonably asserted that he was in contravention of any party policy or rule.
The red Tory establishment has been working hard to drive social conservatives out of the party once and for all. Karahalios is the second scalp they've now claimed, not because he did anything wrong, but because his conservative beliefs are at odds with their liberal ones. The establishment sees Jim as a threat to their power, and specifically, as a threat to O'Toole or MacKay's presumed coronation. That is not a sufficient reason to disqualify a candidate.
Rigging the ballot must not be permitted in our Conservative Party. That sort of skullduggery is the domain of Trudeau's Liberal Party.
I hereby demand that CPC National Council override DRAC, and reinstate Jim's candidacy, effective immediately.
Signatures
Thus far 1871 signatories
Page 1 of 125
Joseph and Joan P.
Ottawa,
Mar 31, 2020 - 10:52am
We demand free speech.
Mar 31, 2020 - 10:45am
Please reinstate Jim Karahalios as a conservative leadership contestant
Darlene M.
Grande Prairie ,
Mar 31, 2020 - 08:57am
For fairness
Mar 31, 2020 - 06:46am
Reinstate Jim Karahalios
Mar 30, 2020 - 09:34pm
Is it time bring back the Reform party so we can have real conservative option?