Defund Abortion in Ontario
---
TO The Legislative Assembly of Ontario: --
WHEREAS In Ontario, abortion is a service covered by the Ontario Health Insurance Plan (OHIP), paying for 32,000-50,000 elective abortions annually, at a cost to taxpayers of at least $30-$50 million dollars per year;
AND WHEREAS pregnancy is not a disease, injury or illness; an elective abortion is not a medical necessity and therefore, should not be covered by the Ontario Health Insurance Plan.
WE the undersigned petition the Legislative Assembly of Ontario as follows: -
To cease providing taxpayers' dollars for the performance of abortions by removing elective abortion from the list of services covered by the Ontario Health Insurance Plan.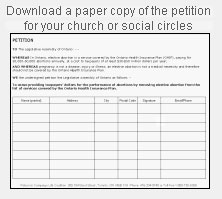 Sign This Petition Now!
* - Required Fields
Signatures
Thus far 1029 signatories
Page 1 of 69
Theresa F.
Kincardine, ON
Nov 16, 2018 - 04:44pm
Nov 14, 2018 - 01:47pm
I don't want my taxes to go to supporting murdering babies and devastating moms for decades with the guilt and shame. I don't want to participate or have blood on my hands.
Nancy R.
Straffordville, ON
Oct 24, 2018 - 01:40pm
Stephen P.
Burlington, ON
Oct 21, 2018 - 03:23pm
Pollyanna M.
Mt Albert, ON
Oct 19, 2018 - 02:22pm
Oct 9, 2018 - 05:25pm
We fund it AND Public Health Ontario does NOTHING to at least educate Ontarians on responsible sex and this public health crisis. Data is insufficient to even study the actual numbers, but we DO know that only 2.3% are for complications (https://www.cihi.