Defund Abortion in Ontario
---
TO The Legislative Assembly of Ontario: --
WHEREAS In Ontario, abortion is a service covered by the Ontario Health Insurance Plan (OHIP), paying for 32,000-50,000 elective abortions annually, at a cost to taxpayers of at least $30-$50 million dollars per year;
AND WHEREAS pregnancy is not a disease, injury or illness; an elective abortion is not a medical necessity and therefore, should not be covered by the Ontario Health Insurance Plan.
WE the undersigned petition the Legislative Assembly of Ontario as follows: -
To cease providing taxpayers' dollars for the performance of abortions by removing elective abortion from the list of services covered by the Ontario Health Insurance Plan.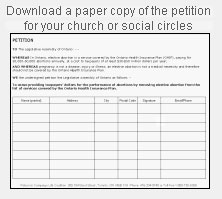 Sign This Petition Now!
* - Required Fields
Signatures
Thus far 1260 signatories
Page 5 of 84
Patricia U.
Waterdown, ON
Jun 9, 2019 - 07:59pm
Yvonne J.
Stoney Creek, ON
Jun 8, 2019 - 08:37am
This is murder! How can you even suggest such a thing is beyond me! What is happening with society? Life should be respected from beginning to end - you are not God!
Jun 7, 2019 - 02:20pm
I do not want my tax dollars to fund the murder unborn children.
Jun 5, 2019 - 10:43pm
Life is precious - stop the killing and finding that supports this.
Jun 5, 2019 - 10:19pm
Let's stand together to stop the killing of these innocent babies!
Anonymous
Richmond Hill, ON
Jun 3, 2019 - 01:05am
Marilyn C.
Lake St. Peter, ON
May 27, 2019 - 10:03pm
These children are our future