Defund Abortion in Ontario
---
TO The Legislative Assembly of Ontario: --
WHEREAS In Ontario, abortion is a service covered by the Ontario Health Insurance Plan (OHIP), paying for 32,000-50,000 elective abortions annually, at a cost to taxpayers of at least $30-$50 million dollars per year;
AND WHEREAS pregnancy is not a disease, injury or illness; an elective abortion is not a medical necessity and therefore, should not be covered by the Ontario Health Insurance Plan.
WE the undersigned petition the Legislative Assembly of Ontario as follows: -
To cease providing taxpayers' dollars for the performance of abortions by removing elective abortion from the list of services covered by the Ontario Health Insurance Plan.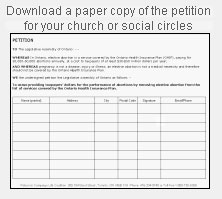 Sign This Petition Now!
* - Required Fields
Signatures
Thus far 1276 signatories
Page 6 of 86
Jun 10, 2019 - 10:08pm
I do not want to fund abortions . This is not earmarked for my tax dollars It puts the responsibility on Canadian citizens and not on those who don't and won't choose to make wiser choices. Abortion is not a " big eraser" or substitute for bette
Patricia U.
Waterdown, ON
Jun 9, 2019 - 07:59pm
Yvonne J.
Stoney Creek, ON
Jun 8, 2019 - 08:37am
This is murder! How can you even suggest such a thing is beyond me! What is happening with society? Life should be respected from beginning to end - you are not God!
Jun 7, 2019 - 02:20pm
I do not want my tax dollars to fund the murder unborn children.
Jun 5, 2019 - 10:43pm
Life is precious - stop the killing and finding that supports this.
Jun 5, 2019 - 10:19pm
Let's stand together to stop the killing of these innocent babies!
Anonymous
Richmond Hill, ON
Jun 3, 2019 - 01:05am
Marilyn C.
Lake St. Peter, ON
May 27, 2019 - 10:03pm
These children are our future