Defund Abortion in Ontario
---
TO The Legislative Assembly of Ontario: --
WHEREAS In Ontario, abortion is a service covered by the Ontario Health Insurance Plan (OHIP), paying for 32,000-50,000 elective abortions annually, at a cost to taxpayers of at least $30-$50 million dollars per year;
AND WHEREAS pregnancy is not a disease, injury or illness; an elective abortion is not a medical necessity and therefore, should not be covered by the Ontario Health Insurance Plan.
WE the undersigned petition the Legislative Assembly of Ontario as follows: -
To cease providing taxpayers' dollars for the performance of abortions by removing elective abortion from the list of services covered by the Ontario Health Insurance Plan.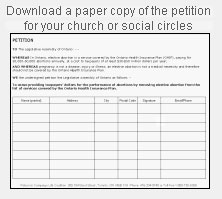 Sign This Petition Now!
* - Required Fields
Signatures
Thus far 1260 signatories
Page 7 of 84
Katrina V.
Belleville, ON
May 7, 2019 - 01:18pm
Laura S.
St Catharines, ON
May 1, 2019 - 10:18pm
Please do the right thing - we must never take part in any way in the shedding of innocent blood. May God forgive us for providing financial help to those who would willingly kill a human being, made in God's own image - a child that He sent His only Son
Apr 26, 2019 - 04:34pm
I believe that abortion is murder. Members of Provincial Parliament, whatever your views, I implore you not to compel me to pay for it. Likewise, I enjoin you not to compel me to pay for mifepristone (RU-486, brand name Mifegymiso), the over-the-counte
Rachel B.
Maple Ridge, BC
Apr 25, 2019 - 07:38pm
https://petitions.ourcommons.ca/en/Petition/Details?Petition=e-2051
Patrick S.
Mississauga, ON
Apr 24, 2019 - 09:35pm
Apr 24, 2019 - 03:35pm
Give life to the unborn, stop our tax money going to killing babies.
Anonymous
Leslieville , AB
Apr 19, 2019 - 12:49pm
Anonymous
Mississauga , ON
Apr 3, 2019 - 09:15pm