Defund Abortion in Ontario
---
TO The Legislative Assembly of Ontario: --
WHEREAS In Ontario, abortion is a service covered by the Ontario Health Insurance Plan (OHIP), paying for 32,000-50,000 elective abortions annually, at a cost to taxpayers of at least $30-$50 million dollars per year;
AND WHEREAS pregnancy is not a disease, injury or illness; an elective abortion is not a medical necessity and therefore, should not be covered by the Ontario Health Insurance Plan.
WE the undersigned petition the Legislative Assembly of Ontario as follows: -
To cease providing taxpayers' dollars for the performance of abortions by removing elective abortion from the list of services covered by the Ontario Health Insurance Plan.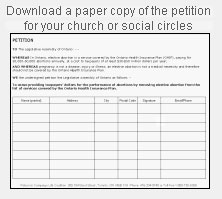 Sign This Petition Now!
* - Required Fields
Signatures
Thus far 1260 signatories
Page 8 of 84
Lauren M.
Scarborough, ON
Mar 30, 2019 - 09:11pm
TAMARA L.
Niagara falls, ON
Mar 25, 2019 - 08:33am
Joshua G.
Niagara on the Lake , ON
Mar 12, 2019 - 08:04pm
Mar 9, 2019 - 09:52am
Ask for our Lady's intercession when you pray your rosary
Kathryn M.
Tottenham , ON
Mar 4, 2019 - 02:24pm
DR. WESLEY M.
Richmond Hill, ON
Feb 28, 2019 - 11:45am
One of the most important issues facing Canadians - and no one is willing to take it on politically. - Thank You!