Defund Abortion in Ontario
---
TO The Legislative Assembly of Ontario: --
WHEREAS In Ontario, abortion is a service covered by the Ontario Health Insurance Plan (OHIP), paying for 32,000-50,000 elective abortions annually, at a cost to taxpayers of at least $30-$50 million dollars per year;
AND WHEREAS pregnancy is not a disease, injury or illness; an elective abortion is not a medical necessity and therefore, should not be covered by the Ontario Health Insurance Plan.
WE the undersigned petition the Legislative Assembly of Ontario as follows: -
To cease providing taxpayers' dollars for the performance of abortions by removing elective abortion from the list of services covered by the Ontario Health Insurance Plan.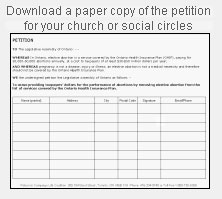 Sign This Petition Now!
* - Required Fields
Signatures
Thus far 1183 signatories
Page 8 of 79
Nancy R.
Straffordville, ON
Feb 4, 2019 - 09:54pm
Feb 3, 2019 - 04:20pm
That 30 to 50 million dollars could go into complete free health care coverage . And also help the many street people that every Canadian city faces
Anonymous
Oro-medonte , ON
Feb 1, 2019 - 09:56pm
Jan 27, 2019 - 09:23am
Please STOP the killing!!! Watch an abortion video before pushing this murderous agenda! That ought to change your mind! Please do the right thing!