Defund Abortion in Ontario
---
TO The Legislative Assembly of Ontario: --
WHEREAS In Ontario, abortion is a service covered by the Ontario Health Insurance Plan (OHIP), paying for 32,000-50,000 elective abortions annually, at a cost to taxpayers of at least $30-$50 million dollars per year;
AND WHEREAS pregnancy is not a disease, injury or illness; an elective abortion is not a medical necessity and therefore, should not be covered by the Ontario Health Insurance Plan.
WE the undersigned petition the Legislative Assembly of Ontario as follows: -
To cease providing taxpayers' dollars for the performance of abortions by removing elective abortion from the list of services covered by the Ontario Health Insurance Plan.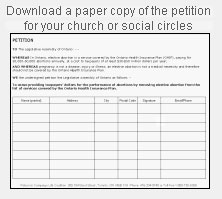 Signatures
Thus far 1323 signatories
Page 8 of 89
Jul 19, 2019 - 10:24pm
Please disregard the politics surrounding the pro-choice movement and look at the science and empirical data that confirms human life within the womb. Due to the science that proves the humanity of the preborn, I will NOT vote for any MP that supports abo
Jennifer K.
Baltimore, ON
Jul 18, 2019 - 05:01pm
I do not want my tax dollars to fund abortions. Abortions is murder of the unborn babies. I choose life!
Jul 16, 2019 - 03:07pm
Jesus Christ is King of Kings and Lord of Lords. He loves all of us and loves the unborn children they are his inheritance. Put your faith in Jesus Christ. Every knee will bow and every tongue will confess "Jesus Christ is Lord".
Jul 16, 2019 - 02:48pm
Jesus Christ is King of Kings and Lord of Lords. He loves me, He loves you and He loves everyone. Put your faith in Jesus Christ
Jul 16, 2019 - 02:47pm
Jesus Christ is King of Kings and Lord of Lords. He loves me, He loves you and He loves everyone. Put your faith in Jesus Christ
Anonymous
Harrowsmith, ON
Jul 5, 2019 - 09:51am
I will NOT VOTE for any MP who supports abortion