No Vaccine Mandates or Passports!
---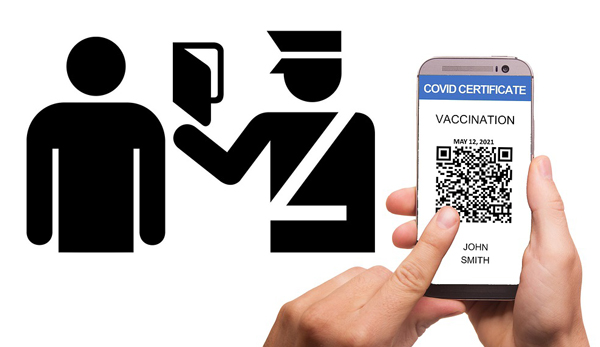 Petition to Federal and Provincial Political Leaders:
I oppose vaccine mandates and passports!
They say the cure is sometimes worse than the disease. In the case of the government's response to COVID-19, the purported "cure" imposed upon us by unelected public health officials is proving to be more deadly than the virus itself.
Essential surgeries have been postponed or cancelled, businesses are struggling and closing, clergy are being told how to worship God, mental illness is escalating, students are falling behind, and healthy, able-bodied men and women are being driven into poverty.
Now we see a disturbing new phenomenon with the imposition of vaccine mandates and vaccine passports. Many of our hard-working health care professionals, who have sacrificed much over these past eighteen months, are being forced to get vaccinated or else lose their jobs. Many teachers and educators are also facing the same dilemma.
On top of that, ordinary Canadians like you and me are being told they might lose access to goods and services - and the freedom to travel – if they do not possess a valid vaccine passport. The government is threatening to create two separate, unequal classes of citizens.
This is particularly distressing to those with sincerely-held religious or conscientious objections to abortion-tainted vaccines.
The guaranteed constitutional freedoms we enjoy in this country - including freedom of religion, expression, association, and mobility, along with our basic "security of the person" - are under threat of obliteration.
The province of Quebec imposed a vaccine passport Sept. 1st, 2021. Manitoba launches theirs Sept. 3rd. British Columbia brings theirs into force Sept. 13th. Ontario will start theirs Sept. 22nd. Other provinces are making plans to follow suit.
All COVID-19 vaccines currently available in Canada (Pfizer, Moderna, Astra-Zeneca, and Johnson & Johnson) are abortion-tainted, having been produced or tested using cell lines harvested from children who were murdered by abortion. That raises an enormous moral objection far beyond the concerns expressed by many Canadians over the experimental nature of these vaccines and their immediate and long-term side-effects.
To impose these controversial vaccines on everyone, especially when acceptable, safe, and effective treatment options exist – and untainted alternatives are on the horizon, is absolutely unconscionable!
According to the Bible, our bodies are a temple of God and not the property of the government. Many Christians maintain that injecting an abortion-tainted vaccine into their bodies is a desecration of this temple, and they want nothing to do with it! Politicians and public health officials who ignore this objection are crossing an ethical line that declares war on the Christian conscience and degrades the sanctity of human life.
Our federal and provincial leaders need to hear our opposition to vaccine passports!
Even many of those who accept COVID vaccines agree that it is wrong to force or coerce others into getting the shot. All of us, vaccinated and unvaccinated, must stand together for freedom of faith and conscience as we stand against the rise of tyranny in the name of "health and safety".
Please help us by adding your name to this important petition and telling others about it.
---
For Further Reading:
"Lockdown Harms are Ten Times Greater Than Benefits", Toronto Sun: https://torontosun.com/opinion/columnists/canadian-experts-research-finds-lockdown-harms-are-10-times-greater-than-benefits
"Secondary Harms Get Worse Every Day", Toronto Sun: https://torontosun.com/opinion/columnists/furey-the-secondary-harms-caused-by-the-lockdown-get-worse-every-day
"Analysis of COVID-19 Vaccine Candidates", Charlotte Lozier Institute: https://s27589.pcdn.co/wp-content/uploads/2020/12/06.02.21-warp-speed-vaccines-June.pdf
"The blood of murdered unborn children cries to God from abortion-tainted vaccines and medicines", LifeSite News: https://www.lifesitenews.com/opinion/the-blood-of-murdered-unborn-children-cries-to-god-from-abortion-tainted-vaccines-and-medicines/
"Leading bioethics agency comes out strongly against mandatory COVID vaccines", Campaign Life Coalition Blog: https://www.campaignlifecoalition.com/clc-blog/id/137/title/leading-bioethics-agency-comes-out-strongly-against-mandatory-covid-vaccines
"Mandatory Vaccination is Unconstitutional in Canada": https://publications.gc.ca/collections/collection_2016/aspc-phac/HP3-1-23-S4-eng.pdf
"The Nuremburg Code for Medical Experimentation": https://media.tghn.org/medialibrary/2011/04/BMJ_No_7070_Volume_313_The_Nuremberg_Code.pdf
Signatures
Thus far 8622 signatories
Page 1 of 575
Anonymous
Carleton Place,
Jan 28, 2023 - 11:44pm
I Will NEVER Comply
Jan 16, 2023 - 05:37am
please tell trudeau to leave canada alone, in other words we just had more than we can take out of this retarded, demonic, satanic, bi-polar baby in diapers, bless the saying of eternal wisdom the apple did not fall very far from the tree, namely pierre trud-eau!!!!!!!!!!!!!!!!!!!!!!
Anonymous
Banská Štiavnica,
Dec 31, 2022 - 01:13am
Dec 18, 2022 - 10:15pm
Stop trampling our rights!
Marjorie B.
Grande Prairie,
Dec 12, 2022 - 07:44pm
Nov 24, 2022 - 11:42am
A government that lives by "my body, my choice" when it comes to abortion has had no problem living the opposite when it comes to mandates about vaccination. How can we trust such hypocrisy? Go all out to encourage vaccination but don't mandate it. We are supposed to be free in Canada. Something went wrong here.