Defund abortion in Saskatchewan
---
TO The Members of the Legislative Assembly of Saskatchewan: - -
WHEREAS In Saskatchewan, abortion is a service covered by the provincial Medical Care Plan, paying for more than 2,000 elective abortions annually, at a cost to taxpayers of at least $2-million dollars per year;
AND WHEREAS pregnancy is not a disease, injury or illness; an elective abortion is not a medical necessity and therefore should not be covered by the Medical Care Plan health insurance program.
WE the undersigned petition the Legislative Assembly of Saskatchewan as follows: -
To cease providing taxpayers' dollars for the performance of abortions by delisting abortion from the services covered by Saskatchewan's Medical Care Plan.
To download a paper copy for your church or social circles, click the thumbnail below.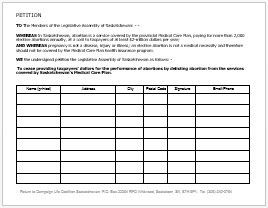 Signatures
Thus far 345 signatories
Page 1 of 23
Hector S.
Lower Sackville, NS
Jan 15, 2021 - 04:28pm
Anonymous
Tillsonburg, ON
Jan 12, 2021 - 10:19pm
Anonymous
Tillsonburg, ON
Jan 12, 2021 - 03:56pm
Anonymous
Gjirokaster, AB
Dec 24, 2020 - 11:59am
Lawrence C.
St. Catharines, ON
Dec 5, 2020 - 10:40am
Melanie C.
Stoney Creek, ON
Nov 22, 2020 - 01:31pm
Nov 19, 2020 - 09:18am
this is murder, repent and turn away from your wicked schemes of satan.