Defund abortion in Saskatchewan
---
TO The Members of the Legislative Assembly of Saskatchewan: - -
WHEREAS In Saskatchewan, abortion is a service covered by the provincial Medical Care Plan, paying for more than 2,000 elective abortions annually, at a cost to taxpayers of at least $2-million dollars per year;
AND WHEREAS pregnancy is not a disease, injury or illness; an elective abortion is not a medical necessity and therefore should not be covered by the Medical Care Plan health insurance program.
WE the undersigned petition the Legislative Assembly of Saskatchewan as follows: -
To cease providing taxpayers' dollars for the performance of abortions by delisting abortion from the services covered by Saskatchewan's Medical Care Plan.
To download a paper copy for your church or social circles, click the thumbnail below.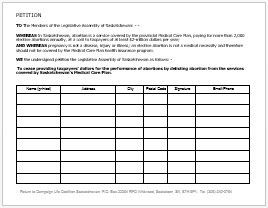 Sign This Petition Now!
* - Required Fields
Signatures
Thus far 214 signatories
Page 1 of 15
Jul 16, 2019 - 03:15pm
Jesus Christ loves all of us and loves the unborn children, they are his inheritance. Every knee will bow and every tongue will confess that "Jesus Christ is Lord". Put your faith in Jesus Christ time is short. All of our good works are as filth
Anonymous
Richmond Hill, ON
Jun 3, 2019 - 01:07am
Alexandra M.
Edmonton, AB
May 16, 2019 - 05:03pm
Anonymous
Leslieville , AB
Apr 19, 2019 - 12:39pm
Apr 2, 2019 - 11:56pm
Abortion is murder.