Defund abortion in Saskatchewan
---
TO The Members of the Legislative Assembly of Saskatchewan: - -
WHEREAS In Saskatchewan, abortion is a service covered by the provincial Medical Care Plan, paying for more than 2,000 elective abortions annually, at a cost to taxpayers of at least $2-million dollars per year;
AND WHEREAS pregnancy is not a disease, injury or illness; an elective abortion is not a medical necessity and therefore should not be covered by the Medical Care Plan health insurance program.
WE the undersigned petition the Legislative Assembly of Saskatchewan as follows: -
To cease providing taxpayers' dollars for the performance of abortions by delisting abortion from the services covered by Saskatchewan's Medical Care Plan.
To download a paper copy for your church or social circles, click the thumbnail below.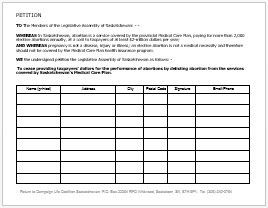 Signatures
Thus far 374 signatories
Page 1 of 25
Dec 5, 2021 - 05:46pm
Science proves life starts at conception. Consider this as each abortion equals murder. If my tax dollar is paying for this heinous act that makes me an accessory to murder. Use or tax dollars to support these scared unsure women . Make adoption easier and free.
DrJohn K.
Campbell River, BC
Dec 5, 2021 - 01:42pm
Sheila T.
Phillips Crescent , SK
Nov 18, 2021 - 09:11am
Oct 29, 2021 - 09:00pm
More important medical matters, real ones, on which to spend already inadequate health care dollars
Robert C.
St. Catharines, ON
Sep 6, 2021 - 11:24pm