Defund abortion in Saskatchewan
---
TO The Members of the Legislative Assembly of Saskatchewan: - -
WHEREAS In Saskatchewan, abortion is a service covered by the provincial Medical Care Plan, paying for more than 2,000 elective abortions annually, at a cost to taxpayers of at least $2-million dollars per year;
AND WHEREAS pregnancy is not a disease, injury or illness; an elective abortion is not a medical necessity and therefore should not be covered by the Medical Care Plan health insurance program.
WE the undersigned petition the Legislative Assembly of Saskatchewan as follows: -
To cease providing taxpayers' dollars for the performance of abortions by delisting abortion from the services covered by Saskatchewan's Medical Care Plan.
To download a paper copy for your church or social circles, click the thumbnail below.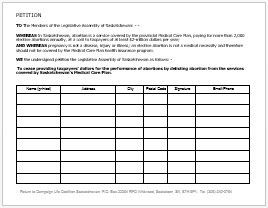 Sign This Petition Now!
* - Required Fields
Signatures
Thus far 208 signatories
Page 1 of 14
Anonymous
Richmond Hill, ON
Jun 3, 2019 - 01:07am
Alexandra M.
Edmonton, AB
May 16, 2019 - 05:03pm
Anonymous
Leslieville , AB
Apr 19, 2019 - 12:39pm
Apr 2, 2019 - 11:56pm
Abortion is murder.
Sheila N.
Oyster Ponds, NS
Feb 12, 2019 - 09:17am
Nancy R.
Straffordville, ON
Feb 4, 2019 - 09:55pm
Steven M.
Golden Prairie, SK
Feb 1, 2019 - 07:22pm