Defund abortion in Saskatchewan
---
TO The Members of the Legislative Assembly of Saskatchewan: - -
WHEREAS In Saskatchewan, abortion is a service covered by the provincial Medical Care Plan, paying for more than 2,000 elective abortions annually, at a cost to taxpayers of at least $2-million dollars per year;
AND WHEREAS pregnancy is not a disease, injury or illness; an elective abortion is not a medical necessity and therefore should not be covered by the Medical Care Plan health insurance program.
WE the undersigned petition the Legislative Assembly of Saskatchewan as follows: -
To cease providing taxpayers' dollars for the performance of abortions by delisting abortion from the services covered by Saskatchewan's Medical Care Plan.
To download a paper copy for your church or social circles, click the thumbnail below.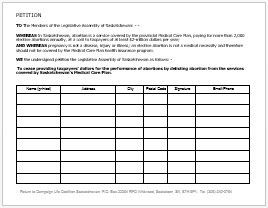 Signatures
Thus far 313 signatories
Page 1 of 21
Steven F.
Jeffries Corner, NB
Sep 4, 2020 - 09:03am
Sep 2, 2020 - 11:01pm
You are forcing religiously-opposed voters to fund something they are 100% against. That is theft. To say otherwise is a fraud. Stop stealing to support murder of babies.
Josiah C.
North Battelford, SK
Aug 31, 2020 - 10:47pm
"TAX MONEY IS NOT FOR KILLING BABIES SO DEFUND ABORTIONS RIGHT NOW"
Janet W.
North York/Toronto ON, ON
Jul 23, 2020 - 04:01pm
ALL LIVES MATTER !
michelle r.
cumberland, BC
Jun 17, 2020 - 03:25pm