Join the next internationally coordinated campaign to save lives, this coming Fall from September 24 - Nov 2, 2014!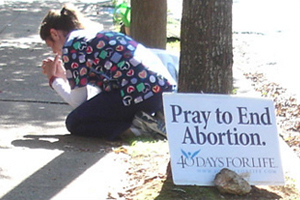 This Fall there will be hundreds of communities in North America, including 15 Canadian cities, simultaneously hosting a 40 Days For Life campaign from September 24 - November 2, 2014.
If you wish to join the next 40 Days For Life in your community, please contact your local campaign coordinator (below) and find out how you can sign up as a vigil volunteer.
Please consider becoming a prayer volunteer by donating at least 1 hour of prayer and fasting in front of the local abortion facility. If you are part of a church community, perhaps your pastor would like to "Adopt a day"?
Around the world 2014 Fall Campaign
297 locations in 13 countries on 4 different continents
6 Canadian provinces - 15

cities
Click on the city links below to contact local coordinators and to register online for the vigil schedule.
Fall 2014 locations
ALBERTA
Calgary - Kensington Clinic, 2431 - 5th Avenue N.W, Calgary, Alberta
Edmonton - Women's Health Options 12409-109 A Avenue, Edmonton, Alberta
BRITISH COLUMBIA
Victoria - Vancouver Island Womens Clinic, #104-284 Helmcken rd., Victoria B.C.
Sechelt - Outside St. Mary's Hospital, 5544 Sunshine Coast Highway, Sechelt, B.C.
MANITOBA
Winnipeg - Women's Hospital, 735 Notre Dame Ave, Winnipeg, MB
NEW BRUNSWICK
Moncton - Outside Dumont Hospital, 330 Universite Avenue, Moncton, NB
ONTARIO
Kitchener - 3570 King St. East (opposite side of Freeport Hospital), Kitchener, ON
Leamington - Leamington District Memorial Hospital, 194 Talbot Street West, Leamington, ON
London - Victoria Hospital, 800 Commissioners Road East, London, ON
Mississauga - Mississauga Women's Clinic, 101 Queensway Blvd (corner of Confederation Pkwy), Mississauga, ON
Oakville - Trafalgar Memorial Hospital, 327 Reynolds Street, Oakville, ON
Ottawa - Morgentaler Clinic, 65 Bank Street, Ottawa, ON
Toronto - Women's Care Clinic, 960 Lawrence Ave. West, Toronto, ON
Windsor - Windsor Regional Hospital, Metropolitan Campus, 1995 Lens Avenue, Windsor, ON
QUEBEC
Montreal – Clinique Morgentaler, 30 St. Joseph Boulevard East #710, Montreal, QC
The following location is participating in the campaign with limited vigil hours:
North Bay - Near the North Bay Hospital, every Thursday from Sept 25 to Oct 30 (from 7am to 3pm).

What is 40 days For Life™
40 Days for Life is a focused pro-life effort that consists of:
40 days of prayer and fasting for an end of abortion
40 days of peaceful vigil
40 days of community outreach
Throughout biblical history, God has used a 40 day challange to transform his people.
Watch the official promo video here
The fruits of 40 Days For Life and its history in Canada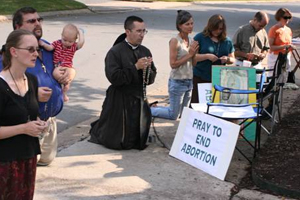 After witnessing tremendous success by the 40 Days For Life program in the United States, Campaign Life Coalition brought it into Canada for the first time in 2007, holding our nation's first 40 day vigils in Ottawa, ON and Halifax, NS. Since then, CLC and other pro-life groups have organized 40 Days For Life campaigns in more than 20 cities across Canada. Some cities run the campaign twice a year (Spring & Fall). Other cities run them only once annually.
Since 2007, 3039 individual campaigns have taken place in 539 cities in 214 nations across the world and 625,000 people have joined together in this historic display of unity, prayer and fasting for an end to abortion.
40 Days For Life has succeeded in shutting down 57 abortion facilities, and has documented saving at least 8,973 babies. In addition to the babies, 101 abortion workers have quit their jobs and walked away from the abortion industry and thousands of women have been spared the suffering and trauma that comes with the decision to abort one's own child.