Read this in another language:
Arabic | English | French | Simplified Chinese 简体中文 | Traditional Chinese 繁體中文 | Italian | Polish | Portuguese | Russian | Spanish
Latest News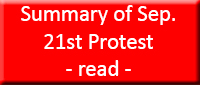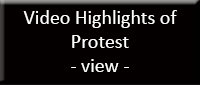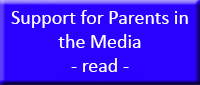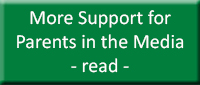 After winning a Liberal majority, Premier Kathleen Wynne reintroduced a very similar radical Sex Ed Curriculum from the one she developed as Education Minister, and which outraged parents back in 2010. In spite of multiple protests, student strikes, and petitions, the Ontario government disregarded the concerns of parents and began to implement the controversial curriculum in the summer of 2016. According to many reports, schools only began teaching the new curriculum during the last 2 weeks in June, after report cards were finished and when there was nothing left to grade. Effectively, 2016/2017 is the first school year in which it was implemented.
In 2010, parents and religious leaders came out angrily against Liberal plans to teach early grades about age-inappropriate topics like masturbation, anal intercourse, oral sex, vaginal lubrication, and the idea that being male or female is merely a "social construct". So strong was the backlash that McGuinty "shelved" the curriculum after only 3 days of public outcry.
At the time, CLC warned that the curriculum was only "temporarily" shelved and would return. Kathleen Wynne proved us right by putting this at the top of her agenda at a time when it cannot hurt her at the voting booth. She announced the reintroduction in October 2014, but refused to let the public see the document for months. She even held a farcical "public consultation" in which hand-picked parents were invited to give feedback on the curriculum - without actually being allowed to see the "new" curriculum.
Months of parental protests against the curriculum, across the province, have ensued. Despite having been implemented in the Spring term of 2016, parental opposition continues to grow. In the meantime, Premier Wynne continues to obstinately ignore the voices of parents who are demanding a repeal of the curriculum and that the government start over with a legitimate consultation process.
How does the 2015 curriculum compare to the original 2010 version?
CLC has studied the 2015 curriculum and we have found that the controversial elements of the program that angered parents in 2010 have remained unchanged, word for word, at the same age-inappropriate grade levels as before, when it was written under the direction of confessed child pornographer Benjamin Levin, then Deputy Education Minister. The only difference now is that Kathleen Wynne has made the curriculum even more explicit and more age-inappropriate than before, dramatically increasing the mentions of "Gender Identity" theory, sexual "identities" and "orientations".
Anal intercourse is still being presented in a way that students will interpret as carrying no higher risk for STIs than vaginal intercourse, an irresponsible and misleading presentation of the former which carries a 3000% higher risk for contracting HIV. The curriculum also downplays the seriousness of contracting HIV, potentially leaving the impression with students that it's not really that big a deal. A section on HIV and AIDS seems to have an undertone of making it acceptable and normal for individuals who are HIV positive to continue having sex with others. Of course this is not science-based teaching. It's political and social engineering. It is irresponsible and may also put lives at risk.
The 2015 version has added a new, controversial and very flawed theory that will be taught to elementary school children, called "gender expression". The new curriculum document also has a much stronger undertone of sex as a purely recreational activity whose purpose is pleasure, apart from love or marriage. In fact, the words "love" and "marriage" never appear once in the sex-education strand of the curriculum. Not a single mention. Does that reveal the mindset of its writers, if not the philosophical underpinnings of the curriculum itself?
Impact on Catholic religious schools
The curriculum document encourages the use of condoms and artificial birth control to prevent pregnancy and STDs, something that is totally incompatible with the Catholic school system. Yet our Liberal Premier says Catholics are expected to teach it nonetheless. The 2015 curriculum adds a brand new reference to "reproductive health", which is a known euphemism that public health authorities and Planned Parenthood use to mean abortion.
The Minister of Education and Premier Wynne have made it clear that the Catholic school system, like the secular public system, must implement this curriculum without exception. It is unclear how Catholic schools can implement teaching on birth control, abortion, the idea that being male or female is a social construct, gender expression, and the 6-gender theory, even if retrofitted with a "Catholic lens". Catholic moral teaching forbids abortion and the use of artificial contraception as grave evils. The theory of gender identity, gender expression and the idea that there are more genders than just male and female directly contradict Christian anthropology of the human person.
Faithful Catholic observers find it hard to believe that the Institute for Catholic Education (ICE), which is tasked with retrofitting a "Catholic lens" onto these problematic teachings, will be able to accomplish such a feat since these ideas are fundamentally incompatible with Catholicism. That doubt is heightened by the knowledge that the board of ICE includes two member from OECTA, the same "catholic" teachers union which marched in the homosexual pride parade this past summer. OECTA is also fully in support of the gay pride clubs known as GSAs being in Catholic schools.
The new Sex-Ed document is clearly a more extreme document than it's original 2010 incarnation. To save parents having to read through 244 pages, CLC has posted a detailed summary with some excerpts of the more controversial elements in the new curriculum. See below.
EXCERPTS FROM THE 2015 SEX-EDUCATION CURRICULUM
Benjamin Levin: Pedophilic influence?
It's important to consider the fact that this curriculum was also written under the direction of a confessed child sex predator, Mr. Benjamin Levin. He was the Deputy Education Minister at the time, serving under then Education Minister Kathleen Wynne. Levin was charged by police with 7 child pornography related charges, and confessed to three of them.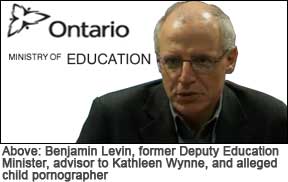 Graphic testimony from his trial revealed how grotesque was his perverted attraction to children. While texting on a chat site with an undercover officer he thought was a mother interested in molesting her own daughter, he instructed "on how to groom" the child for sex, including specific techniques she could use to lower the child's natural inhibitions. Levin told undercover officers he had sexually assaulted his 3 daughters, and now that they are grown and have young children of their own, he hopes they will one day share their kids (his grandchildren) sexually with him.
Many people are questioning whether "grooming" could have been a reason for Levin introducing these overly explicit subjects at such delicate ages in the Liberal curriculum. Is it conceivable that the curriculum may have been designed by Levin to "prime" children, so as to make them sexually available?
When it is found that a child sex predator was in charge of writing what many parents perceive to be graphic, age-inappropriate Sex Ed curriculum, parents cannot be blamed for wanting no part of it. Should warning bells be going off when we learn that a convicted pedophile oversaw the writing of curriculum which gets 6 year olds talking about their genitals, encourages kids to masturbate, and wants to get 13 year olds thinking about oral sex and anal sex? Like his advice to the undercover cop on techniques to lower the child's inhibitions regarding sexual matters, might this rather graphic curriculum have been designed with an eye to lowering the inhibitions of children in Ontario elementary schools regarding sexual matters?
The safety of children is too important to ignore Levin's hand in this curriculum.
Can we know a curriculum by the company that it keeps?
It's not average moms and dads who are asking for this curriculum to return. In fact 160,000+ Ontario parents have signed petitions against it. So who is actually pressuring the Liberals to bring back the controversial curriculum?
Several radical organizations, or those with ties to radical groups have been publicly lobbying the Liberals to bring back the 2010 curriculum since it was first retracted by Premier McGuinty. These include:
OPHEA (The Ontario Physical & Health Education Association): partners with a "sex education expert" called Sexpressions which offers explicit, classroom teaching aids like "The Guide To Getting It On Book"

Planned Parenthood Toronto: promotes abortion, anal play (e.g. fisting), sex toys, and the viewing of pornography. See excerpts below from Planned Parenthood's educational resources for 13-year-olds. Please note that these perverse resources are NOT in the Liberal curriculum. They are merely meant to show the deviant mindset of those who have influence on the Liberal government.
| | |
| --- | --- |
| | |
Queer Ontario:

promotes bondage, sadism/masochism, casual sex and group sex (see below from their website). Again, please note that these perverse ideas are NOT in the Liberal curriculum. They are merely meant to show the radical worldview of those who have influence on the Liberal government. Queer Ontario admits to having helped the Liberal government write amendments to Bill 13, the so-called Accepting Schools Act which was imposed the Wynne/McGuinty government in 2012.



Communist Party of Canada (Ontario): like all communists, it seeks to throw off "the shackles" of God's moral laws in society and bring about an atheist utopia where virtually all areas of public and private life are dominated by an all-powerful state. Read their demand letter.
When groups who advocate for the normalization of sadism, group sex, anal play and viewing pornography are demanding the return of the 2010 Sex Ed curriculum, parents cannot be blamed for believing that these classroom lessons will have the effect of sexualizing young children.
Help us warn parents
Due to biased and poor media coverage of this controversial Sex Ed curriculum, most Ontario families are unaware that this dangerous curriculum update will be imposed on their children and grandchildren starting in the fall 2015 school year. Although Campaign Life Coalition and other pro-family groups have been trying to educate the public about the harmful nature of this curriculum, our reach is limited. What's missing is education by clergy from the pulpit. To help make it easy for clergy to inform their congregation members about the looming Sex Ed changes, we have provided a sample bulletin announcement and sample pulpit announcement for pastors. Click here to download it in PDF format, then give it to your pastor or church secretary and respectfully ask if they would include it over the coming weeks and months. Handouts for small group discussion are downloadable here, as well as a Powerpoint presentation from Campaign Life Coalition which you can request via email.
To learn the 12 things you can do to stop Kathleen Wynne's radical sex-ed curriculum, click here.
To read the entire 244 page government document, click here.