Male Teacher Exposes Students to Fetish - PT 2
September 30, 2022 @ 2:05pm
By now, you've likely heard about the male Oakville Trafalgar High School teacher who has taken to showing up for class with enormous, cartoonish fake breasts.
Almost every major conservative commentator – Matt Walsh, Steven Crowder, Tucker Carlson, etc.—has covered this story. Canada has once again been made a laughing stock.
That anyone is confused at all about whether this teacher's actions are remotely acceptable or not is a damning reflection of how lost our society is, and how rapid our decline has been. This is not the world you grew up in.
So, to lay it out for everyone:
Plenty of (actual) women have large breasts. Some have very, very large breasts (which can cause troubles like severe back pain and warrant consideration of breast reduction surgery). That's not the issue here.
There is only ONE context in which one sees (fake) breasts of these size, with nipples consistently, flauntingly displayed – a sexual, pornographic context.
For a teacher to intentionally turn his classroom into a sexually charged environment – starring himself(!) – and force kids to pretend that it's normal is simply perverse.
It's predatory behaviour, indistinguishable from grooming, and worsened all the more by the power dynamic at hand.
It's a sexual fantasy, the same you see (or I hope, don't see) in countless pornographic videos exploiting the taboo of a teacher-student relationship.
As sexualized as our culture and schools have become, I *think* this scandal could still be seen for what it is if this man didn't identify as a woman. You throw the transgender card into the mix and suddenly it's hands off, eyes closed, and ears plugged.
There's a quotation from George Orwell's 1984 that's appropriate here:
"The Party told you to reject the evidence of your eyes and ears. It was their final, most essential command."
Like I said in my last e-blast, this story isn't really about this teacher. It's about every official on every level – the school, the board, the province – who haven't done nearly enough in response.
The Halton District School Board have requested a report on "the various considerations regarding dress codes" to be returned to them before the end of November. Otherwise, Director of Education Curtis Ennis stated that the board is "committed to supporting all [its] teachers…in an environment that upholds their dignity, their gender identity, and their gender expression."
Education Minister Stephen Lecce has said, "I've asked the Ontario College of Teachers to review and to consider strengthening those provisions with respect to professional conduct which we think would be in the interest of all kids in Ontario."
Note the words "review" and "consider." And in the meantime? Nothing happens.
Everyone is concerned with protecting the teacher. No one is concerned with protecting the students. How telling.
There are many actions we can and should take – joining your school council, delegating to your local school board, ensuring we elect good trustees – but one action you can take immediately is to sign our petition if you haven't already. Maybe leave a comment with your thoughts.
If you've already signed the petition, please share it now on social media, and/or email it to your friends and family. (Note: If you forward this email onto others, any recipient can unsubscribe you from receiving updates from CLC. It's best just to copy & paste the petition link instead.)
This is the LAST CALL for petition signatures as we mean to deliver a hard copy of the petitions to the Director of Education next week. We already sent him a digital copy earlier this week.
You can also donate to help us fight the sexual perversity infecting our schools.
To be honest, the whole ordeal sickens and disheartens me, and you may be tired, as I am. As far as we know, though, this teacher continues to walk into class every day with the same offensive get-up. For the sake of the students, we can't forget about this story or just move on.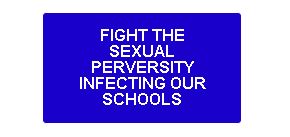 * Read Josie's first take on this issue here: Groomer Alert - Part 1
Comments