Calgary Considers Ban on Pro-Life Images
October 3, 2022 @ 12:13pm
Last week, it was reported that Calgary City Council will consider a ban on pro-life pamphlets that reveal the brutality of legalized abortion.
Rather than denounce the bloody murder of innocent preborn babies, City Council will discuss suppressing the truth of this modern-day holocaust by restricting pro-life freedom of speech and political expression within the city.

If the proposed ban is passed, pro-life Calgarians will be forbidden from freely sharing and distributing literature portraying victims of abortion. The use of imagery showing the murder of preborn babies will be tightly regulated. Such images will need to be concealed in opaque packaging with warnings printed on the outside.
This proposal is similar to a bylaw passed in 2021 by the City of London, Ontario, the only Canadian municipality with any such restrictions. London's bylaw reads: "No one shall send a graphic image of a fetus by mail or otherwise distribute such an image unless the image is contained in an opaque envelope, the exterior of the envelope includes a description of the contents, and the exterior of the envelope clearly identifies the sender. The penalty for violating this prohibition is a fine of $100 per image."
If Calgary City Council passes a similar ban on graphic pro-life literature, images of preborn human life will be treated like illicit pornography. In fact, this is what one city councillor, Jennifer Wyness, is hoping to achieve.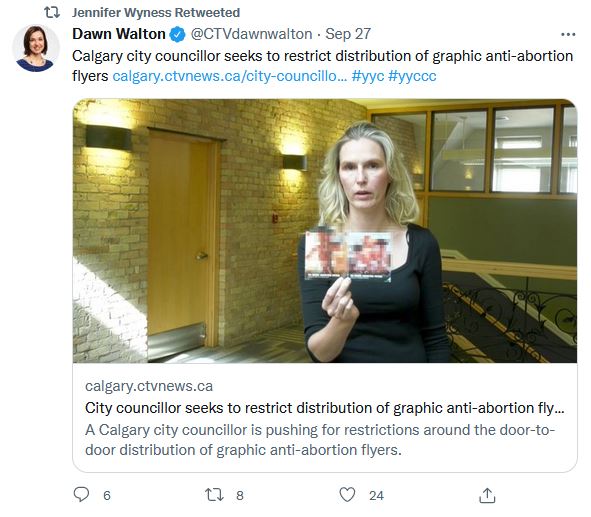 Ms. Wyness criticized the efforts of one local pro-life group to share the truth about abortion: "We have to say that this is unacceptable... People do not deliver pornography to get a message across and yet somehow this organization continues to do something that I would equate to pornography."
Josie Luetke, Youth Co-ordinator for Campaign Life Coalition, comments: "It's nonsensical to be upset by images of preborn human beings ripped apart, but not to be upset by the fact that they are being ripped apart at all."
If this ban on abortion victim imagery passes, maybe Calgary should change its motto from "Onward" to "See No Evil".
It reminds me of the short film, "Sing a Little Louder", which tells the true-life story of a small church near Auschwitz during World War II. There was a train track near the church, which was used to deliver Jews in cattle cars to the concentration camp, where they would be exterminated. Week after week, the train would pass by the church during the morning worship service, carrying its cargo of suffering humanity. In response to this horror, the little congregation made a decision. Instead of trying to stop the train, they chose to block the noise of Jews crying out for help. They conspired to sing as loudly as they could whenever the trains passed by in order to tune out the truth and mask the murder.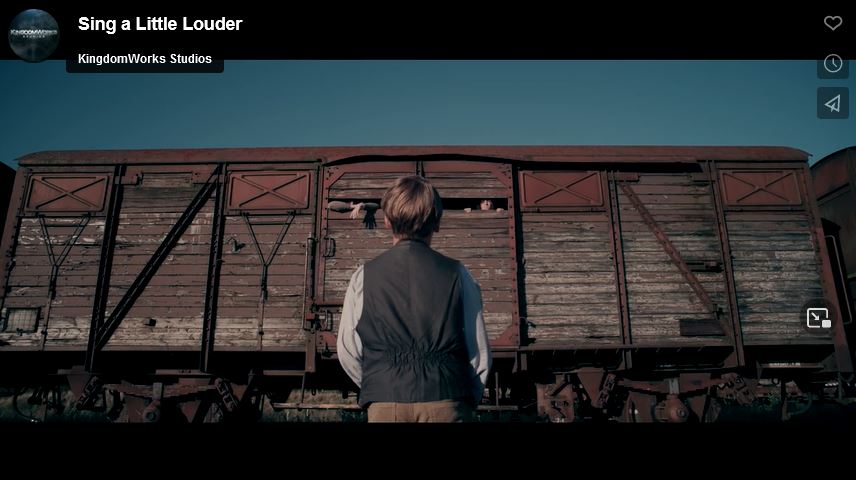 Isn't that just like what the City of Calgary is thinking about doing? Will they hide the reality of legalized abortion so as not to offend people's sensibilities? Will they ignore the murder of over 100,000 preborn babies every year across Canada so as not to trouble people's consciences?
Well, councillors have no right to keep their constituents in ignorance, nor to silence pro-life free speech! Send an Action Alert Email to let your councillor know what you think.
Until the horror of legal abortion is brought to an end in Canada, it is imperative that pro-life citizens retain the freedom to inform their fellow-citizens and to expose this grave injustice for what it is - a modern-day holocaust of epic proportions!
Our right to freedom of expression is guaranteed under our Canadian Constitution as a "fundamental freedom". And while we might agree that some expression is offensive or unpleasant, it is crucial that this right be maintained in the cause of those vulnerable and voiceless Canadians who are being slaughtered.
During World War II, it was vital for the world to see the horrors that were perpetrated at the hands of the Nazi regime in Hitler's Germany. In particular, the images of the actual victims of the Holocaust – whether those who were gassed, cremated, abused, or experimented upon – proved indispensable to establishing the guilt of the Nazis and opening the eyes of the public to the full extent of their crimes against humanity.
Likewise, the use of abortion victim imagery plays a vital role, today, in opening up many people's eyes to the evil taking place in our own country under the guise of so-called "reproductive rights" or "women's rights". Abortion is a crime against humanity – and it must be exposed!
But this crime will remain hidden if we are denied the freedom to show the reality of abortion – or the humanity of the preborn! That is why Calgary City Council must reject this proposal – and why I am asking you to reach out to your local councillors to ask them to stop it.
Please help us communicate this message to Calgary City Council. Take a minute of your time to send one of our pre-scripted Action Alert Emails to your local city councillor, or write your own message. Unless we are able to expose the horror of legalized abortion, we cannot hope to stop it.
There is a reason why the pro-aborts want to ban abortion victim imagery. As our Lord Jesus reminds us, "For everyone practicing evil hates the light and does not come to the light, lest his deeds should be exposed." (John 3:20).
Our Action Alert Email campaign to Calgary City Council is available here: https://www.votervoice.net/CALIFE/Campaigns/97939/Respond
Comments