Analysis: Municipal Election Results in 4 Provinces
November 17, 2022 @ 9:31am
CLC's Election Team has concluded its work in four provinces which held municipal elections this fall: British Columbia (Oct. 15), Ontario (Oct. 24), Manitoba (Oct. 26), and Prince Edward Island (Nov. 6).
Five of our staff plus one volunteer have worked at a break-neck pace for several months to do all the work that's involved with setting up the candidate databases, sending thousands of surveys, qualifying candidates for endorsement, and getting out the vote for those we green-lit.
We did this for all levels of municipal government: Mayors, City Councillors, English Public School Trustees (French + English), and Catholic School Trustees (Ontario only). It was a herculean effort for a small team, but so very necessary to ensure that pro-life/family voices are at the table in local governments.
Across these provinces, CLC endorsed a total of 303 candidates for Mayor, City Council and School Trustee. Of that, 72 were elected.
More than 825,000 voters across these municipal elections cast a ballot for one of our candidates, demonstrating that there exists a strong support base for politicians who support traditional values and oppose "woke" ideology.
Another 15 candidates lost by narrow margins that might've been overcome if only CLC had more resources... and if more supporters had volunteered for our candidates. Here's a few examples of nail-biter races which cause us frustration at the thought of what might have been:
DISTRICT

CLC-ENDORSED CANDIDATE

Votes Lost By

Toronto Catholic District School Board

Ward 1 (ON)

Robert Pella

(A faithful Catholic challenging heretical, gay pride flag supporting incumbent Joseph Martino)

-1

Note: Pella's requesting a recount. The result was suspicious since he appeared to have won on election night by 7 votes, but sometime after 2:00 am, in the dark of night, while everyone slept, the votes were flipped to Martino's favor.


Norwich Township Council

Ward 3 (ON

John van Brenk

-4

Public Schools Trustee

Zone 6 (P.E.I.)

Wendy Foote

-32

Delta School District
Maple Ridge ward (B.C.)

Brian Dominick

-51
HIGHLIGHTS FROM KEY RACES
TORONTO CATHOLIC DISTRICT SCHOOL BOARD (TCDSB)
Please pray that Robert Pella's demand for a recount of the Ward 1 TCDSB election will be granted, and he'll succeed in taking that crucial seat.
The TCDSB race was closely monitored by well-connected LGBT activists who understood that a two seat flip in favour of faithful Catholic candidates could upset the balance of power, which, until now, was in the hands of those who despise Catholic moral teaching. That flip appeared to happen with Pella seemingly winning by 7 votes on election night in Ward 1, and Kevin Morrison winning in Ward 9. The latter is believed to be a faithful, pro-life Catholic.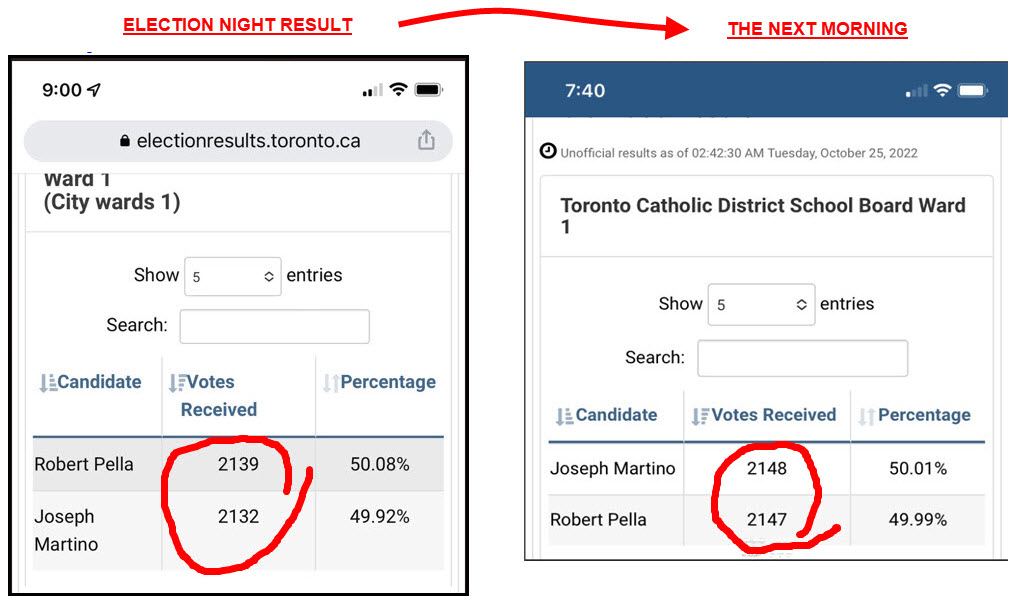 If Pella gets the recount and is declared the victor, the board would consist of 6 faithful Catholics vs. 6 anti-Catholic heretics, a dramatic shift from the previous board which was made up of 4 faithful trustees vs. 8 dissidents. It could mean that the heretical faction can no longer ram through their agenda.
MIKE DEL GRANDE VINDICATED BY HIS VOTERS
On October 24th, Trustee Mike Del Grande won a landslide in TCDSB Ward 7, taking more than 54% of the vote, and beating his closest competitor by 37 percentage points!

For the past three years, the radical LGBT mob, their allies in the liberal media, and the cabal of anti-Catholic fellow trustees have claimed Mike's orthodox biblical beliefs were a relic of the past which they find repugnant. However, the voters in Ward 7 rewarded Mike for his stand with this landslide victory.
CHILLIWACK, B.C. BOARD OF EDUCATION
This public school board has been taken over by radical LGBT activists. A gender-confused individual who identifies as transgender was elected to the board, while Barry Neufeld, the heroic, pro-life Chilliwack trustee was defeated by 7 points. Neufeld had been the de-facto leader of the opposition to Gender Ideology being taught in schools.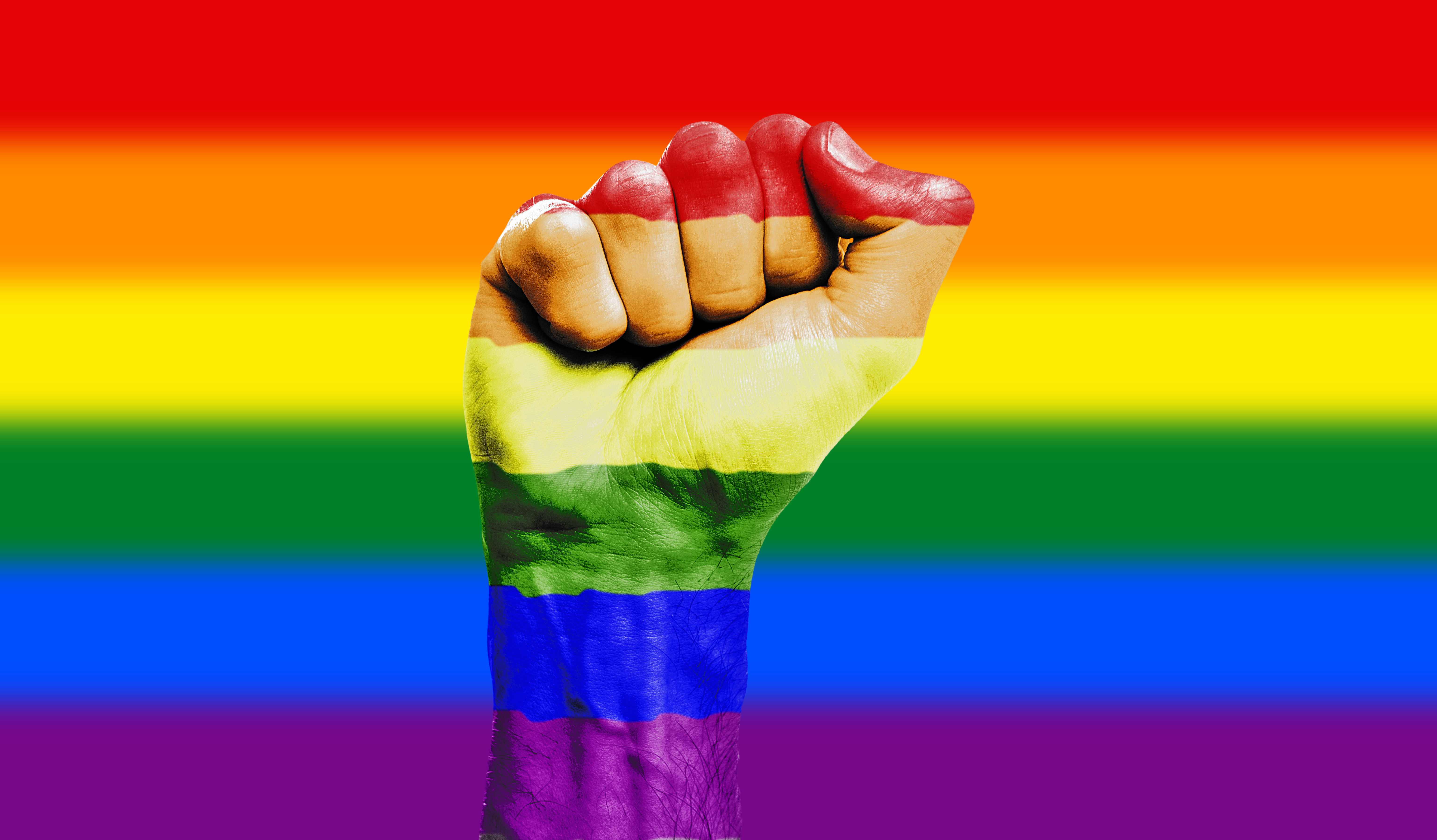 It raised many eyebrows that the Supreme Court of Canada chose the last week of the BC municipal election campaign to schedule a court hearing for a defamation lawsuit that Barry had been enmeshed in. Coincidence? This hearing took Barry off the campaign trail during the most important week of the election when he should have been in Chilliwack focused on getting-out-the-vote. Instead, he was in Ottawa dealing with the hearing. It is very sad to lose this courageous child advocate and pro-family hero.
P.E.I. PUBLIC SCHOOLS BRANCH
In Zone 7, a long-time CLC supporter named Patricia van Diepen won a crucial election against Brittany Jakubiec. The latter is an LGBTTIQ2S+ activist who works for Egale Canada, probably the country's largest homosexual & transgender political lobby group.

Egale is the very same gay lobby group which successfully coordinated lawsuits across the country, using taxpayer dollars from a Liberal government slush fund, to overturn the true definition of marriage. PEI parents dodged a bullet in this election with the victory by van Diepen.
CLC's election team is currently working on the New Brunswick municipal elections which will be held November 28.
Comments