Justin Trudeau determined to spread abortion worldwide, despite global pushback
April 3, 2017 @ 2:11am
On March 8, our Canadian Prime Minister proudly announced that Canadian taxpayers would be forced to pay a whopping $650 million over the next three years to fund and promote abortion, age-inappropriate sex education, and aggressive sterilization programs. In addition, he plans to fund efforts to liberalize abortion laws in the developing world where it continues to be illegal or restricted. This comes at a time, when under Trudeau's leadership as PM, the federal deficit has skyrocketed to over $640 billion, threatening the financial stability of our nation.
This decision came just a week after International Development Minister Marie-Claude Bibeau flew to Europe to announce a separate $20 million funding commitment at the #SheDecides Conference, to groups that promote or commit abortions. At the time of the announcement, this was Trudeau's way of sticking it to the Trump administration who re-instated the Mexico City Policy back in January. The money went to five organizations including global abortion giants International Planned Parenthood Federation and Marie Stopes International which are both riddled in scandals and malpractice. But on International Women's Day, Trudeau upped the ante as if to solidify his legacy as the most abortion obsessed leader in the free world. According to a government backgrounder provided to the media about the announcement, a significant amount of the funding will go toward removing "judicial and legal barriers to the fulfillment of sexual and reproductive health and rights." In other words, Canadian tax dollars will be used to apply pressure on foreign governments to break down their abortion laws, ignoring national sovereignty and undermining the democratic process of these nations. This funding comes just a month after Trudeau told media on February 13, at a White House press conference with Donald Trump that "The last thing Canadians expect is for me to come down and lecture another country on how they choose to govern themselves."
This is a despicable form of colonialism in which the Trudeau government is foisting its far left, globalist values on the rest of the world; in essence: ideological colonialism.
This was especially visible in the halls and chambers of the United Nations at this year's 61st Commission on the Status of Women, where Justin Trudeau is considered a demi-god because of how often he refers to himself as a feminist. As if the 650 million dollar announcement wasn't enough to show the world how obsessed he is with 'empowering' women to kill their pre-born children, at this year's annual women's conference, our Canadian bureaucrats were given the uncomfortable task of trying to convince the world to support Trudeau's abortion scheme. They failed.
All references to abortion as a human right were scrapped during negotiations. Many nations from Africa, Latin America, the Caribbean, the Middle East, and Asia were more focused on genuine healthcare, promoting the important role of the family, and ensuring economic empowerment for women, rather than pushing an abortion agenda. Canada, together with delegations from Australia, New Zealand and the European Union (which is becoming increasingly divided) stuck out like a sore thumb in their continuous (and unwanted) push for a universal right to abortion. Even the United States, who for eight years have championed the abortion issue, distanced themselves from the abortion pushers by reaffirming that abortion is not a human right and that they do not support it as part of healthcare assistance. The 180 degree shift by the U.S and the increased opposition to abortion by other member and observer states, was a definitive sign that times were changing on the life and family front.
Within the UN walls and in politics at large, if you repeat a lie often enough it becomes the truth. The truth is, there is no universal right to abortion regardless of how often Justin Trudeau says there is. Since the UN's inception, there has never been consensus on this issue. When abortion is mentioned in agreed conclusions (non-binding normative documents which are adopted at various UN commissions), it contains several caveats. For example, abortion should be discouraged by states, it shouldn't be encouraged as a birth control method and it should be exclusively addressed in national legislation. The majority of the UN membership understands this and made it very clear at this year's commission, much to the dismay of the Canadian and EU representatives.
In a time when the developing world is experiencing the largest humanitarian crisis since the creation of the United Nations, and famine and extreme poverty is affecting far too many people worldwide, why is our Canadian government determined to spread abortion worldwide when the rest of the world is trying to save lives not end them? By engaging in this type of colonialism, Trudeau has now made Canada one of the world's largest and most aggressive abortion exporters in the world, and whether they like it or not, the Canadian taxpayer is footing the bill.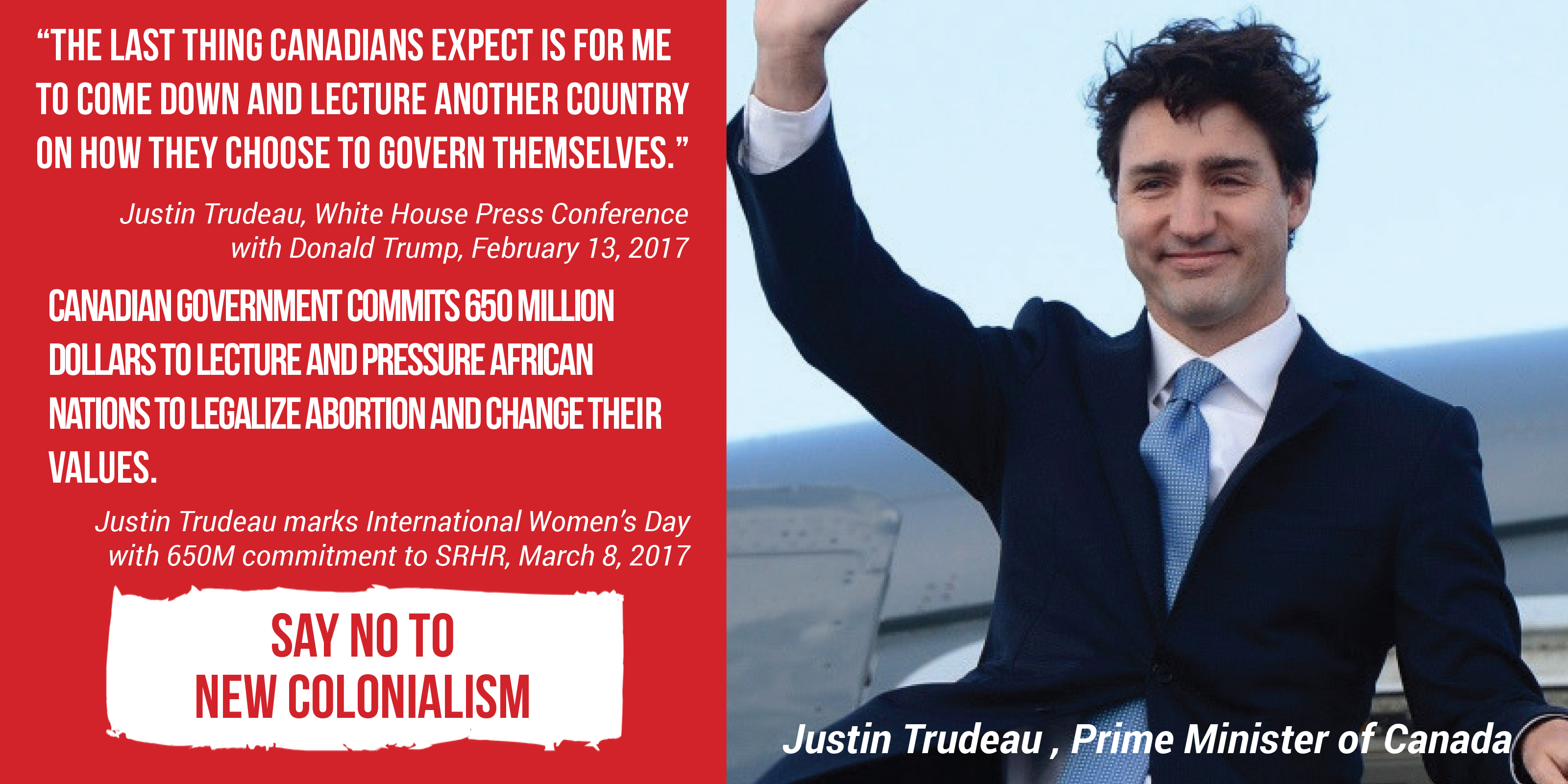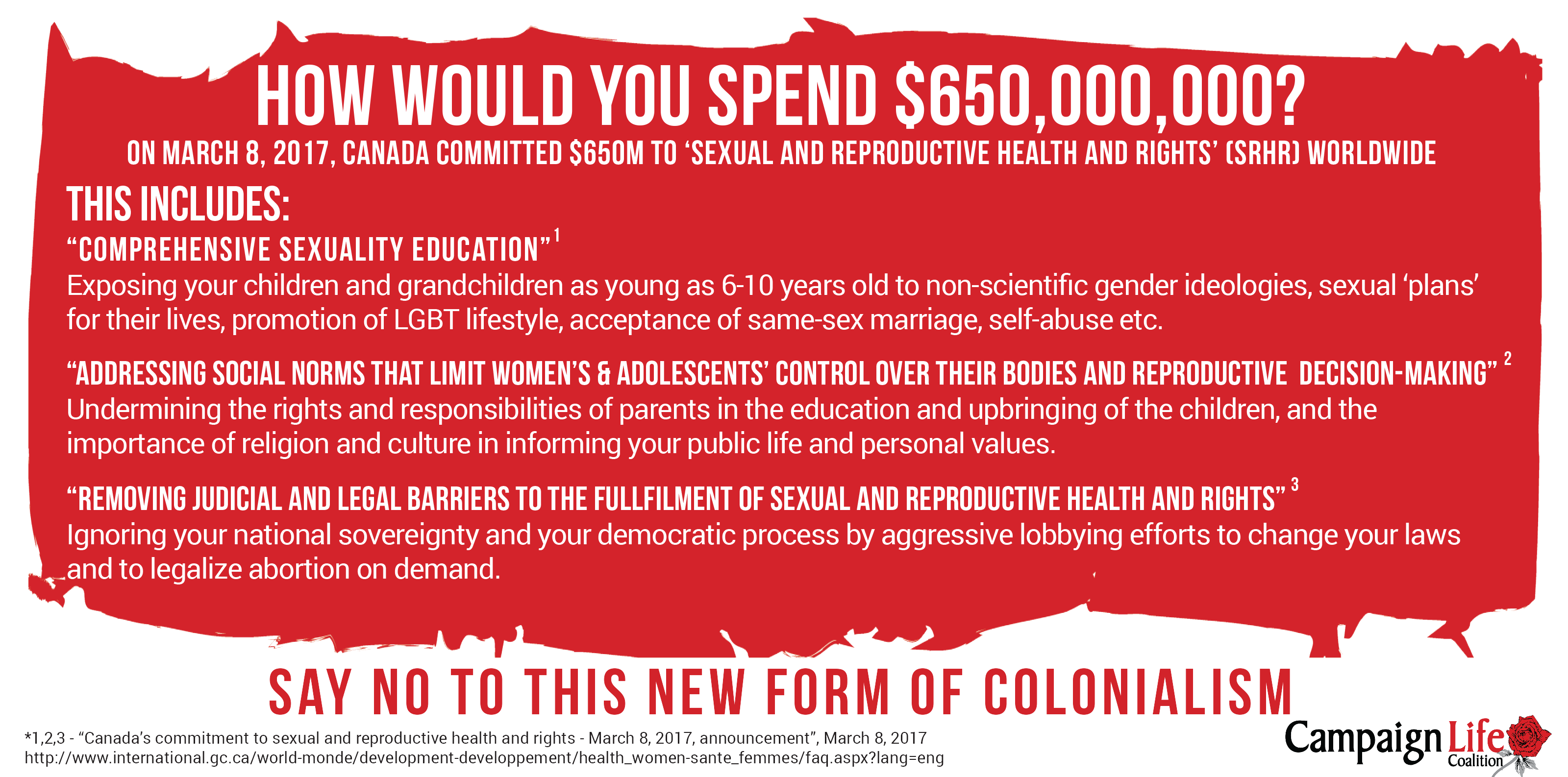 *The Campaign Life Coalition team partnered with other pro-life NGO's in distributing this postcard to hundreds of delegates and participants at the Commission for the Status of Women. In almost every case, the recipients of the postcards disagreed with Trudeau's misplaced priorities.
Comments