Analysis of 2019 Federal Election Results
October 24, 2019 @ 1:58am
For pro-life and pro-family Canadians, the re-election of Justin Trudeau was depressing. He is the most rabidly pro-abortion Prime Minister in Canada's history, and a ferocious opponent of free speech, religious freedom, and family values.
The Liberals won a strong minority government on October 21st, taking 157 seats (13 short of a majority), while Conservatives won 121 seats (up 22 from the 2015 election), the NDP secured 24 seats and the Greens had a breakthrough, winning three seats.
Until the government falls, which usually happens within two years in the case of minorities, Canadians will have to continue suffering under Trudeau's pro-death, anti-family agenda.
Painful losses
In this election cycle, we were grieved to lose MP Harold Albrecht (Kitchener-Conestoga), a stalwart pro-lifer who was defeated by a mere 365 votes, to his Liberal challenger. CLC had endorsed Albrecht as the lone pro-lifer in the riding.
Albrecht was a bold and principled MP with a perfect voting record on life and family issues since being first elected in 2006. He spoke at the National March for Life each year, rose to speak on life and family issues in both the House of Commons and locally in his community; and he hosted CLC events on Parliament Hill. His defeat is a major loss on the Hill.
We are saddened that heroic past pro-life MPs who got swept out of power in 2015 did not succeed in their re-election bids. These include Stephen Woodworth (author of pro-life motion M-312), Wladyslaw Lizon (who asked the RCMP to investigate potential murders of children who survived abortion), Pierre Lemieux (who, along with Brad Trost, ran for the CPC leadership on a socially-conservative platform), and Stella Ambler (who had a perfect voting record).
Happier results - new and returning MPs
In New Brunswick, two former pro-life MPs made a come-back to win their old jobs back! John Williamson (New Brunswick Southwest) and Rob Moore (Fundy Royal) won by a big margin, 16,000 and 17,000 votes respectively.
In Ontario, former Brampton MP Kyle Seeback returned to power in the riding of Dufferin-Caledon, replacing a pro-abortion Conservative, David Tilson, who retired from politics.
We also had six small victories where new pro-life candidates took seats away that had been held by pro-abortion MPs. See below: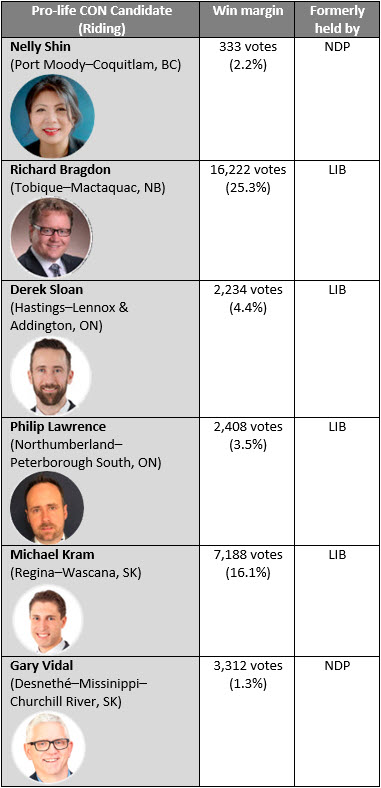 The importance and influence of the social conservative vote was also seen in Nelly Shin's election, where our supporters made the difference in helping her secure that narrow win of 333 votes in Port Moody-Coquitlam. CLC's efforts also paid off in helping pro-life MP David Sweet fend off his Liberal opponent, a race he won by a mere 650 votes or 1%. CLC thanks all our supporters in Flamborough-Glanbrook who helped keep this MP's seat pro-life by getting-out-the-vote. CLC put a lot of effort into helping elect all of these successful candidates. It is satisfying to see that effort pay dividends!
It's tempting to despair at the loss of Albrecht and the fact that there are only 46 known pro-life MPs qualified by CLC out of 338 in this new parliament. However, this is actually an increase in pro-life representation over the last parliament which had only 43! That's a 7% increase, and the right direction we need to go. Additionally, there are many Conservative MPs with an amber light rating by CLC who had pro-life leanings, but not deemed to be fully pro-life, as well as others whose views are unknown. Some of these can be educated on the issues and brought around to a fully pro-life position.
Having 46 solidly pro-life MPs is not an insignificant number either. It's almost twice as many MPs as the NDP has in its entire caucus. The media is busy telling us that the NDP had a respectable result and can still be influential in the House of Commons. If so, pro-lifers had twice as good an election result and can be twice as influential! We also have 14 more pro-life MPs than the separatist Bloc Quebecois.
CLC-endorsed candidates outperformed everyone
Data analysis shows that being endorsed by Campaign Life Coalition gave Conservative Party candidates a significant competitive advantage, compared with those whom CLC rated as either a red light (pro-abortion) or an amber light (caution).
Of the 67 Conservative candidates who earned CLC's top, green light rating, 46 won and 21 lost. That's a 69% success rate.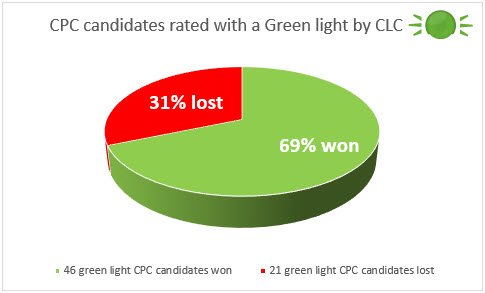 Of the remaining 270 Conservatives who got a red or amber light rating from CLC, 75 won and 195 lost. That's only a 28% success rate.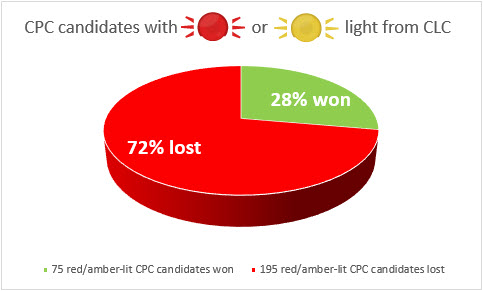 Let that sink in.
Conservative candidates who got endorsed by CLC had a 69% election success rate while all others had only a 28% success rate.
This reveals what CLC has always known. Having the pro-life and pro-family movement at a candidate's back is an advantage that increases the chances of electoral success. It also reinforces the influence that Campaign Life Coalition and its supporter network brings to bear on nomination contests and elections. By supporting Campaign Life, you are part of that influence.
Extrapolating this higher success rate from a CLC endorsement also suggests that if Andrew Scheer had allowed the nomination of, and even actively sought out, more pro-life nomination candidates, the Conservative Party would have won significantly more seats than 121.
Below is a list of all 46 of your new pro-life MPs, organized by province. Please join us in welcoming them!
BRITISH COLUMBIA
1. Alice Wong, Richmond Centre.
2. Bob Zimmer, Prince George-Peace River-Northern Rockies.
3. Edward Fast, Abbotsford.
4. Mark Strahl, Chilliwack-Hope.
5. Nelly Shin, Port Moody-Coquitlam.
6. Tamara Jansen, Cloverdale-Langley City.
7. Todd Doherty, Cariboo-Prince George.
ALBERTA
1. Arnold Viersen, Peace River-Westlock.
2. Blaine Calkins, Red Deer-Lacombe.
3. Christopher Warkentin, Grande Prairie-Mackenzie.
4. Damien Kurek, Battle River-Crowfoot.
5. Dane Lloyd, Sturgeon River-Parkland.
6. Garnett Genuis, Sherwood Park-Fort Saskatchewan.
7. Glen Motz, Medicine Hat-Cardston-Warner.
8. Michael Cooper, St. Albert-Edmonton.
9. Michael Lake, Edmonton-Wetaskiwin.
10. Rachael Harder, Lethbridge.
11. Shannon Stubbs, Lakeland.
12. Tom Kmiec, Calgary Shepard.
MANITOBA
1. Candice Bergen, Portage-Lisgar.
2. James Bezan, Selkirk-Interlake-Eastman.
3. Ted Falk, Provencher.
SASKATCHEWAN
1. Cathay Wagantall, Yorkton-Melville.
2. Jeremy Patzer, Cypress Hills-Grasslands.
3. Kelly Block, Carlton Trail-Eagle Creek.
4. Michael Kram, Regina-Wascana.
5. Robert Gordon Kitchen, Souris-Moose Mountain.
6. Rosemarie Falk, Battlefords-Lloydminster.
7. Tom Lukiwski, Moose Jaw-Lake Centre-Lanigan.
8. Gary Vidal, Desnethé-Missinippi-Churchill River.
ONTARIO
1. Ben Lobb, Huron-Bruce.
2. Bob Saroya, Markham-Unionville.
3. Cheryl Gallant, Renfrew-Nipissing-Pembroke.
4. Colin Carrie, Oshawa.
5. David Sweet, Flamborough-Glanbrook.
6. Dean Allison, Niagara West.
7. Derek Sloan, Hastings-Lennox and Addington.
8. Kyle Seeback, Dufferin-Caledon.
9. Lianne Rood, Lambton-Kent-Middlesex.
10. Michael Barrett, Leeds-Grenville-Thousand Islands and Rideau Lakes.
11. Phil McColeman, Brantford-Brant.
12. Philip Lawrence, Northumberland-Peterborough South.
13. Pierre Poilievre, Carleton.
NEW BRUNSWICK
1. John Williamson, New Brunswick Southwest.
2. Richard Bragdon, Tobique-Mactaquac.
3. Rob Moore, Fundy Royal.

Campaign Life Coalition would also like to acknowledge the 148 pro-life candidates who ran for the Conservatives, the People's Party of Canada, the Christian Heritage Party, and the Libertarian Party, and as Independents. CLC's voter's guide had the largest number of supportable candidates in more than 20 years.
Thank you to all of these candidates who took on the large task of running for public office.
Scheer snatched defeat from the jaws of victory
Andrew Scheer and his advisors ran a blunderous campaign on many fronts. He alienated and de-motivated a significant portion of the "small-c" conservative base by copying Liberal policy positions, and giving the impression that the only constituency he was concerned about satisfying was the CBC.
That small-c conservative base consists of those for whom principles are more important than popularity, including social conservatives as a large segment, but also fiscal conservatives, free speech conservatives, and national sovereignty conservatives (who oppose relinquishing our sovereignty to the UN).
Conservatives could not have asked for a better set of circumstances to topple Trudeau and win at least a minority. The SNC-Lavalin scandal, the Ethics Commissioner's finding that Trudeau broke the law, and the racist blackface scandal that made Trudeau the object of ridicule the world over, should have made this election a relatively easy minority victory for the Conservative Party.
On top of that, social media swirled with a widespread rumour of alleged sexual misconduct by Trudeau, when he was a high school teacher, involving a student.
If you cannot beat Trudeau under this prime scenario, how can you ever hope to beat him?
In our view, the reason Scheer lost is because he failed to inspire the small-c conservative base, which includes pro-life social conservatives as a huge constituency. Not only did he fail to inspire, but he insulted and alienated them.
On social issues, Scheer stepped into a trap set by his Liberal opponents. By constantly attacking him about his past pro-life and pro-family beliefs, they goaded Scheer into conducting voter suppression on the Conservative Party's own base, thus demoralizing socially-conservative supporters and activists.
By saying he would personally vote against any pro-life bill that might ever be introduced, by embracing the LGBT-agenda and turning his back on family values, and by blocking and firing pro-family candidates, Scheer deflated his own base.
Scheer even promised the media that he would continue funding overseas abortions with Canadian tax dollars, astonishingly pledging to cut 25% from the international aid budget, but not one penny from foreign abortions. By the way, that contradicted official party policy which grassroots members passed at the Conservative policy convention in 2018, which explicitly opposes taxpayer funding of abortion overseas.
One example of how Scheer angered other segments of the conservative base, such as libertarian and free speech conservatives was when he booted MP Michael Cooper off a committee for defending conservatives against false smears of being racist and violent.
Another example was when Scheer instructed Conservative MPs on a committee studying "online hate" to turn off the cameras during Mark Steyn, Lindsay Shepard and John Robson's testimony on free speech, so that Canadians could not hear their arguments. These and many other examples were self-inflicted sabotage to Scheer's own supporter base, done for no other reason than fear of the mainstream media.
Our belief is that Scheer suppressed the 'small-c' conservative vote to a significant enough degree that it let the Liberals back into the race, and threw away the victory he should have been celebrating.
The Catholic / Christian vote and the Green Party surge
We believe that Scheer's repeated support for the abortion status quo, his pledging to protect funding for overseas abortion, and saying he would personally vote against any pro-life bill or motion, severely damaged support amongst the critical Catholic voting bloc, which represents 39% of all Canadians according to the most recent census data.
Quite possibly, it also did significant damage to the voting blocs of Evangelicals and other Christians.
These actions by Scheer left Catholics and other Christians with the perception that there is no appreciable difference on abortion between any of the parties. This fact was highlighted by former CBC news anchor, Don Newman, who moderated the Catholic debate that was organized by the Archdiocese of Toronto:
"Abortion is really, probably, I would say the single biggest issue for most Catholics," Newman observed.
"You haven't given much comfort to the Catholics in the room. And I'm wondering why then any of them should be voting for you. Any of you." (emphasis added)
Newman's stinging question hurt the Conservatives. It left the distinct impression amongst the 1000+ Catholic influencers packed in the John Bassett Theatre for the debate that there really is no appreciable policy difference on abortion between any of the parties, and therefore, your conscience is clear to vote Liberal, NDP or Green based on other issues.
In fact, that was precisely the line used by Liberal MP Francesco Sorbara, in response to Newman's rebuke of all parties, to make the case for why Catholics should keep voting Liberal:
"Every party has taken the same position on that. From my understanding, no party will be reopening the debate on a woman's right to choose in Canada".
We believe Sorbara's strategy largely worked. For many of those Catholic influencers in the room, and those watching on TV or livestream, the take-away was that you can vote Liberal, Green – even socialist NDP – based on some other issue, since all the parties are the same on abortion.
In fact, we suspect that the Green Party surge this election, which gave it 560,000 additional votes over 2015, may be in part because Catholics and Evangelicals gave themselves permission, in the perceived absence of any difference between the Conservative Party and the Libs/Greens on abortion, to vote for who they think is better for the environment.
The common wisdom amongst pundits is that the Greens split the left-wing vote, stealing only from Liberals and NDP. We are not so sure about that. It may well turn out that Greens also stole significant votes from religious conservatives who would normally lean towards casting a ballot for the Conservatives.
We suspect that when (or if ) exit polling data becomes available to show how Catholics voted, we'll find that the large majority voted either LIB or GRN, rationalizing to themselves to vote where they can make a difference "fighting climate change", since no action on protecting the sanctity of human life is possible under the current party leaders.
Admittedly, this is speculation about the source of the Green Party surge (and the ability of LIBs to hang onto the Catholic vote), but it is not without logical grounding.
We point to the voter guide resources issued by the Archdiocese of Toronto to the Catholic electorate. It also had reach beyond Toronto. That "Catholic" voter guide placed climate change at the top of its list of issues - even above abortion - which was muted under the vaguer heading of "Human Dignity".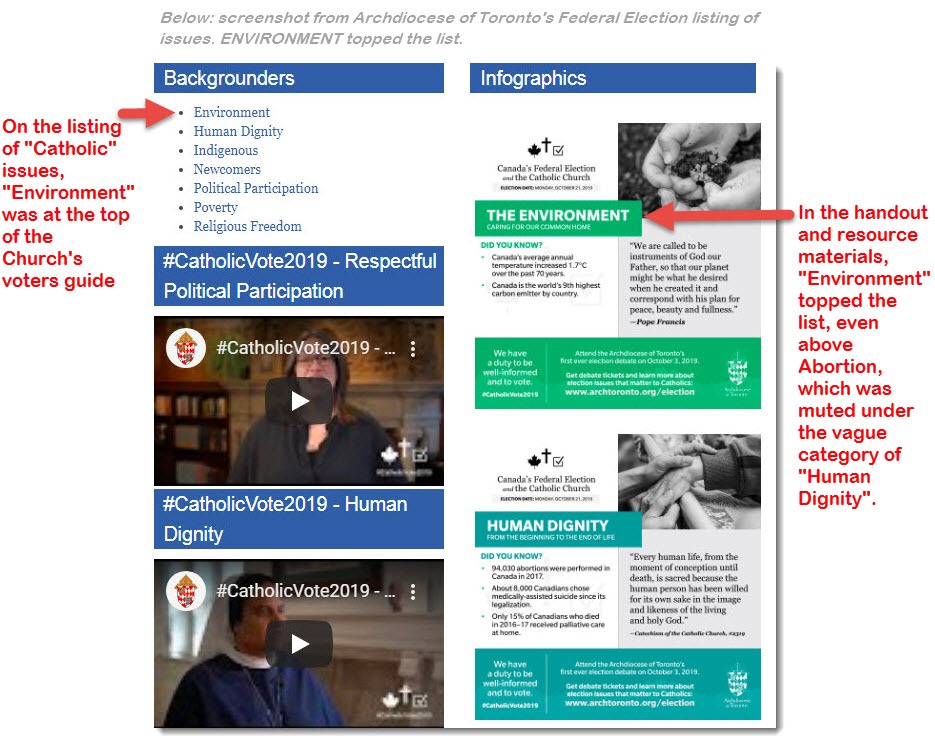 While some may argue that it was simply the result of listing issues in alphabetical order, the fact remains that the message many Catholics likely interpreted from reading this Voter Guide was that "fighting climate change" is the most important issue.
By the way, why were Abortion and Euthanasia squished into one category while Environment had its own? The former are each non-negotiable issues that disqualify a politician from receiving the support of Catholics, while the best way forward on environmental policy is one of prudential judgement, where good Catholics can disagree.
Were those issues combined under "Human Dignity" in order to ensure that "environment", not "abortion", would be listed first, and perceived as the most important ballot box issue for Catholics? Hmmm….
Churches are increasingly pushing "climate change" as a quasi-religious issue, and Scheer made it easy for many Catholics to consider it their top moral issue at the ballot box, and to vote Liberal or Green as a result
What about the larger 2019 vote totals for Conservatives?
Apologists for Andrew Scheer who want to deny that he ran a poor campaign or alienated his natural base, will point to the fact that Conservatives received 542,000 more votes than in 2015. They will present that as evidence that the party's base was not disillusioned nor demoralized.
The simple response to that is that had Scheer better inspired small-c conservatives by sticking to conservative principles, the party would likely have gained a lot more votes than 542,000.
Why is it good to keep social conservatives engaged and inspired?
Pro-life and pro-family Conservatives are amongst the hardest workers in the Conservative party. When inspired, they're great at recruiting new voters via word-of-mouth, through their church, family, and personal networks. This produces a multiplier effect beyond their own votes.
Socons volunteer in great numbers which can also have a multiplier effect on the overall votes in a campaign. That multiplier effect is not limited just to other moral or religious voters, since these pro-life/family activists also work hard to recruit support amongst friends and relatives who do not necessarily vote based on social issues.
When Scheer de-motivates social conservatives, much of this voter and volunteer recruitment action evaporates. Additionally, we know that due to sheer disgust with the alienation they felt, many so-cons stayed in bed on election day and did not vote at all.
How Scheer may have turned off the mushy middle
By abandoning his deeply-held, "small-c" conservative principles in such a public manner for the entire country to behold, Scheer may also have muted the Conservative vote amongst the mushy middle, including undecided voters.
This large swathe of people in the mushy middle don't care about the abortion issue one way or the other. They don't vote based on a politician's stance vis-à-vis abortion. However, what they do care about is whether politicians seem to have integrity and whether they are men and women of principle.
When Scheer abandoned his principles so publicly, and was made to look frightened and ashamed of his own Catholic beliefs, this likely turned off many voters in the mushy middle. Not necessarily because they share those beliefs, but because it made him look like another flip-flopping, unprincipled politician who'll say anything to get elected.
If Scheer had stood firm on his principles, not apologized for them, and told the hostile, Trudeau-loving apologists in the media to go jump in the lake, he would have endeared himself much more towards that large swathe of mushy middle voters. In the end, many Canadians just want principled politicians who stand for what they believe. Unfortunately, Scheer did not give the perception that he is such a man.
Moving forward
In spite of the disappointment of a returning Liberal regime, this election nonetheless produced one good result in terms of abortion being a non-stop subject of discussion. Justin Trudeau and the liberal media, even though they raised the issue only to attack pro-lifers, have nonetheless proven that abortion is not a settled issue in Canada, and many Canadians want to address the lack of legal protection for preborn children, including many politicians.
CLC will be reaching out to the new pro-life MPs, as well as those whose positions are unknown due to the fact that they did not respond to CLC's questionnaire. We will likely uncover a few more pro-lifers over the coming months, and seek to also work with them in advancing a culture of life.
We will also be prepared to fight against whatever new onslaught of evil laws and policies Justin Trudeau will throw at traditionally-principled Canadian families. We expect he will seek to expand euthanasia-on-demand to children, depressed persons and those who are not even dying.
His values test to discriminate against pro-lifers will possibly expand to other government programs.
Given Andrew Scheer's lackluster performance in this election, delegates may also be required to vote at the 2020 Conservative Convention next April on whether to hold a Leadership Review. Only time will tell if that'll transpire, but we need our Conservative Party supporters to keep their memberships valid, just in case. If you're interested in becoming a CPC Convention delegate, please email us.
CLC is ready for battle on all these fronts to uphold the sanctity of life, family, faith and free speech. Are you ready to fight alongside us?

Comments