Candidate running in Ontario byelection to repeal explicit Sex-Ed
September 1, 2016
Where: Scarborough-Rouge River
Date published: August 12, 2016
There will be an Ontario Provincial byelection in the riding of Scarborough-Rouge River, taking place on Thursday, September 1st. The byelection is being held to replace former Liberal MPP Bas Balkissoon, who resigned unexpectedly and without explanation on March 22nd.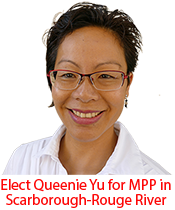 We are pleased to give a strong endorsement to INDEPENDENT candidate, Ms. Queenie Yu. She is pro-life, pro-family and pro-parental rights. She is running on a single-issue platform of repealing the radical sex-ed curriculum of Kathleen Wynne & Benjamin Levin.
No other candidate in this byelection can make that claim. In fact, the Liberal and NDP candidates support the age-inappropriate, overly explicit elementary school sex program, while the PC candidate, Raymond Cho refuses to say he would repeal the curriculum.
Cho won't even say that he has any serious objection to it. In fact, the PC Leader Patrick Brown, who won the party Leadership because he campaigned against sex ed, has gone totally silent on the issue and no longer offers any resistance to the Liberal sex curriculum.
Please support Queenie Yu by taking the following actions:
1. Vote for her if you live in Scarborough-Rouge River.
2. Tell your friends and relatives in the riding to vote for her.
3. Order a lawn sign for your property or business, through her website here.
4. Volunteer on Queenie's election campaign between now and September 1st, through her website here.
Note: Even if you don't live in the riding, you can still volunteer for her.
5. Make a tax-deductible contribution to her campaign at her website, here.
6. Pray that her campaign will be successful in defending parental rights and the innocence of children.
Kathleen Wynne's controversial sex-ed program was written under the direction of a convicted pedophile, Dr. Benjamin Levin, who was Wynne's former Deputy Education Minister. A great number of parents believe this curriculum puts children at greater risk from sexual predators like Levin, and that lessons may have been made deliberately age-inappropriate, so as to groom children to be sexually available for adults. With pedophilic fingerprints all over this curriculum, it's imperative that we succeed in having it scrapped.
The byelection is an opportunity to elect someone who will keep pushing to repeal this dangerous curriculum. Even if Queenie does not win, it is a powerful opportunity to send a strong message to the Liberals and to Patrick Brown, that parents do not want this curriculum foisted on their kids.
Remember, your vote for Candidate Yu (or other form of support) will help us protect children from being sexualized.
Would you please do us the favour of sending us a note to indicate in which manner you'll support Queenie Yu's campaign?