Toronto Protest: My Child My Choice !!! STOP AGE INAPPROPRIATE SEX ED IN ONTARIO !!!!
Starts: April 14, 2015 @ 10:00am
Ends: April 14, 2015 @ 12:00pm
Where: Queen's Park, Toronto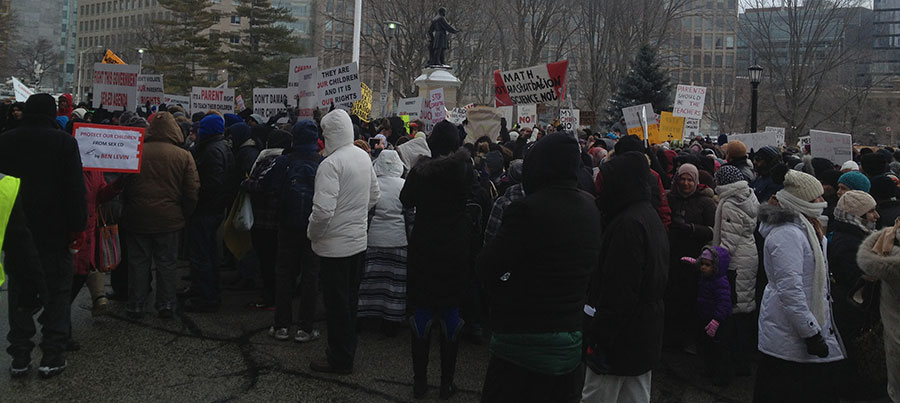 On the day after the start of sentencing for convicted child predator and architect of the Liberal sex ed curriculum, thousands of parents will be heading back to Queen's Park on April 14th for a bigger and louder, protest of Kathleen Wynne's age-inappropriate, overly explicit sex-education curriculum for elementary schools. The first protest kicked off a string of local protests around the province that have been spreading ever since.
The first protest took place February 24th and drew hundreds of angry parents from all walks of life and a diversity of ethnic communities. Premier Kathleen Wynne was so rattled by the huge turnout that she tried, in the most crass and disingenuous way, to silence their legitimate concerns by falsely slandering parents as "homophobes". Her drive-by smear tactic did not work. They are even more outraged now that the Premier has turned her guns on the very parents she claims to have consulted. Her attempt to divert attention from the real resons parents oppose the curriculum (age-inappropriate, too explicit) only served to prove that the Liberal government never wanted the input of Ontario parents. The underhanded name calling tactic of Kathleen Wynne has not worked. Parents love their children too much to be bullied into silence.
Don't let Ontario children be sexualized by radicals in government who push a sexual revolution agenda under the guise of protecting children. One of those radicals is Benjamin Levin, the confessed child pornographer who oversaw the development of the sex-ed curriculum as then Deputy Education Minister. He pleaded guilty on March 2nd to two child pornography related charges and one pedophilia related charge. Amongst the shocking evidence revealed in court was that the Liberal sex-ed architect told undercover cops at a child seduction chat site, that he sexually abused his daughters and wanted them to make their own children (his grandchildren) sexually available to him.
Graphic court transcripts revealed that Levin instructed an undercover officer posing as a mother interested in molesting her own daughter "on how to groom the child to get her used to sex". The trial evidence revealed how the former Deputy Education Minister counselled such grooming to be undertaken: "Mr. Levin instructed (the officer) to expose her daughter to pornography, to be nude and to masturbate in front of the child".
Parents will return to Queen's Park on April 14th to demand the retraction of this controversial and unpopular curriculum which they believe will sexualize their children and make them more prone to sexual exploitation and experimentation, not less so. A tentative list of guest speakers scheduled for the event includes:
MyChildMyChoice committee organizers including Sam Sotiropoulos
Teresa Pierrre, Parents As First Educators
Charles McVety, Institute for Canadian Values
Monte McNaughton, former PC Leadership contender
Patrick Brown, PC Leadership contender (tentative due to schedule conflict)
Jack Fonseca, Campaign Life Coalition
Parents from various ethnic and cultural backgrounds
Will you attend the protest? Confirm your attendance by the RSVP form below, or by joining on the official Facebook event page. You may have to join the Facebook "group" before you're authorized to see the event details. Please also note that Campaign Life Coalition is not the organizer of this protest. It is being organized by grassroots, concerned citizens. Campaign Life Coalition is pleased to promote the effort and help mobilize parents to participate.
To read an analysis of the controversial sex ed curriculum, click here.
To learn the 12 ways you can fight the Liberal sex ed program, click here.
If you live in the London area and cannot make it to Toronto, please join a local protest at London's Victoria Park, to show solidarity with the cause. Learn more here.