A report on the 2019 National March For Life
May 14, 2019
As the organizer of the National March For Life on Thursday, May 9th, the staff and volunteers of Campaign Life Coalition worked tirelessly for months to put together this flagship pro-life event at our federal parliament. That tireless effort included promoting the event to Canadians so that we could make a big statement to the government with a huge crowd on the doorstep of the House of Commons.
We're pleased to inform you that the hard work paid off in spades! It was a tremendous success. By some estimates, it was attended by 15,000 to 20,000 Canadians who packed the lawn of Parliament Hill – at least half of them youth - from all over Ontario, and even from across Canada!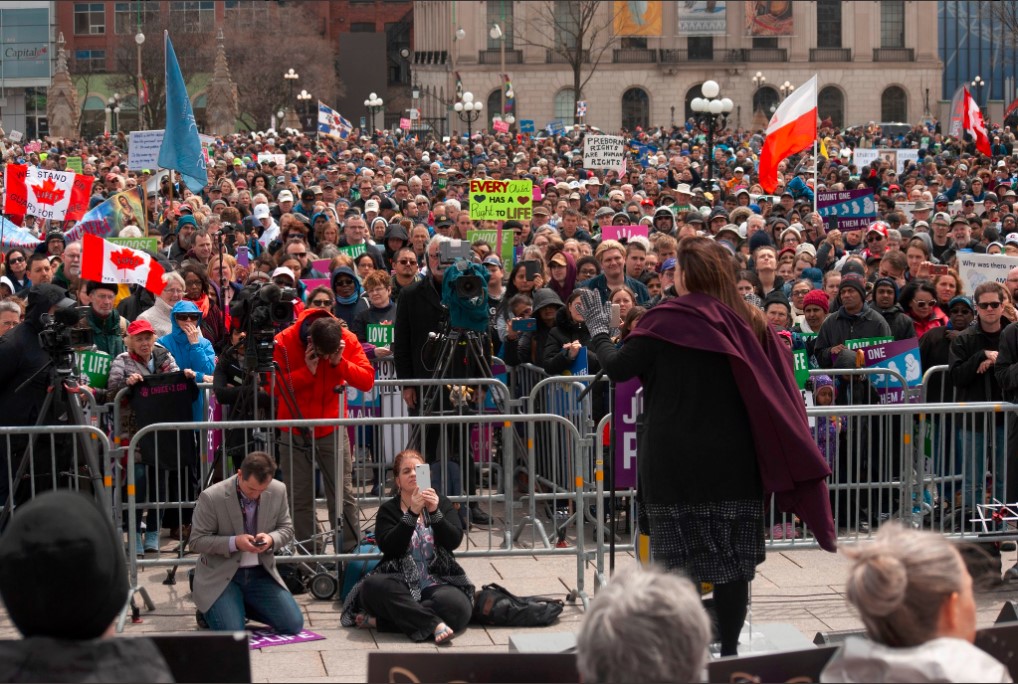 A partial view of the packed crowd, from the steps of Parliament. (Photo Credit: Nicole Contois)
Before we jump into the re-cap of the March for Life week, we extend thanks to all of you who sacrificed time and expense in coming to Ottawa. We especially want to express our gratitude to all our sponsors including our ROSE sponsors: The Knights of Columbus, EWTN, and LifeSiteNews whose contributions played a key role in the success of the March; all our private donors and those who contributed through our Friends of the March campaign; our army of volunteers, bus organizers, teachers, youth group leaders, and the dozens of march marshalls, many of whom were knights, who assisted us greatly in running a smooth and problem free march through downtown Ottawa. May God bless you all!
PRE-MARCH EVENTS HELD TUESDAY & WEDNESDAY
On Tuesday, May 7th, March for Life Week kicked off with an extremely successful screening of the hit film Unplanned at the National Museum of History in Quebec (just across the bridge from Parliament Hill).
With just two weeks' notice from the producers of the film, Campaign Life Coalition worked together with Dunn Media day and night, in organizing and hosting the screening which featured Abby Johnson, Lisa Wheeler, one of the producers of the film, and Victoria Robinson, from Save The Storks which sponsored the event. More than 500+ pro-life leaders and grassroots activists attended the screening and the Q&A session following the film.
It was a deeply inspiring evening for all who attended. Campaign Life Coalition will be working with the Unplanned team in doing whatever we can to bring this film to as many Canadians as possible.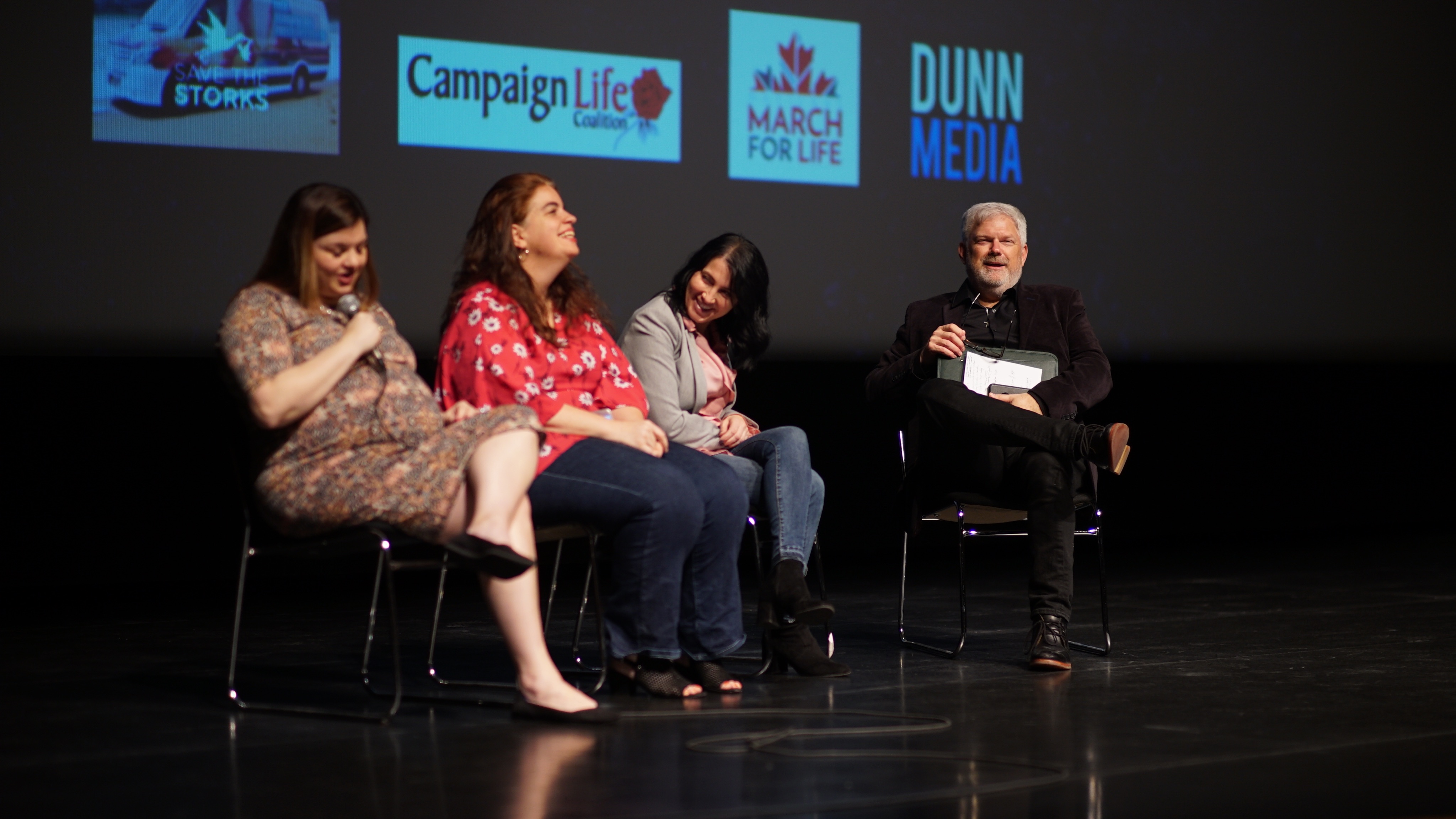 Following the screening of the film, Kevin Dunn from Dunn Media led a Q&A session with Abby Johnson, Lisa Wheeler and Victoria Robinson. (Photo Credit: Dunn Media)
The following morning on Wednesday, May 8th, Campaign Life Coalition hosted the pre-March for Life press conference in the Parliamentary press gallery. Our special guests included Abby Johnson who took the opportunity to share her story and Lisa Wheeler who announced that Unplanned has been rejected by every Canadian distributor they have reached out to. They promised however that Canadians WILL see this movie, just that it will have to be done through the grassroots efforts of the pro-life movement. We are also grateful to MPs Arnold Viersen, Brad Trost and Bev Shipley who joined the press conference.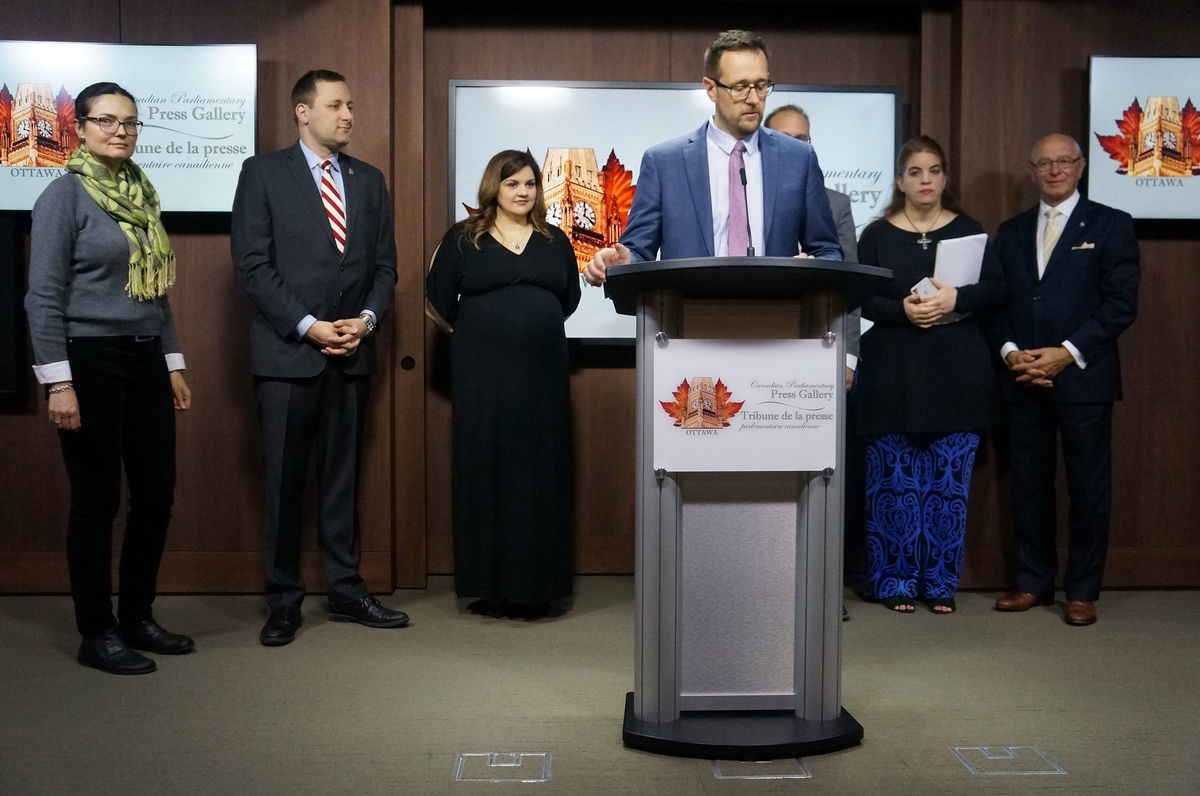 From left to right: Hanna Kepka, CLC Government Relations; MP Brad Trost (Saskatoon-University); Abby Johnson; Matt Wojciechowski, CLC Vice President; MP Arnold Viersen (Peace River - Westlock); Lisa Wheeler; MP Bev Shipley (Lambton-Kent-Middlesex)
On Wednesday evening, CLC Youth organized the annual Candlelight vigil at the Human Rights Monument following a candlelight procession from St. Therese's church which was led by Abby Johnson. Several hundred people attended the vigil which featured powerful testimonies, beautiful music and prayer.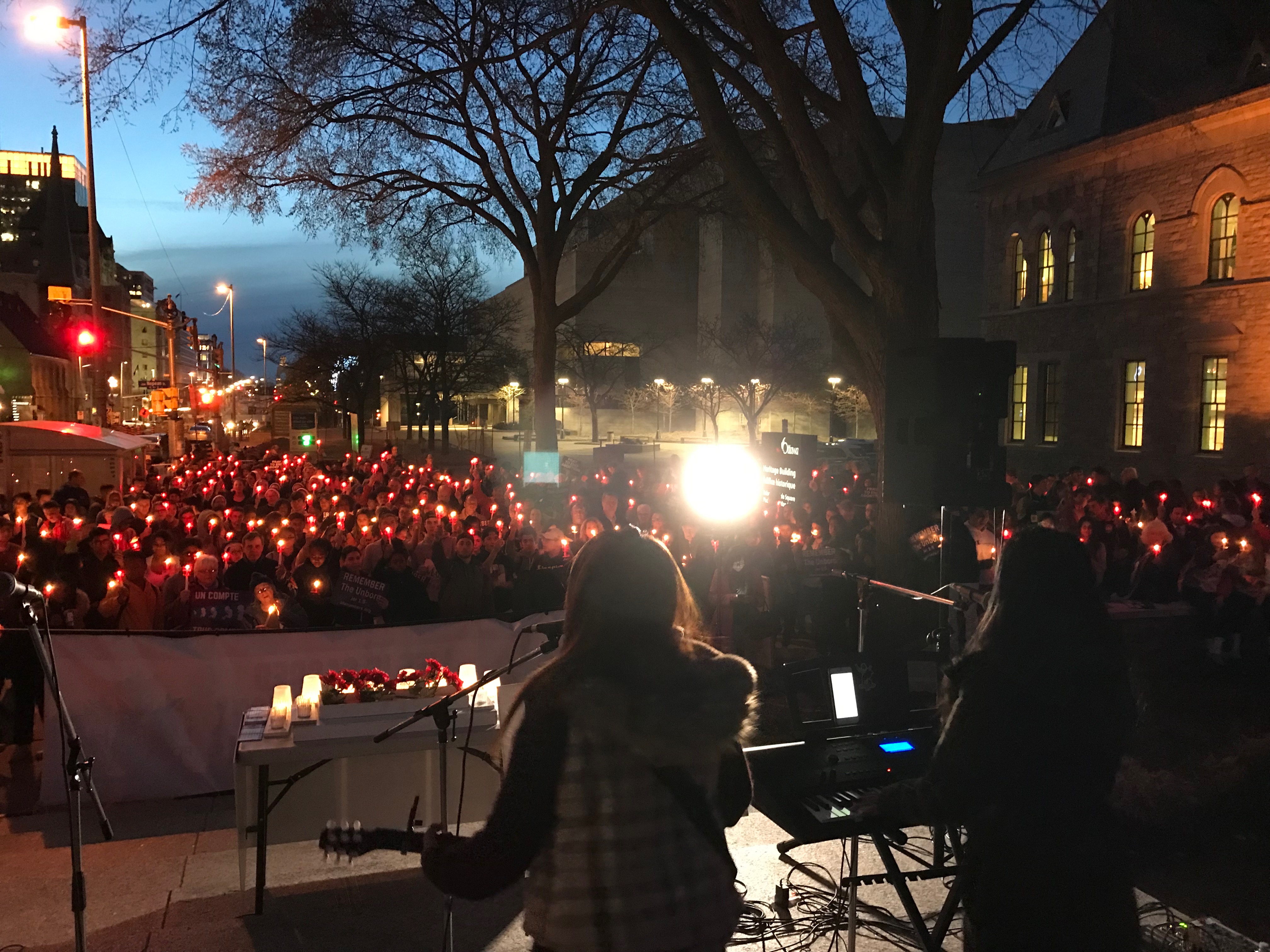 Sister duo, Desiree and Whitney D'Cunha, performing at the Candlelight vigil.
RALLY ON THE HILL – DAY OF THE MARCH
The rally on the Hill, which began around 12:30 p.m., included a powerful call to action from Abby Johnson of Unplanned movie fame who came from Texas to encourage pro-life Canadians. Abby is the former director of a Planned Parenthood abortion facility who oversaw 22,000 abortions and subsequently converted to pro-life. Her story has inspired hundreds of other abortion workers to quit their jobs, and she is also responsible for many preborn children being saved.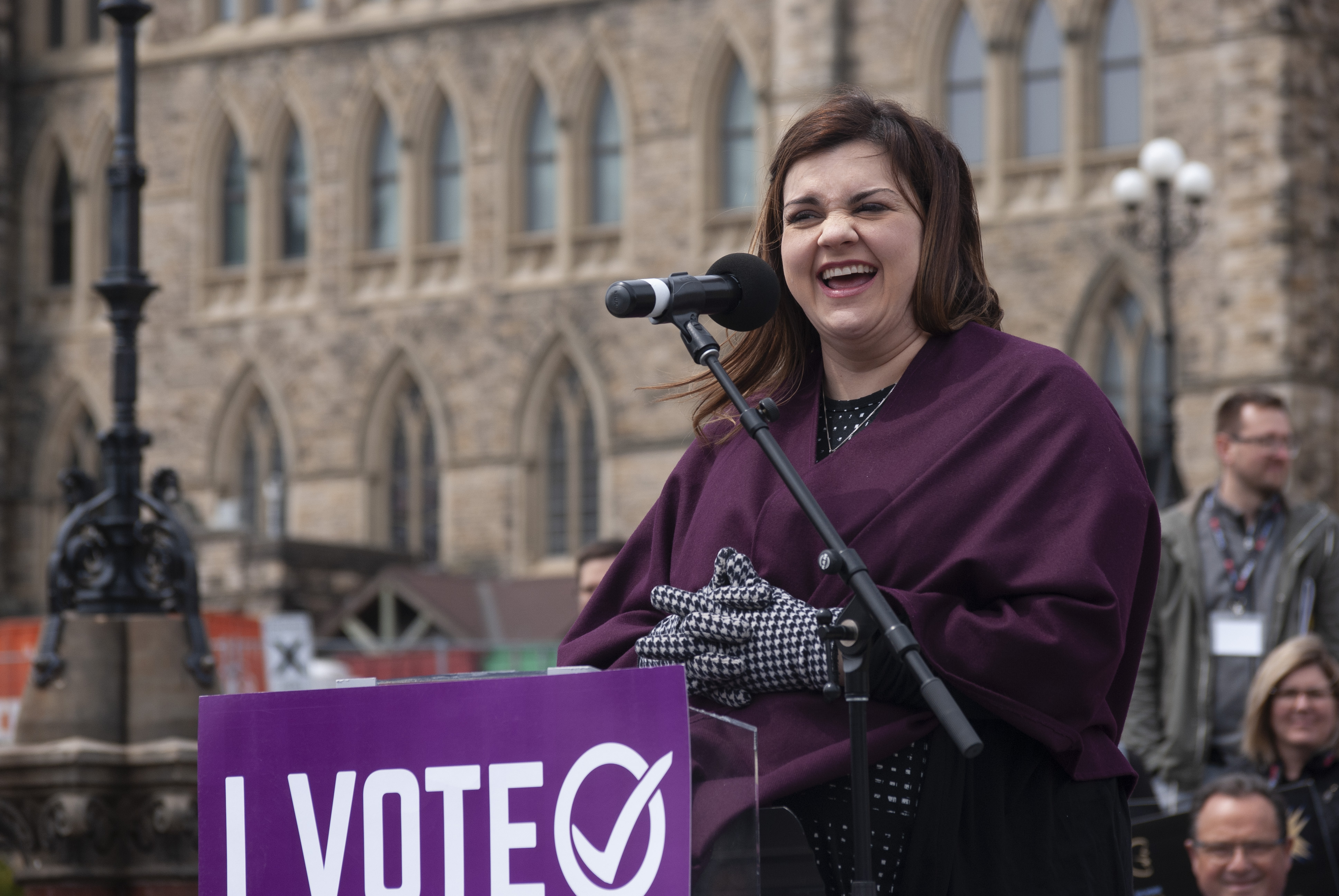 Abby Johnson, founder of And Then There Were None, and author of Unplanned. (Photo Credit: Nicole Contois)
Saskatchewan pro-life MP David Anderson gave an inspiring speech on behalf of himself and the 11 other lawmakers, spanning five provinces, who stood with him. Anderson spoke of his important private member's bill, C-418, to protect the freedom of conscience of health-care workers who refuse to participate in euthanasia or to give patient referrals.
Other distinguished pro-life lawmakers who stood in solidarity with pro-life protesters to demand legal protection for unborn children included:
MP Arnold Viersen (Peace River - Westlock, AB)
MP Dane Lloyd (Sturgeon River - Parkland, AB)
MP Glen Motz (Medicine Hat-Cardston-Warner, AB)
MP Kevin Sorenson (Battle River-Crowfoot, AB)
MP Phil McColeman (Brantford-Brant, ON)
MP Dave Van Kesteren (Chatham-Kent-Leamington, ON)
MP Bev Shipley (Lambton-Kent-Middlesex, ON)
MP Harold Albrecht (Kitchener-Conestoga, ON)
MP Ted Falk (Provencher, MB)
MP Brad Trost (Saskatoon-University, SK)
Senator Norman Doyle (Newfoundland and Labrador)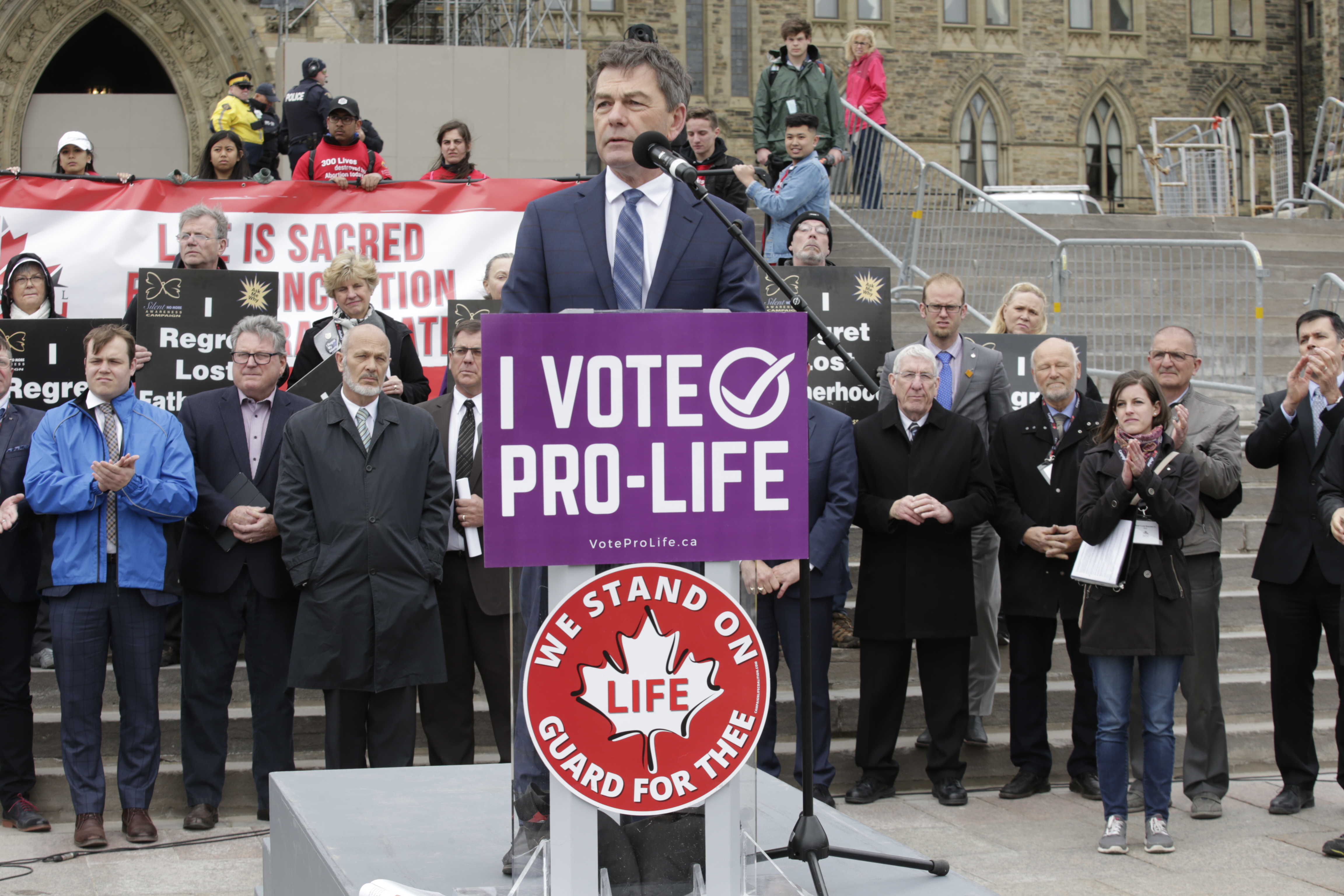 MP David Anderson with other pro-life MPs & Senators behind. (Photo Credit: Nicole Contois)
The crowd was urged to push back against the dishonest media who control and manipulate the message, in a talk by our Rose Dinner speakers Phelim McAleer and Ann McIlhenny, the producers of pro-life movie, Gosnell: The Untold Story of America's Biggest Serial Killer.
The 2018 film about abortionist Kermit Gosnell starred Dean Cain from Superman fame and was a surprise box office success in spite of the media's blackout campaign to prevent the public from learning the film even existed. Ann and Phelim approached the issue as journalists and once they learned about this story, they were determined to expose it to the world.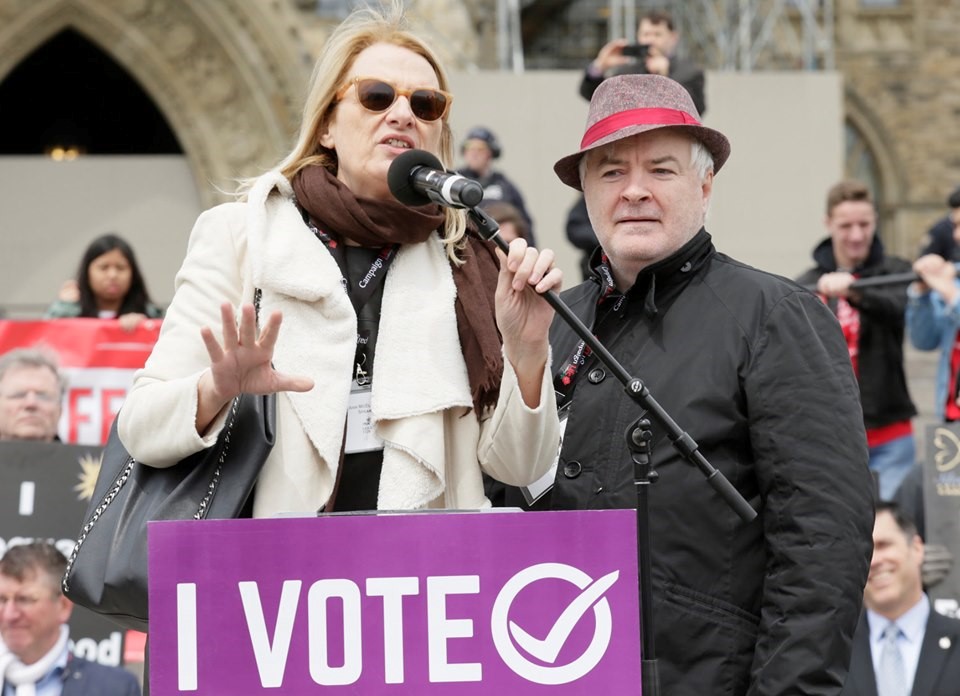 Gosnell movie producers inform pro-lifers about the dishonesty of the media. (Photo Credit: Jake Wright)
Angelina Steenstra, Executive Director of Silent No More Awareness Campaign, a ministry by post-abortive men and women, witnessed to the immense damage that abortion causes in the personal lives of those who make that choice.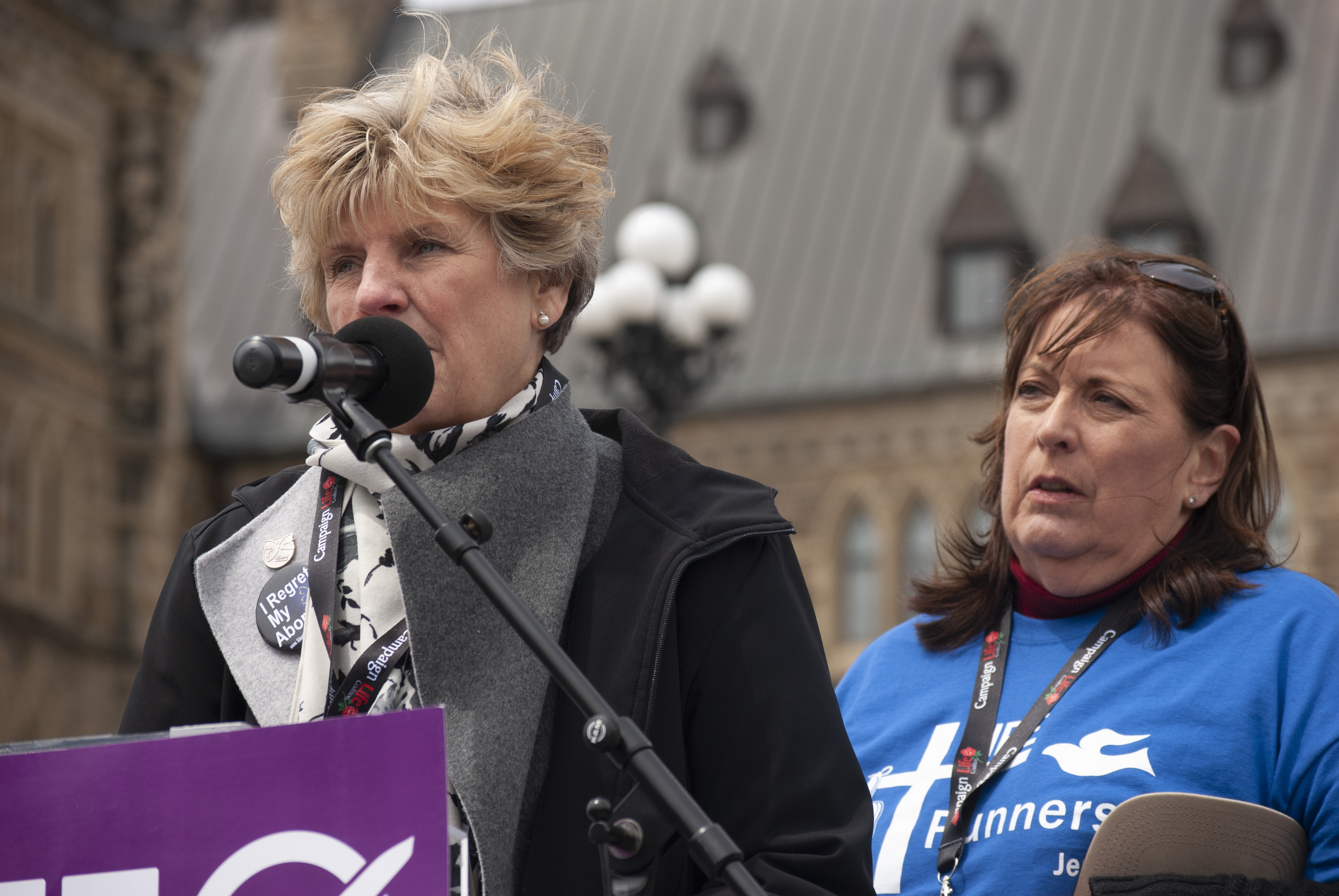 Angelina Steenstra gives heart-breaking testimony of sterility & childlessness caused by abortion.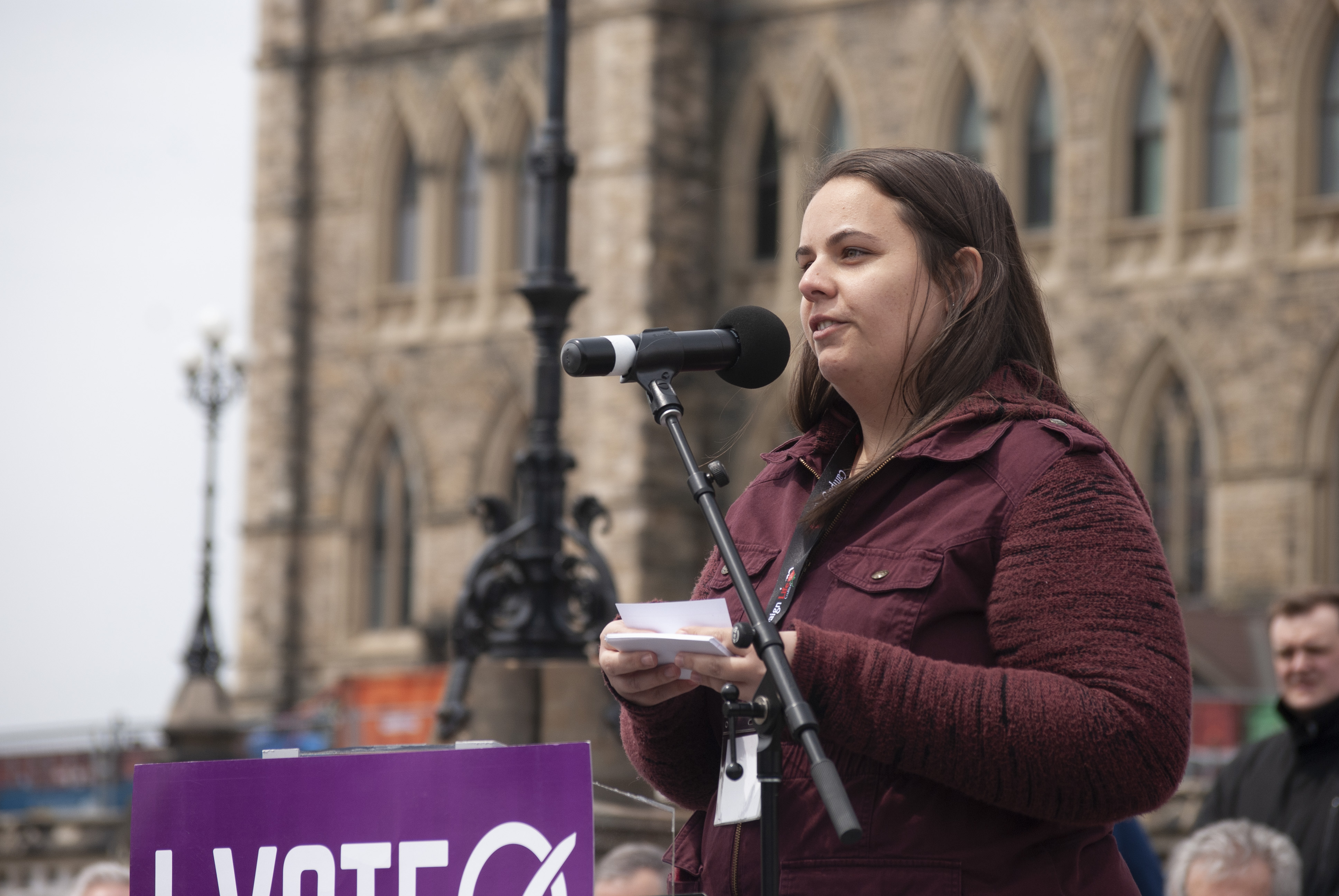 Shalyn McGuin from Save the 1 shared her powerful story of choosing life for her child who was conceived in rape. In the face of many hardships, it was a crisis pregnancy centre that offered her the support she needed to keep her baby. (Photo Credit: Jake Wright)
Campaign Life Coalition's National President, Jeff Gunnarson, encouraged the crowd to continue their pro-life activism. Gunnarson also presented MP Brad Trost with the prestigious Joe Borowski award, for his heroic, pro-life leadership as an MP over the years, and especially during the Conservative Party Leadership when he ran on an explicitly pro-life platform and came in 4th place out of 14 candidates, stunning the party establishment and the media.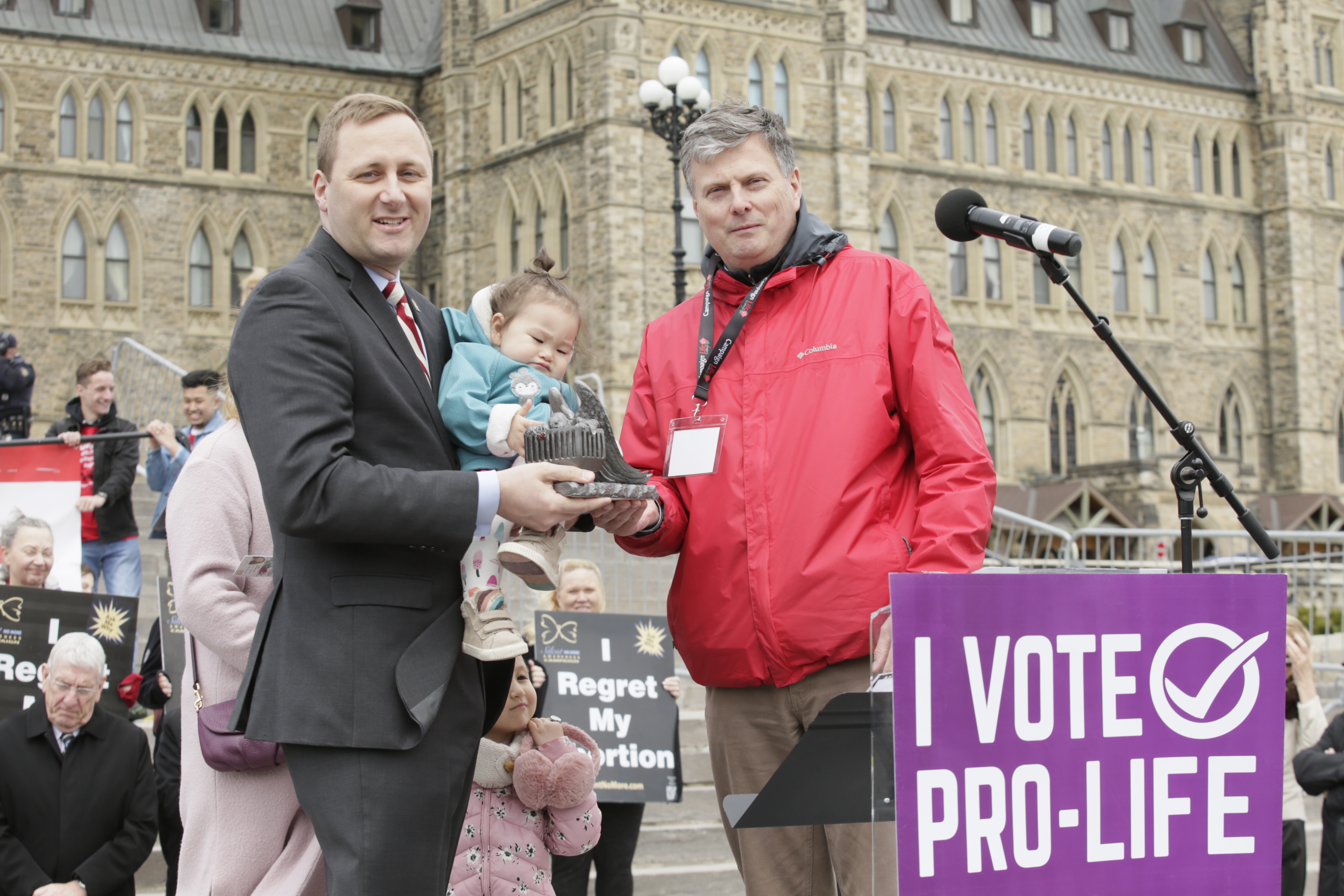 MP Brad Trost with CLC National President Jeff Gunnarson. (Photo Credit: Jake Wright)
Canadian religious leaders also encouraged the huge crowd to continue working towards legal protection for preborn children, including Toronto's Cardinal Thomas Collins, Ottawa's Archbishop Terrence Prendergast, and Montreal's Archbishop Christian Lepine.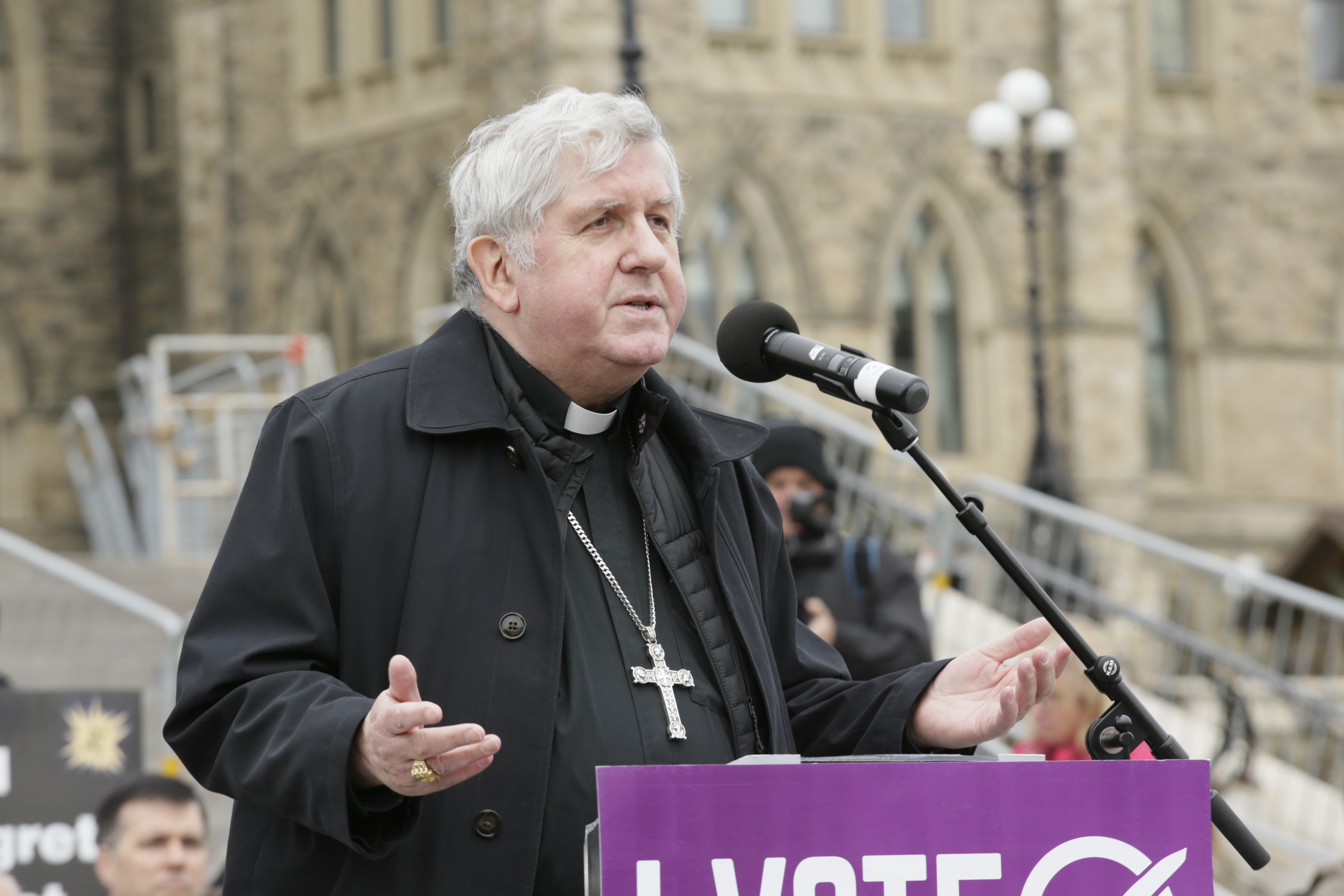 Toronto's Cardinal Thomas Collins at the National March for Life in Ottawa. (Photo Credit: Jake Wright)
After the rally on Parliament Hill concluded, around 1:30 p.m., we began the nearly hour-long march through downtown Ottawa where we witnessed to thousands of people who live and work in the city. The streets were filled with smiling Canadians young and old, pro-life chants, and prayers.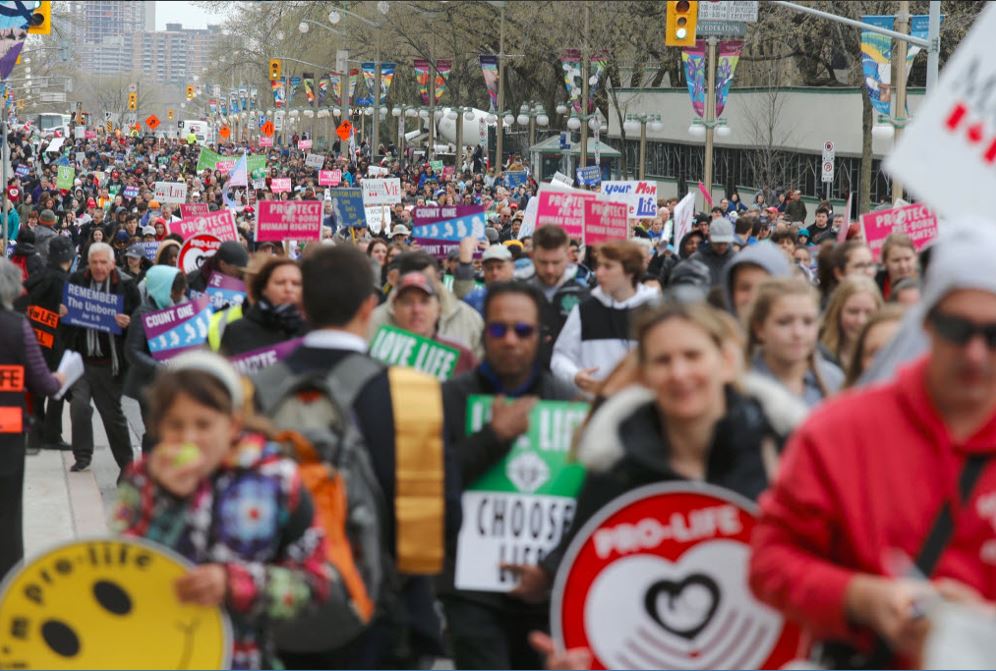 A sea of pro-lifers marching through the streets of Ottawa during the March for Life. (Photo Credit: Jake Wright)
CLC would like to thank the RCMP and local police for the great work they did to keep everyone safe during the march, and in keeping the small angry mob of a few dozen pro-abortion counter protestors away from marchers. The police did a good job this year!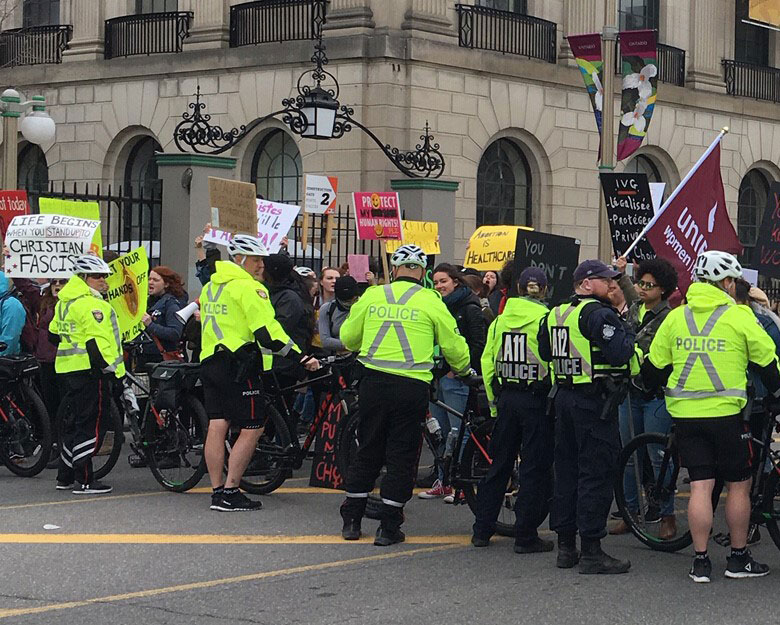 Police holding back pro-abortion counter protesters along the March route. (Photo Credit: CLC)
The entire March For Life – almost four hours long – was livestreamed on EWTN in homes across Canada, and around the world thanks to CLC's broadcasting partners, Eternal Word Television Network and Dunn Media.
To watch a short highlight video of the March For Life on Thursday, click below.
After the march ended and most of the pro-lifers returned to their cities, hundreds remained behind to attend the Rose Dinner in the evening and the pro-life Youth Banquet.
The Rose Dinner gala event in the evening featured a powerful talk by Abby Johnson, as well as a keynote speech by the Gosnell Producers who shocked attendees with details of the media's efforts to bury the Gosnell story, as well as personal insights into Gosnell himself.
The hundreds of pro-life young people at the Youth Banquet were inspired by motivational guest speaker former NFL player Steve Fitzhugh.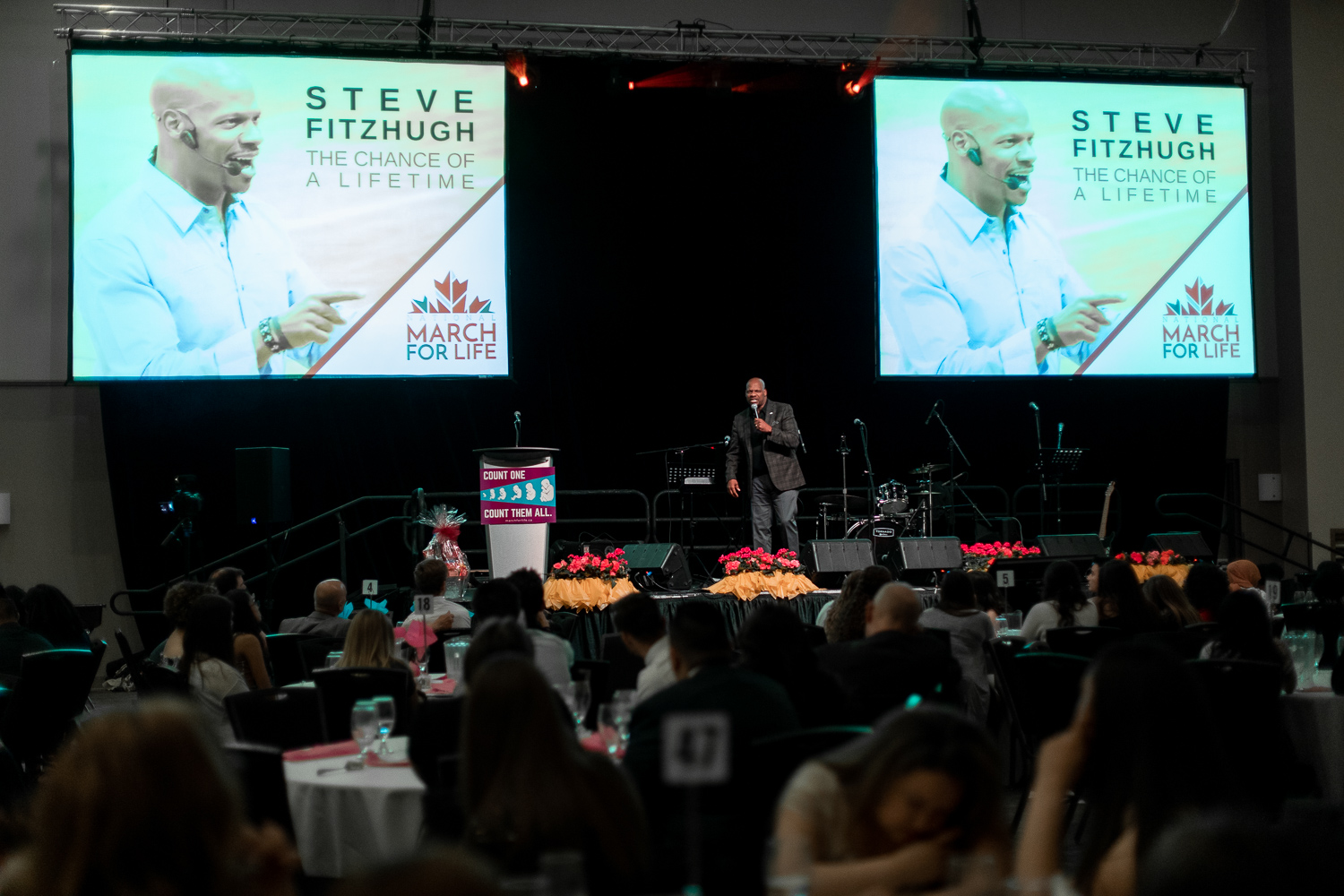 Former NFL player Steve Fitzhugh addresses CLC Youth Banquet. (Photo Credit: Anna Dzieciol)
The next day, on Friday, hundreds of pro-life youth got to hear inspiring talks by Laura Klassen from Choice42 and Trent Horn from Catholic Answers. The youth conference also featured breakout sessions run by Campaign Life Coalition Youth, Dr. Maria Wolfs, and the National Campus Life Network, along with pro-life student leaders.
From this report, we hope you get a sense of the amount of work that went into organizing the National March For Life. But there's much more still that we haven't told you about. Please pray for the work of Campaign Life Coalition which is growing the pro-life movement, educating and electing pro-life candidates, and bringing us closer to the day when abortion will be but a very sad memory.
Sincerely,
The Campaign Life Coalition Team