Campaign Life Coalition celebrates Roe v. Wade overturn
June 24, 2022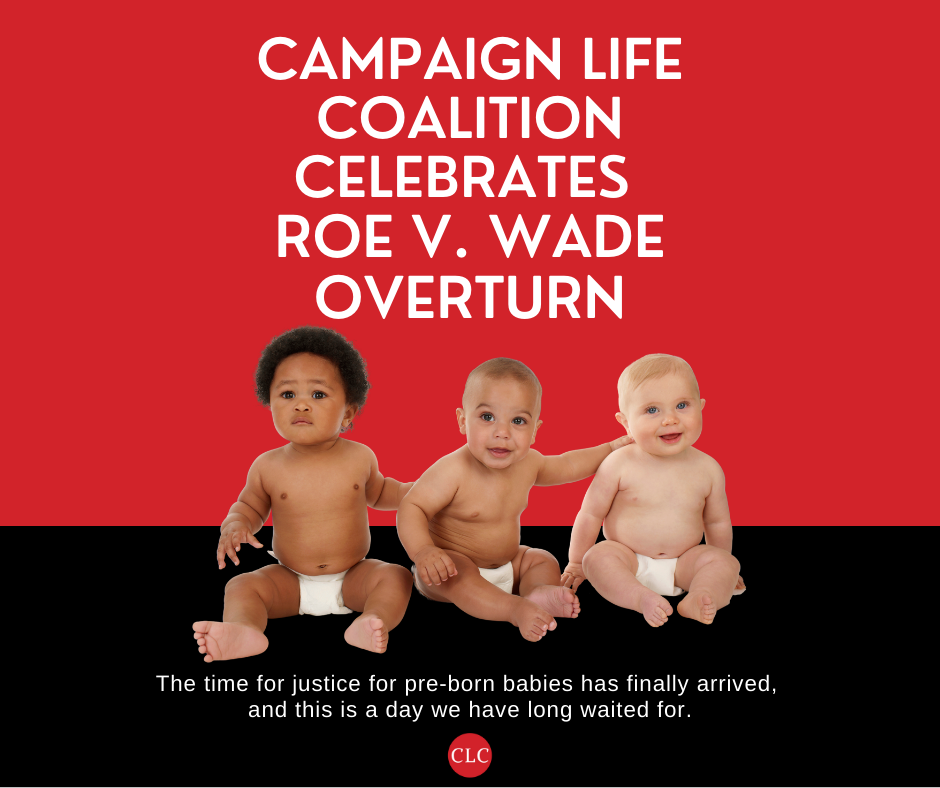 Campaign Life Coalition, one of Canada's leading national pro-life organizations, celebrates the U.S. Supreme Court's ruling this morning overturning the 1973 Roe v. Wade abortion decision.
"We thank God and heartily applaud this decision," said Jeff Gunnarson, National President of Campaign Life Coalition. "Science is clearly on the side of life. Courts are now finally beginning to catch up with science."
Gunnarson characterized the court's decision as a "victory for pre-born babies, for the pro-life movement, and for truth."
"This victory signifies a loosening of the iron grip that the pro-abortion movement has held on America for decades."
"When life is winning in America, it is only a matter of time before life will be winning here in Canada too. This win is a huge encouragement for pro-life Canadians to work even harder to bring legal protection to children in the womb from conception onward," he said.
Josie Luetke, Youth Co-coordinator for Campaign Life Coalition, said that the U.S. court's expected decision has already "reignited the abortion debate not only in Canada, but around the world."
"The time for justice for pre-born babies has finally arrived, and this is a day we have long waited for."
"The court has shone a massive spotlight on the lies surrounding abortion, shaking the abortion industry to its core. This is the beginning of the end of the genocide of the pre-born. It is a glorious and momentous day that will forever be remembered in history. The truth is marching on!"
Canadian backgrounder
Abortion was first decriminalized in 1969. Prior to this, committing an abortion was a crime under the Criminal Code. In R. v. Morgentaler, 1988, the Supreme Court of Canada made its landmark decision to throw out the 1969 abortion law on the basis that it was "unconstitutional," ruling that the law's detailed criteria for obtaining an abortion violated a woman's Charter right to "security of the person."
Neither the Canadian Charter of Rights and Freedoms nor the Supreme Court of Canada established a right to abortion. The Supreme Court tasked Parliament in 1988 with creating a new law. This never happened, though an attempt was made in 1989 with the flawed Bill C-43 (An Act respecting abortion).
This means that abortion in Canada still persists in a legal vacuum to this day, leaving the preborn with no legal protection. Because of this, abortion is permitted throughout all 9 months of pregnancy, for any reason or no reason whatsoever, up to the moment of birth. Data from Stats Canada and from the Canadian Institute for Health Information (CIHI) show that late-term abortions do happen in Canada.
Since its decriminalization in 1969, abortion has killed over 4 million preborn babies in Canada. An estimated 100,000 induced abortions are committed annually in Canada.
About Campaign Life Coalition
Campaign Life Coalition is a national, non-profit organization involved in political action and advocacy for legal and cultural change in Canada with respect to protecting human life & the family. For more info visit www.campaignlifecoalition.com.
Media Contacts
Jeff Gunnarson, President, Campaign Life Coalition, 519-835-8201, [email protected]
Josie Luetke, Co-Youth Coordinator, Campaign Life Coalition, 416-204-9749, ext. 220, [email protected]