The real reason Danielle Smith lost Alberta: Alienating So-cons
April 26, 2012
Toronto, Apr. 26, 2012 - Campaign Life Coalition is disputing the claims being made in media reports which assert that Wildrose support evaporated because Alberta voters were afraid of social conservatism within the party. There is another more likely explanation for what caused Danielle Smith's dramatic meltdown of support.
CLC has plotted the "flashpoint moments" of the campaign relating to social conservative issues, against polling data (below). Jim Hughes, Campaign Life National President observed: "In fact, the Wildrose ascent occurred when they were perceived as supporting family values".
Hughes added, "Likewise, the support fell after Smith made the fatal blunder of alienating that natural, socially-conservative base. Many 'values voters' decided then that since the WR party would not provide a home for them, they in turn, would stay home on voting day".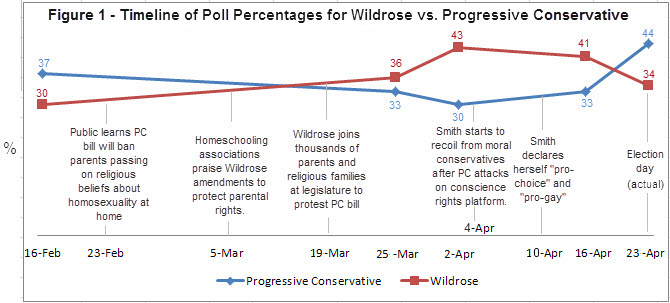 Since the election, Smith signaled a move away from social conservatives, saying she will rethink the party's Conscience Rights policy at the fall convention. This policy would protect Christian doctors who refuse to perform abortions, and marriage commissioners who refuse to perform homosexual 'marriages'. Hughes warned that further so-con alienation would be a disastrous move, "That policy contributed greatly to WR support. Party members should fight to keep it".
To see a more in-depth analysis of CLC's Alberta election, click here.
Media Contacts:

Mary Ellen Douglas, National Coordinator, T: 416-204-9749 ext. 262
Jack Fonseca, Project Manager, T: 416-204-9781
-30-