Petition demanding appeal of assisted suicide ruling delivered at 1:00 pm today to Justice Minister
July 13, 2012
Ottawa, ON, July 12, 2012 - Today at 1 p.m., Campaign Life Coalition hand-delivered petitions to the federal Justice Depa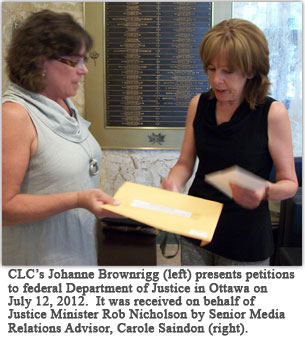 rtment in Ottawa. The petition asks the Hon. Rob Nicholson, Attorney General and Justice Minister, to appeal the BC Supreme Court ruling on 'physician assisted death' before the July 16th appeal deadline.
The petition was signed by hundreds of Canadians, from every province, who are opposed to Justice Lynn Smith's ruling. It also calls on the Attorney General of Canada to send a stern warning about judicial-activism to future courts, by making a public declaration that the Government of Canada will invoke the 'Activist-Judge Override Provision" (a.k.a. Charter section 33), if necessary.

About Campaign Life Coalition:
Campaign Life Coalition is a national, non-profit organization involved in political action and advocacy for legal and cultural change in Canada with respect to protecting human life and the family. It is non-partisan and encourages voting based on principles, not party. For more information visit www.campaignlifecoalition.com.

Media Contacts:
Johanne Brownrigg, Campaign Life Coalition – Ottawa branch, Tel: (613) 729- 0379
Jack Fonseca, Campaign Life Coalition - Toronto, Project Manager, Tel: 416-204-9781
-30-