Candidate, Jack Layton
New Democrat Party, Toronto - Danforth, ON
Bio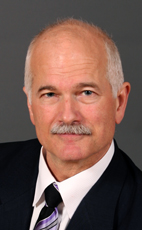 CLC rating
:
Pro-abortion, anti-traditional marriage
Rating Comments
:
Layton is a pro-abortion extremist. As a Toronto City Councillor he used to stand outside abortion facilities and encourage the police to arrest peaceful pro-life protesters.
First elected
(yyyy.mm.dd):
2004.06.28
Previous Occupation
:
City councillor, professor
Birthdate
(yyyy.mm.dd):
1950.07.18
Percentage in last election
:
44.8%
Victory margin last election
:
15.4%
Religion / Faith
:
United Church
Contact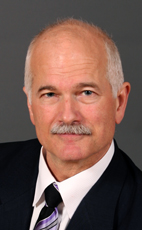 Constituency Offices
221 Broadview Ave, Suite 100
Toronto, Ontario
Here is Jack Layton's voting record relating to life and family issues:
Votes, Surveys and Policy Decision
Vote
Score

Position on decriminalizing marijuana

(Note: Many addiction experts acknowledge that marijuana is a dangerous gateway drug to harder drugs like cocaine and heroin. It is a dangerous, addictive narcotic and must remain illegal.)

Supported

Marched in a Gay Pride Parade or endorsed it

Gay Pride festivals are controversial, often feature mock sex acts in public and are offensive to many, perhaps most, Canadians. As such it is inaprropriate for an elected representative to endorse one side of this socially divisive issue. Elected officials are supposed to represent ALL their consituents, not just the politically correct ones.

Marched

C-38, A bill to abolish the true definition of marriage

[June 28, 2005]

Yes

M-221, child protection motion

To raise the age of consent for sex from 14 to 16 [Sep 28, 2005]

No

C-313, Age of Consent child protection bill

Raised the age of consent for sex from 14 to 16 [Sep 28, 2005]

Yes

Motion 12, Re-open debate on definition of marriage

[Dec 2006]

No

C-484, Unborn victims of Crime Act

Common sense legislation that would allow criminal charges to be laid in the death or injury of an unborn child when the childs mother is the victim of violent crime. This cannot be considered a "pro-life" bill because it specifically excludes deliberate acts of abortion by the woman. Nonetheless, it is a good "pro-family" bill because it protects women and their wanted children from violent crime. (Mar5/08)

No

Bob Rae's pro-abortion Motion

A Liberal Motion to expand abortion & contraception throughout Africa, at Canadian taxpayer expense. This was an attempt to co-opt a good Maternal & Child Health initiative of the Conservative government whose purpose was saving the lives of pregnant women and children by providing clean water, medicine and health-care workers assist with child birth. Bob Rae's abortion Motion was narrowly defeated 138 to 144. [Mar. 23, 2010]

Yes

Survey on awarding Order of Canada to Henry Morgentaler

Do you agree with awarding the Order of Canada to abortionist Henry Morgentaler? (July 2008)

Yes

Bill C-384, Legalize euthanasia & assisted suicide

A horrible bill that would have given doctors permission to kill people who are seriously ill but not dying and who in fact, have a treatable condition. Doctors would also have been permitted to kill people suffering with treatable chronic depression. This bill was defeated on second reading, 59 votes in favour to 228 votes Against.
[Apr 21, 2010]

No

Bill C-510, to protect pregnant women from coercion to abort

This private member's bill by Conservative MP Rod Bruinooge, also called Roxanne's Law, was a common sense bill to protect women and their unborn children from coercion to abort. Abortion coercion by boyfriends, husbands, relatives and even physicians is very common in Canada. Unfortunately, the bill was defeated in 2nd reading by a vote of 97 to 178. [December 15, 2010]

No

Bill C389, 3rd reading of the "Transsexual Bathroom Bill"

This radical bill sought to add "gender identity" and "gender expression" to the Human Rights Act and Criminal Code. If passed, the bill would've endangered women and children by creating a legal right for men who "identify" as the opposite sex, to use female public washrooms. Male sexual predators or peeping toms would have certainly used this as an opening to enter the girl's washroom. It is unconscionable for legislators to put women and children in such a compromising position. It would also create a legal nightmare for businesses that would be required to allow staff to cross-dress in the work place. Furthermore, this would harm youth by cooperating with mental illness and encouraging sexually-confused young men to perceive themselves as women, and vice versa. It will also open the door for radical activists to insist that transsexualism must be inserted in school curriculum and taught in classrooms as something that is normal, natural and healthy. This bill passed final reading in House of Commons by a 143-135 vote on February 9, 2011, but then, thankfully, died in the Senate when a federal election was called.

Yes
Here are quotes from Jack Layton on various life and family issues:
On pro-homosexual activism as a way to win votes: "I'm hoping that my activism in supporting rights for the [gay] community is something that might result in a larger number of them deciding to support me. It's certainly a significant vote." [The Globe & Mail, Sep. 3, 1991]
On extending homosexual health-care benefits: "Either eliminate benefits for traditional families or provide them to non-traditional spouses." [The Toronto Sun, Oct. 1, 1986]
Promising to Legalize Marijuana: "Folks, you're watching Pot TV. I'm Jack Layton… I'd like to invite you to support our party which is in favour of modernizing our marijuana laws and creating a legal environment in which people can enjoy their marijuana in the peace and quiet of their own home or in a cafe..." [PotTV.com, 2003]
Here are the answers for the questionnaire as provided by Jack Layton on 2008.
| Question | Response |
| --- | --- |
| If elected, will you strive to introduce and pass laws to protect unborn children from the time of conception (fertilization) onward? | no response |
| If elected, would you support all legislative or policy proposals that would result in a meaningful increase of respect and protection for unborn human life? | no response |
| Are there any circumstances under which you believe a woman should have access to abortion? (note: Medical treatments to save the life of a mother and which result in the UNINTENDED death of her unborn child, are NOT abortions. Eg. in case of tubal pregnancy or cervical cancer) | no response |
| If elected, will you oppose any legislative or regulatory measures designed to permit the deliberate euthanasia of a human being or designed to permit "doctor-assisted suicide"? | no response |
Here are the videos available for Jack Layton. If you have relevant video from all-candidate meetings or other functions that is not copyrighted by a third party, please send it to us.
Watch Layton say that he wants to legalize marijuana, a narcotic which many addiction experts acknowledge is a gateway drug to hardcore substances like cocaine and heroine.