Reflection on the 45th US March for Life
January 26, 2018 - 2:47pm
I've been to the March for Life seven times in Canada, and now twice in the United States. It's always an amazing experience to be surrounded by thousands of other passionate pro-lifers, because I'm so used to feeling like I'm just one in a handful of people in my community who are actually bothered by this colossal human rights violation. It's for this reason that the US March for Life has somewhat of a leg up on Canada's; it's just so much bigger, with so many more people, so this feeling of being a part of something so much larger than oneself is all the more intense.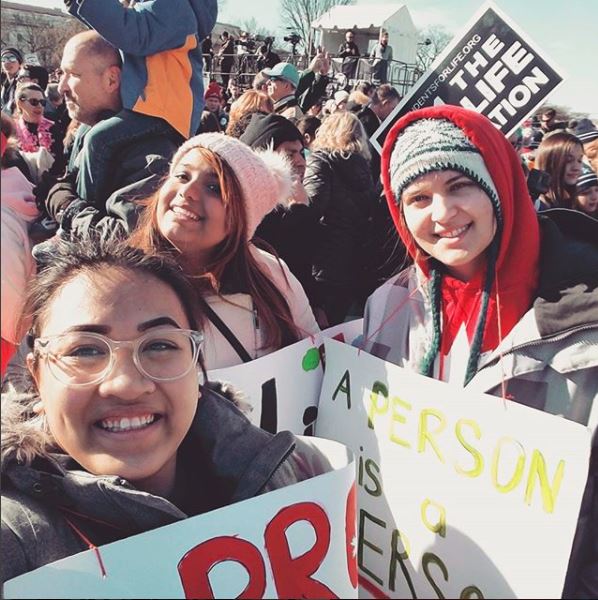 This year, at the rally ahead of the March through the streets of Washington, D.C., I got right up close to the stage, packed in by my fellow Canadians, some clergy members, and a rambunctious school group. There was a great performance by the singer Plumb, an inspiring address by Jeanne Mancini, president of the March for Life, and a tear-jerking testimony by one of the Sisters of Life, but, let's be honest, the majority of the crowd was really waiting to hear from Trump, who appeared via livestream along with Vice President Mike Pence.
Overall, they didn't disappoint. Sure, the bit in Trump's speech about unemployment rates was definitely inappropriate (as this really is not the time for self-promotion), and in order for words to not just be mere platitudes, they need to be backed up with action (like, for a start, actually defunding Planned Parenthood), but the words that they did share with us were largely heartening.
The most special part of the rally was hearing the country's President and Vice President, and later, the Speaker of the House Paul Ryan, all thank and encourage the efforts of the Americans standing around me. I, and many other pro-lifers, know all too well how often pro-life work not only goes unappreciated, but also is ridiculed. Now, these people by my side, many who have fought for pro-life legislation in their respective states, were being honoured by their government. I felt so proud, joyful, and vindicated on their behalf. Their efforts were paying off and they were visibly hopeful.
We had to leave the rally early to take our place in front of the Canadian Embassy prior to the beginning of the March. For an hour and a half or so, we waved and cheered as crowds of people, including many religious orders and students, marched on by. They chanted, they sang, and they prayed as the warm sunlight streamed down upon us. They marched with smiles on their faces, knowing they had their president's blessing. I crave the day that our Canadian government will show us the same respect that these Americans received from their government, and I will not stop clawing my way towards that day, but until then, I will make do with this: witnessing the exuberance that comes from seeing the light at the end of what has been a very, very dark tunnel in their nation.
I want to thank Campaign Life Coalition and their generous donors for this opportunity, and urge you all to start making plans to attend Canada's annual March for Life on May 10th.