CSW65 Days 3 and 4 Recap!
March 24, 2021 - 5:51pm
Whew! It was yet another full two days of advocating for life and the family at the United Nations' 65th session of the Commission on the Status of Women (CSW65). Campaign Life Coalition's CSW delegation attended many events on sexual and reproductive health and rights (SRHR), including abortion "rights" and "comprehensive" sex education (CSE); faith; sexuality; and much more! Below are highlights compiled from our delegates' reports on just a few of these events. We hope they can serve as a window into what this UN Commission is like on a daily basis.
France, Denmark, the United Nations Population Fund (UNFPA), and the International Planned Parenthood Federation (IPPF) hosted a side event entitled, "'Generation SRHR!' Ensuring universal access to sexual and reproductive health and rights: a priority for the new alliances of the Generation Equality Forum."
The host, Marianne Niosi, director of France's Planning Familial, called her fellow panelists "SRHR Champions."
French Minister for Gender Equality, Diversity and Equal Opportunities Élisabeth Moreno praised Argentina, which just recently legalized abortion up to 14 weeks, for their bringing SRHR to the forefront during the pandemic. French President Emmanuel Macron has himself said at the UN General Assembly that the pandemic cannot be used to roll back SRHR. France, like Canada, is determined to be a part of defending SRHR on the international front. They too have a feminist foreign policy, which calls for SRHR to be everywhere in dialogue. Moreno also attacked Poland for restricting abortion, saying, "what we're seeing happen in Poland is... well, we all in the EU have a right to access to abortion services and under the same conditions." She also suggested that the European Union should financially pressure Poland to change its law.
Mattea Merta, CLC's Global Policy and Advocacy Advisor, asked, "What is France doing to help women and adolescents who are in financially constrained situations to have access to resources when they want to keep their child?" but there was no answer.
Diene Keita, Deputy Executive Director for Programmes of UNFPA said, "there can be no equality without SRHR and no SRHR without gender equality…If we're serious about leaving no one behind, CSE must reach every adolescent in/out of school. The pandemic has been devastating on youth. Adolescents are left without access to CSE and SRHR services." As you can see, there is a heavy emphasis on CSE for children. She also referred to UNFPA's program for Out-of-School CSE launched in 2020, which is "good for young people having sex, young men having sex with other young men, young people selling sex." Yes, you read that correctly. The program also suggests reaching youth through peer education. The UNFPA presenter stated that, "We must decrease the digital divide in order to provide CSE."
SRHR Policy & Advocacy Lead at Plan International Johanne Westcott-Simpson said, "We also need to do more to ensure Comprehensive Sexuality Education starts at the preschool age." At a different side event, "Changing norms, promoting rights. The power and impact of conventions," organized by Sweden, Montenegro, Council of Europe, and Promundo (a Brazillian-founded organization promoting gender equality and "healthy masculinity"), Karin Strandås, State Secretary to the Minister for Gender Equality and Housing in Sweden, said the same—that children should start learning about sexuality in preschool, highlighting acceptance of one another and consent in sexual relations.
Many in the "Generation SRHR!" event talked about the need for implementation of the conventions and commissions that have been established, as this would grant more women and girls access to free abortion, contraception and CSE. The issue here is that the various conventions and commissions discussed are not national laws, nor do they have broad consensus at the UN. Activists want the standards and expectations set out in specific regional conventions used, as they do not have to be agreed upon and gain general consensus as is required of documents produced at UN Commissions in which every member state participates. Pro-abortion activists will prop up the conventions which suit their agenda, instead of conventions established at UN Commissions which have far more legitimacy.
The "Harnessing the Power of Grassroot Activists in Eliminating Unsafe Abortion" parallel event had a lot of controversy surrounding it too, as you can imagine. When one of our CLC delegates asked about contraception, other attendees jumped in with accusations like "bigot" and "shameful." CLC representative Joanna K observes: "This confirms a trend we're seeing at this conference—that there is an almost knee-jerk reaction against anything and anyone that questions abortion as a good or right." A couple of attendees mentioned post-abortive suffering, which is often ignored at such CSW events.
The International Women's Health Coalition hosted, "Achieving Beijing's Promise on Sexual and Reproductive Health and Rights (SRHR)." Bubulina Moreno, a feminist activist from Colombia, said that there used to be a high number of forced sterilizations in her country and that there is currently an attempt to legalize abortion there. Fijian Noelene Nabulivou, the Director of Diverse Voices and Action (DIVA) for Equality, discussed how many South Pacific countries ban homosexual relations and that Judeo-Christian values are obstacles to abortion and birth control. She said there's a need to "speak back to those in archaic imperialistic cultures."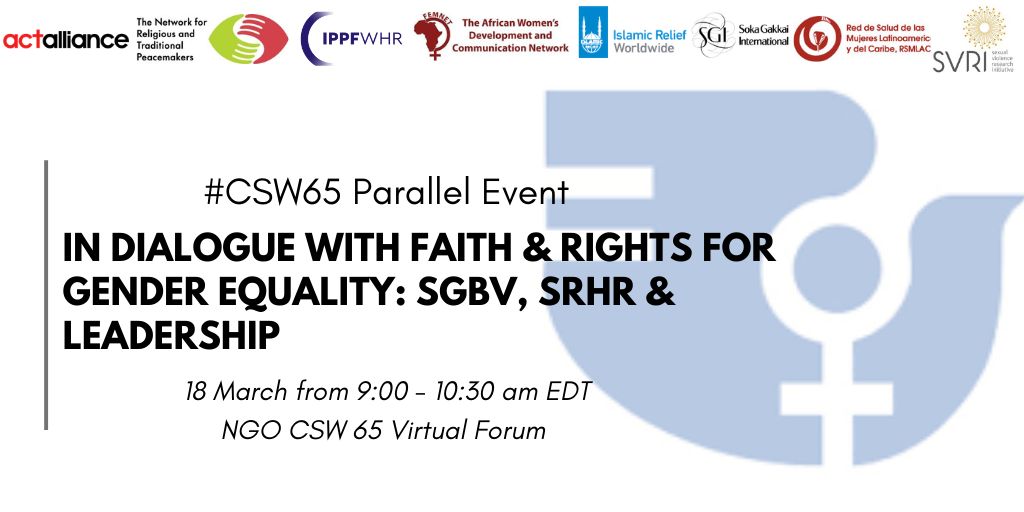 CLC CSW representative and Assistant Youth Coordinator Maeve Roche found the discussion of colonialism in "Dialogue with Faith and Rights for Gender Equality: SGBV [Sexual and Gender-Based Violence], SRHR & Leadership," interesting as the sponsoring organizations support the West's ideological colonization of the developing world with respect to radical sex education and abortion.
Halima Abba Ali Zaid, who is the Sexual and Reproductive Health and Rights Lead from the African Women's Development and Communication Network, said interpretations of religious views have been used to develop laws on comprehensive sexual education, contraception, and abortion and that "patriarchal control over a woman's body" is developed from a religious perspective. SRHR was described as a taboo topic for young girls, a situation panelists wish to rectify by having advocates work closely with religious leaders to establish that women should have access to SRHR.
Panelist Sandra Castañeda, General Coordinator of Latin American and Caribbean Women's Health Network, said that without "women's rights" and "bodily autonomy," women cannot realize the full extent of their human rights. She also made the statement that "Women's rights violations are due to the Church imposing upon political legislation, instead of respecting 'lay constitution.'" Giselle Carino, CEO for International Planned Parenthood Federation Western Hemisphere Region (IPPF-WHR), followed with a lament about the "discrimination" Catholics for the Right to Decide is facing. As Maeve pointed out, however, their mission completely contradicts Catholic teaching.
By day four at CSW65, our team has already covered so much ground! We continue to speak at various forums even when it is uncomfortable and we are the minority voices. Planting seeds is essential in our efforts at these UN Commissions and we are dedicated to doing just that.
NOTE: For many years now, Campaign Life Coalition has been advocating against the insertion of the term "Sexual and Reproductive Health and Rights" (SRHR) into UN resolutions and policies. This term is an umbrella term for abortion-on-demand (funded by Western tax dollars), population control through sterilization, and comprehensive sexuality education (CSE) programs, which are age-inappropriate, and often promote a morally relative approach to human sexuality. At these UN conferences, abortion proponents refer to SRHR as a universal human right. This is a lie. There is no consensus on this language and the way it is being defined by abortion ideologues continues to be rejected by member states from around the world.