Who We Are
CLC Youth is a network created to help young people get involved in the pro-life movement through street activism and political participation. Our goal is to educate the public on life issues and to elect a government that will implement laws which give human rights to all human beings.
Young people have a special role to play in transforming the culture of death into a culture of life. Politicians pay special attention to the voices of young people. Our fellow youth, often lacking financial resources, are particularly vulnerable to abortion and need support from friends and classmates if faced with a crisis pregnancy. Finally, our own generation are the leaders of tomorrow. The changes to the hearts and minds of our peers that we make today will largely determine whether we are able to end abortion in our lifetimes.
By joining CLC Youth, you will receive action alerts that keep you updated on pro-life events in your area and exciting opportunities with your local pro-life candidate.
We are pro-life. We recognize that human rights belong to all humans. We demand equality for those who need it most.
FACTS:
Canada is one of the only countries in the world with no law on abortion, which means that a woman in her 9th month of pregnancy can legally obtain an abortion for any reason she chooses.
In 2002, girls between the ages of 15 and 19 underwent 19,007 abortions.
In Canada there are 32 abortions for every 100 live births.
In 2015, over 25,000 young people gathered on Parliament Hill to march through the streets of Ottawa demanding legal protection for the unborn.
According to Life Canada, 6 in 10 respondents support legal protection for unborn children at some point before birth. Only 33% support the current situation of protection only after birth.
According to a poll conducted in 2011 by Abacus Data, 91% of Ontarians did not know abortions were paid for using tax-dollars, and 6 out of ten Ontarians did not agree with tax-payer funded abortion.
Connect with us!
What We Have to Offer

CLC Youth Speakers
Looking for a pro-life youth speaker to come to your high school to do a pro-life 101 presentation? Or how about your university campus to talk about ways students can become actively involved in the movement, or a conference to motivate and activate young Canadians? Regardless of your event, Campaign Life Coalition Youth has a group of young, articulate and trained public speakers to travel across the country to connect with young people interested in educating themselves on the pro-life issue and getting more involved. To book a speaker, e-mail campaignlifeyouth@gmail.com today!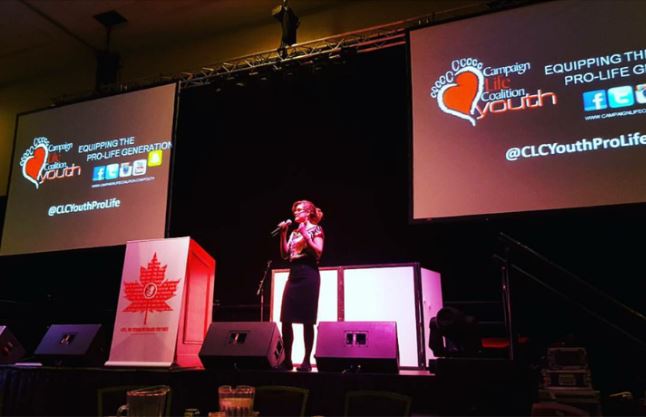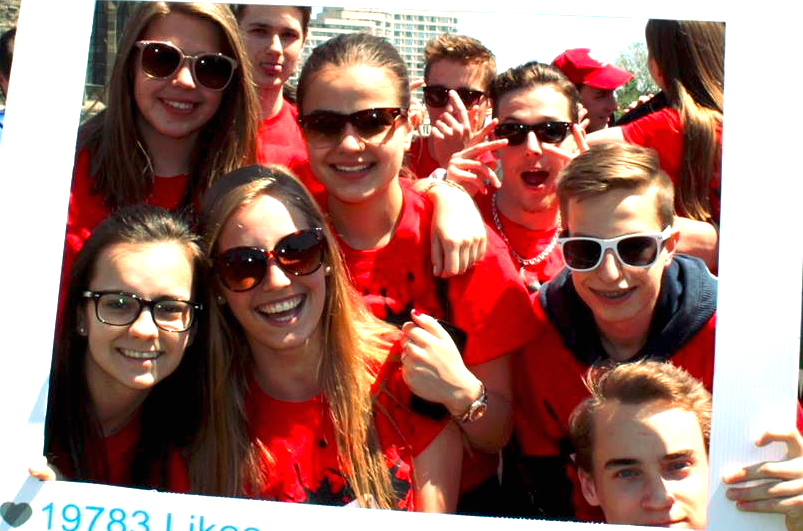 Summer Student Internship
The summer internship program run by Campaign Life Coalition and The Interim Newspaper is designed to challenge and reward a select number of students with a unique opportunity to work full-time in the pro-life movement. This internship is designed to shape and form future leaders by providing them with an in-depth opportunity to become active in the largest and oldest pro-life organization in Canada.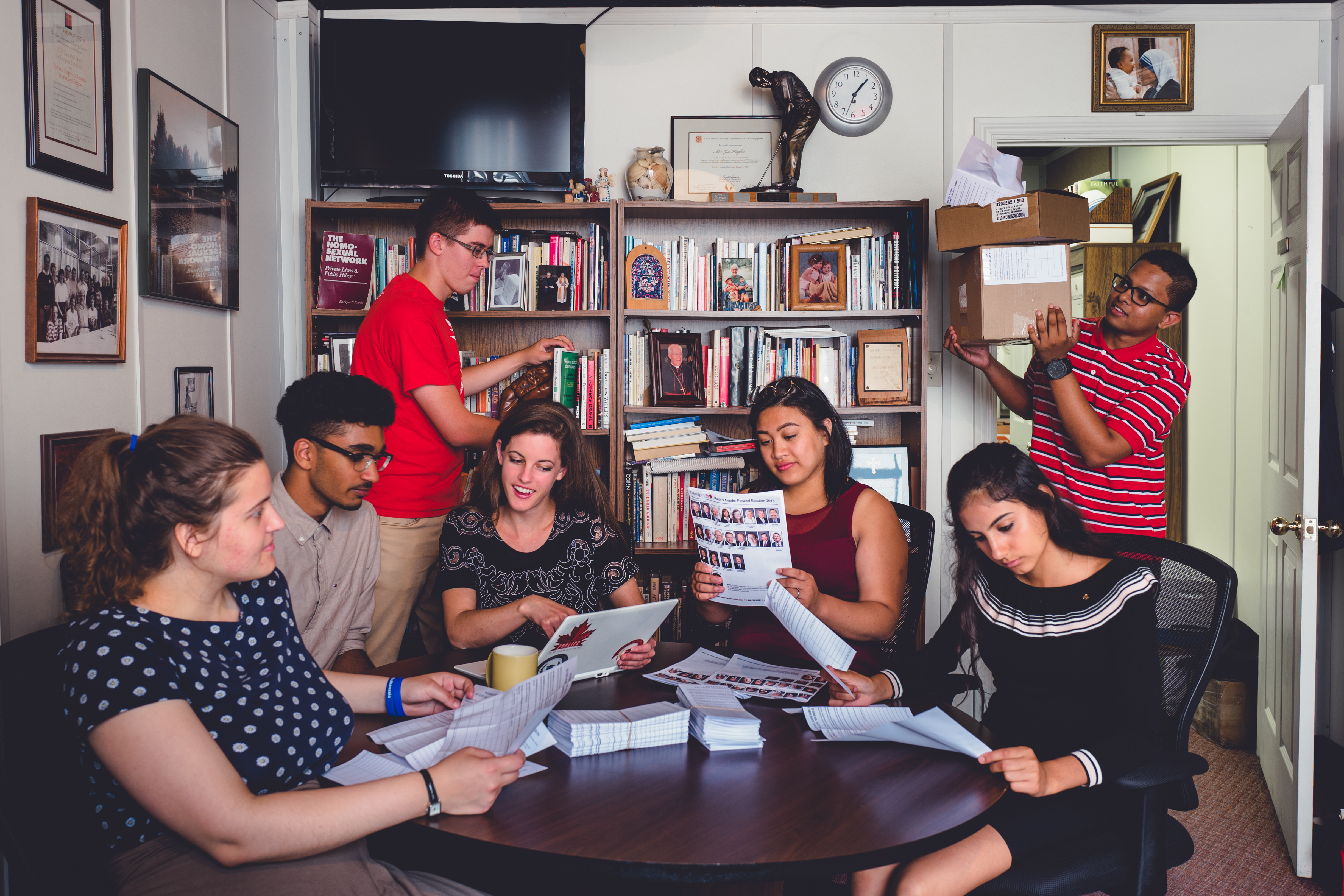 All applicants must be attending a secondary or post-secondary institution for the 2017/2018 school term as well as the 2018/2019 term to qualify. Please read over the details provided below before applying.
*Please note that CLC interns who are not from Toronto are responsible for finding/paying for their own accommodations and travel arrangements. Assistance may be provided if necessary.
Internship Description:
All interns will be expected to work a full 40-hour workweek engaging in a wide variety of tasks from administrative duties to street activism. Each intern will be expected to attend weekly training sessions to learn more about pro-life apologetics, strategizing, youth leadership, fundraising and other essential skills needed to work in the pro-life movement. Students will also be expected to participate in various conferences/events CLC organizes or participates in throughout the summer months as representatives of this organization.
To apply, please send our application and reference form as well as your cover letter and resume to deny@campaignlifecoalition.com before Friday, March 3rd, 2018.
2018 National March For Life
Interested in going to the LARGEST pro-life event in Canada? Click here to find out more information on how you can join 25,000 young people on Parliament Hill to show the government that abortion is not a closed issue in our country, and we will never be silenced until ALL human beings are protected in law. If you are interested in joining the March for Life Youth Committee responsible for organizing the Candlelight Vigil, Youth Banquet, Youth Conference and more, please e-mail us at campaignlifeyouth@gmail.com!

Check out the video below from our video booth at the March for Life Youth Conference!
Federal and Provincial Elections
CLC Youth took an active role in the 2015 federal election, and we're already preparing for the next one. Pro-life young people have a pivotal role to play in provincial and federal elections by volunteering for local pro-life candidates and getting involved in the political process. Here's what we need you to do:

1. Contact us at campaignlifeyouth@gmail.com with your postal code and we will connect you with your nearest pro-life MP's office. Any free time you have to volunteer will make a huge difference in political campaigns across the country when these elections take place. Not only that, but it's important to develop personal relationships and trust with your elected officials so that when the time comes, you can positively influence them when it comes to important issues such as abortion and human rights. Don't let this golden opportunity go to waste. Volunteering is easy, effective and it's a great way to be part of a team that is one step closer to making our country a better place.

2. Join a political party. It's simple. Just go online an take out a membership to a political party of your choice. Research the one that will be most inclined to run pro-life candidates or vote pro-life. As a member, you will be able to vote in leadership races, join the EDA (electoral district association) in your riding, and vote in nominations. This is a very important aspect to electing a pro-life Member of Parliament, so go online and join today! It's inexpensive (usually about $15 a year) but the results are invaluable.
3. Vote pro-life. Voting is the most important way to send a loud and clear message that young Canadians do not want a culture of abortion. The best way to make your voice heard is by casting a ballot for the pro-life MP in your riding. Without the right to life, all other rights are meaningless. Make this your make-or-break issue. The time is now to elect more pro-life MP's than ever before so we can finally enact pro-life legislation and saving lives in the process.

4. Join us in spreading election awareness. This is one of the most important elections of our lifetime. For the first time ever, pro-life Canadians have been blatantly discriminated against by both the Liberal and NDP from running in their parties purely because they are anti-abortion. We cannot allow these elected officials to trample on our rights. We must stand up and publicly decry these leaders and their undemocratic policies. We also must also embark in positive messaging to shed light on those MP's who stand up for human rights and are willing to bring forward and vote in favour of pro-life legislation. Follow us on Facebook and Twitter so that you can share articles, videos, memes and more to educate Canadians about these important issues.

Defund Abortion Campaign
Did you know that at least $50 million a year of our hard-earned tax-dollars is spent on abortions in Ontario? CLC Youth holds the position that government-funded abortions are a blatant abuse of tax dollars, are severely unjust, and that these funds can and MUST be directed away from the killing of our preborn children. This is an issue that should be held close to the hearts of young people in particular. We did not have a choice to stand-up against the Morgentaler decision, but we DO have a choice now. Let's use it.
What You Can Do:
Defund Abortion Pamphleting Blitz: Since the launch of this camapign in 2011, hundreds of thousands of pamphlets have been delivered to the doorsteps of Ontarians across the province. A recent Abacus Data poll found that 91% of Ontarians had no idea their tax-dollars went towards the funding of abortions in this province. Pamphleting therefore is an extremely effective way to get this vital information out to the public, and it's super easy! Call or e-mail CLC Youth and order as many pamphlets as you need free of charge. Get some friends together on a Saturday and deliver them in your neighborhood. Go out for pizza after and voila! You just helped bring this campaign one step closer to victory! To view our Defund Abortion brochure, click here.
Petition: Over 25,000 people across the province have signed our Defund Abortion Petition which will be handed over the MPPs as soon as we have enough signatures to make a HUGE impact. For this we need YOUR help. Please print of as many copies of our Defund Abortion Petition here, and collect signatures at your school, church, youth group, from your friends, family, neighbours, strangers etc- and send the completed pages to Campaign Life Coalition (104 Bond St, Toronto, ON M5B 1X9).
Defund Abortion Mini Defund Rallies: On October 3rd, 2013, over 60 individual Defund Abortion Mini Rallies were held in front of consituency offices across the province to send a message to individual MPPs that this an issue their constituents care about. Thousands of people from across the province came out for this public witness, attracting media across Ontario and grabbing the attention of the public. To see media coverage and highlights from this event, click here.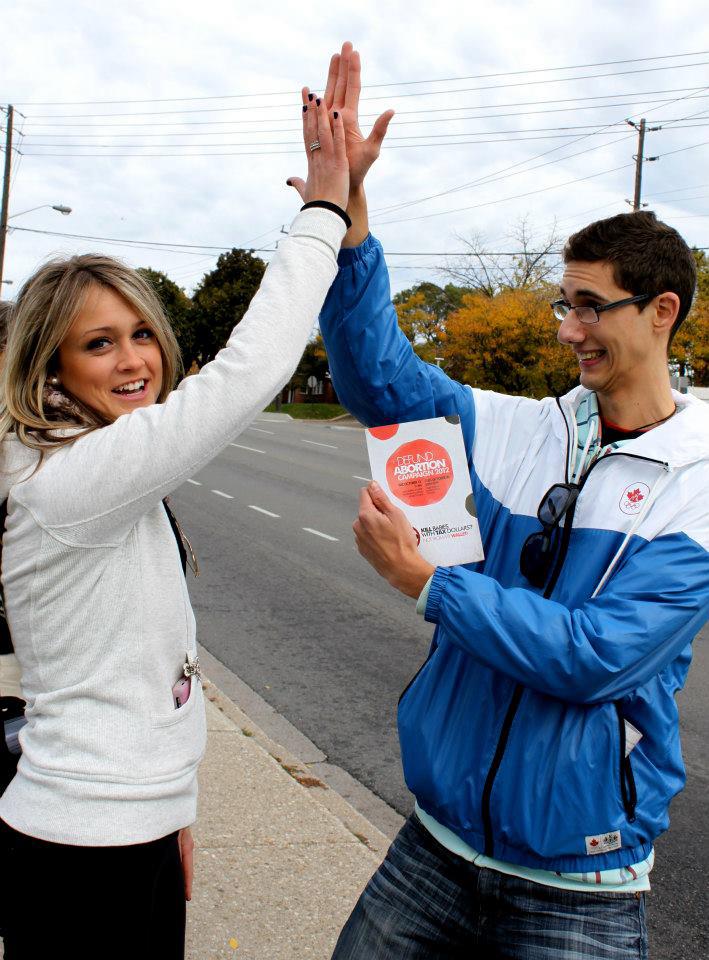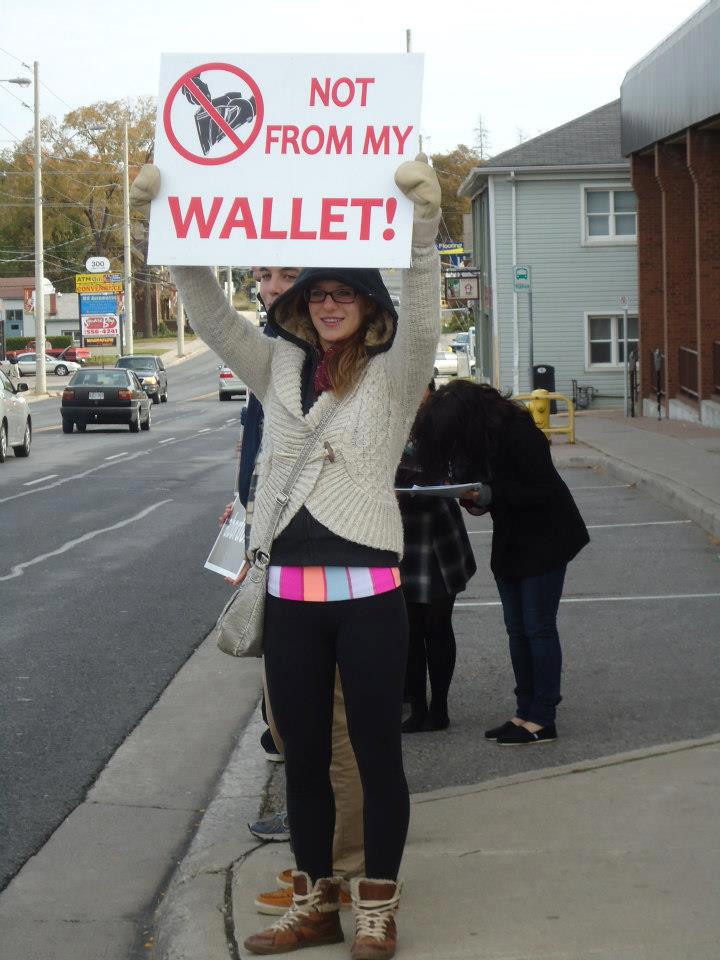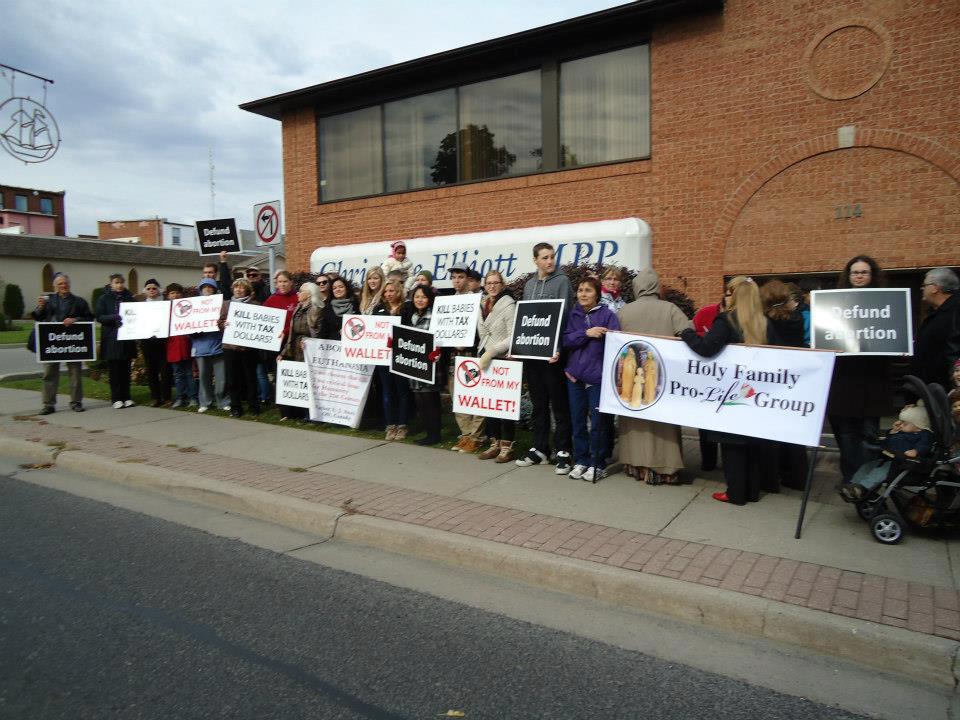 Defund Abortion Campus Campaign: Are you a University student in Canada? If so- the Defund Abortion Campus campaign is an easy and efficient way to educate your campus about abortion and abortion-funding. It's easy, free and effective. All you have to do is contact CLC Youth on the number of pamphlets you need to conduct this campaign and we will send them to you free of charge. Take an hour or two to ask students passing by three simple survey questions which can be found here. Using the polling questions, change hearts and minds with this easy and effective project! Hand out the pamphlets as ammo to make your campus more pro-life one student at a time! Make sure to let the National Campus Life Network know you are doing this campaign so they can help promote it on your campus!


Join our Defund Abortion Facebook fan page here.
Defund Abortion Campaign Goes National!
On October 3rd, 2013, the Defund Abortion Campaign was launched with rallies in 4 provinces across the country: Alberta, Manitoba, Nova Scotia and Newfoundland. To see the outcomes of these rallies, click here.
To get involved in the Defund Abortion pamphleting, petitions and mini rally campaigns in YOUR province, please contact us at campaignlifeyouth@gmail.com today!
CLC Youth At The U.N
From Monday March 4th to Friday, March 8th, 2013 CLC Youth attended the 57th session of the Commission On The Status of Women at the United Nations Headquarters in New York, to lobby for life and family. They live-tweeted events, wrote reports, blogs (1, 2, 3) and created a video blog of their experience. CLC Youth will be going back to the United Nations to lobby in 2015, so if you're interested in joining us in future lobbying opportunities, please e-mail campaignlifeyouth@gmail.com today!
To read more from CLC Youth's U.N correspondant Matthew Wojciechowski on the United Nation's obsession with contraception, abortion and sex, check out his article on the 45th Commission on Population and Development in The Interim Newspaper, found here.
Check out CLC Youth's time at the United Nations in the video below:
CLC Youth on National Television
To request an interview with CLC Youth, please e-mail us at campaignlifeyouth@gmail.com or call the office at 416-204-9749. CLC Youth does interviews regularly on all life issues. To see interviews CLC Youth has done on Global TV, CBC, CTV, CHCH, MTV and more, check out our YouTube channel here.

For a list of our most recent press releases, please click here.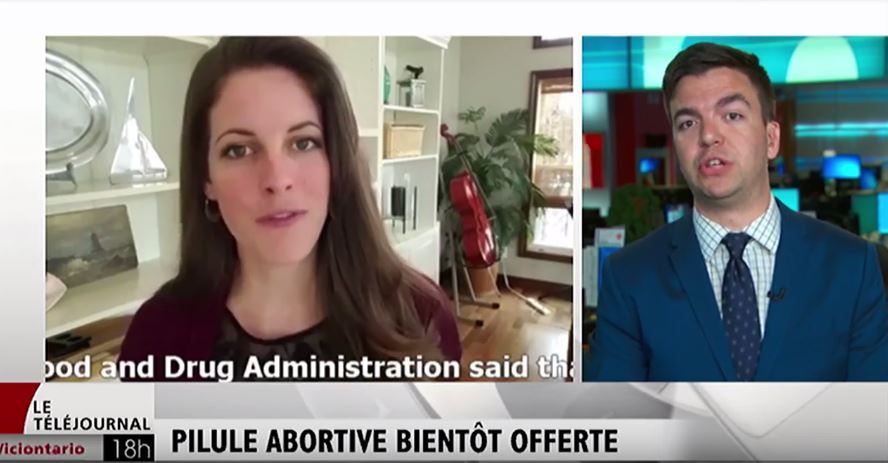 CLC Youth Blog
Do you like to be entertained? Do you like to be kept up-to-date on issues other than the latest Johnny Depp movie? If so, check out our CLC Youth blog by clicking here. If you are interested in writing a blog post for CLC Youth, please e-mail your thoughts to campaignlifeyouth@gmail.com! We enjoy knowing what's on YOUR mind and your persepective on life and family issues. Personal stories also inspire and encourage people to become more active in the movement, so don't be shy! E-mail us today!

ADOPT YOUR MP!
Let's face it. Without your vote, your MP is powerless. Voting once every four years however, just isn't going to cut it. By going directly to your MP, you can esnure your angelic voice is hear year-round. And get this, you have an advantage that the majority of your riding does not have: your age. MPs love politically active young people more than they love money and fame. Well...maybe not that much. Despite the intimidation factor of sitting before that one person in your neighbourhood who chums around with the Prime Minister, if you follow these easy steps, you won't JUST be chumming around with the Prime Minister, you will be influencing him.

Four EASY steps to lobby your MP:

1. Research
2. Prepare
3. Meet
4. Follow-up

RESEARCH
Nobody likes the "r" word, esepcially when we've spent the majority of our life in school. Think of it this way, most people don't want to go on first dates without looking up their mystery person on Facebook, asking every question they can think of to a mutual friend, or checking out their Twitter feed. Although you more than likely won't be dating your MP, you are trying to woo him/her and become their trusted confidant. Thankfully, Campaign Life Coalition is rich with resources you can use to make researching MPs easy. All it takes is a few clicks of the mouse to find out the information you need to help you sound like the intelligent and considerate constituent you are.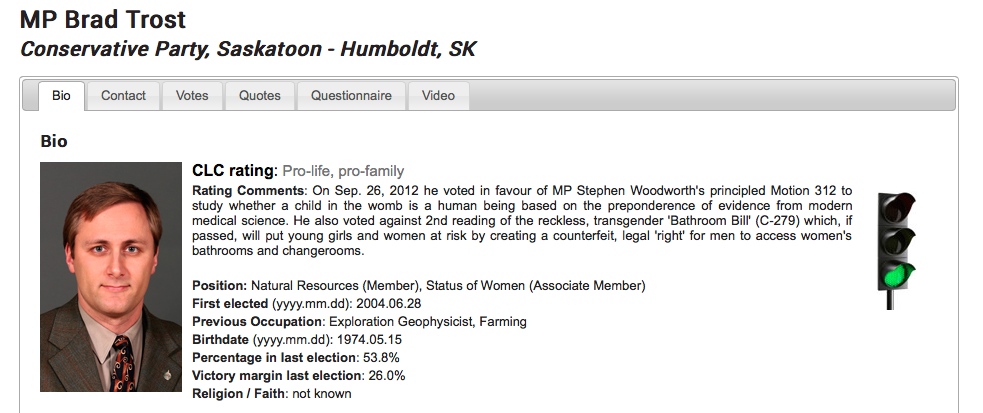 All you have to do is click here to find your MP and the information needed for your visit. Be sure to read his/her CLC rating, voting record, quotes and questionnaire to get a well-rounded viewpoint as to where they stand on key issues. Make sure you take note of the positive and the negative votes so you can use them to your advantage.

PREPARE

Before you go to your meeting, make sure you:

a) have a copy of any materials you would like your MP to have (ie: a study or research paper, articles etc)
b) have a clear ask for your MP (ie: sign a petition, raise an issue in parliament, vote in favour/ against a particular bill or motion)
c) dress appropriately. Look professional. Before you are even able to get a word in, your MP will be sizing you up based on your physical appearance and body language. Be confidant in everything you are saying and hold your head high.

MEETING
First thing's first: make the call. Before going in to visit your MP, you need to call and set up an appointment. Because issues like abortion are very controversial and avoided by many MPs, you don't want to give away too much, too fast. You need to be strategic in setting up your appointment, which means followingg these tips:
a) Use your age as an advantage. Slip in how old you are in your phone call and you are more likely to get an appointment right away.

b) Keep it generic. You don't want to get too specific about your visit, especially if it's about a controversial issue. (ie: "Hello, my name is Justin Bieber. I'm an 18 year-old high school student at St. Michael's High School and I am calling to set-up an appointment with Mr. Trost. I'm interested in getting more politically active and potentially joining the Conservative party, I just have a few questions I would like to discuss with Mr. Trost first about party policy.")

c) Confirm with an e-mail a few days before your meeting to ensure that the meeting is still taking place, as well as show you are organized as well as eager.

Key Components of a Successful Meeting

The single most important thing you can do during your meeting is to build trust and a rapport with your MP. If you give the right impression, come across as knowledgeable, reasonable and passionate, then your MP is more likely to take your request to heart. At the end of the day, being right about something is only part of the whole package of selling your point of view to your MP, and motivating them to do something.

a) Come in prepared to have a conversation.
This is not a lecture, or a chance to ear-bash your MP with your views. With this attitude, your whole demeanor will help build trust and a rapport through your body language, voice and facial expressions.

b) Ask meaningful, open-ended questions.
For example, "what is your personal stance on the abortion issue?" or "do you have an background interest in this issue?". After finding out what your MP's personal stance is, ask your MP if they would be willing to put forward legislation that either follows their personal conscience on this issue, or that you, as a constituent would like to see as a means of keeping women and unborn children safe.

c) Be fair, and listen to their reasons for opposing, supporting, or being reluctant to take a stance on your issue.
You are more likely to convince your MP to change his mind if you can gently show them why their opposition or reluctance is misplaced and the benefits of supporting you outweigh these. Coming in with a rehearsed, static script will prevent you from having the dynamic conversation you need to tailor your conversation to your MPs needs. (ie: I understand why you feel this is a divisive issue, however polls consistently show that the majority of Canadians do not support the status quo on the lack of abortion legislation in our country).

d) Find common ground.
Having a conversation with your MP at their level will make it easier for them to change their mind on an issue, because you can show them that they're not really changing their minds at all! It's better to assure them that your position is more consistent with their beliefs, than to ask them to change their beliefs. For example, "I admire your dedication to human rights, which is why I think that this type of legislation would be in-line with that mandate since it ensures human rights for all Canadians".

e) Have fun and relax.
Think of this like any other conversation you have had about an important issue. MPs have to deal with a lot of people all the time. Mostly people who call their office non-stop or are overly emotional. That's why your MP is more likely to like and respect you for coming in and having a relaxed conversation about an issue you care about than something dry, rehearsed and over-the-top. In your research, find out something unrelated to the issue at hand (for example, a picture of your MP water-skiing, or at a bake-off), and start of the conversation about something light-hearted. This not only shows that you are normal and likable, it also shows you follow your MPs actions and are knowledgeable about your riding.

f) Leave like a pro.
Don't get shuffled out before getting what you came for. Try to get a clear commitment of help from your MP. Don't settle for vague promises. Leave with something open-ended to ensure future visits and communication. For example, "I look forward to meeting with you again". Last but not least, if your MP asked for any further information, make sure to drop it off at their office as soon as possible. This shows your commitment to the cause.

FOLLOW UP
After your meeting, be sure to follow-up with your MP. For example, if you visited them asking them to vote in favour of a particular motion or bill, be sure to write a letter to your MP or make a follow-up visit depending on how they voted. This communicates to them that they will always be accountable for their actions, whether they were positive or negative. After your initial visit, be sure to thank them for seeing you, whether it be through an e-mail, tweet or phone call. That keeps the communication lines open and the relationship amicable. Lastly, don't forget to e-mail or call Campaign Life Coalition after your initial visit so we can add more information to our file on each particular MP. This information will help CLC alert Canadians during the next federal election of who the supportable pro-life MPs are.
Connect with us!