Stop the Ban Rally Report
December 8, 2020 @ 11:20am
Last Friday afternoon (Dec. 4th) around 100 concerned Canadians braved the cold and sleet to gather on Parliament Hill in Ottawa to protest the Trudeau government's so-called "conversion therapy ban" (Bill C-6). You can watch and share the video of our "Stop the Ban" rally on our Facebook post.
As I spoke, I apologized to these stalwart souls for inviting them out on such a gloomy day in the middle of a COVID crisis. This was not something I was eager to do, but Prime Minister Trudeau and Justice Minister Lametti have given us no choice! They are pushing through Bill C-6 just as hastily and irresponsibly as they pushed through Bill C-7 (euthanasia expansion) last week. And if we don't speak out now, we may not be allowed to speak again, if Bill C-6 passes!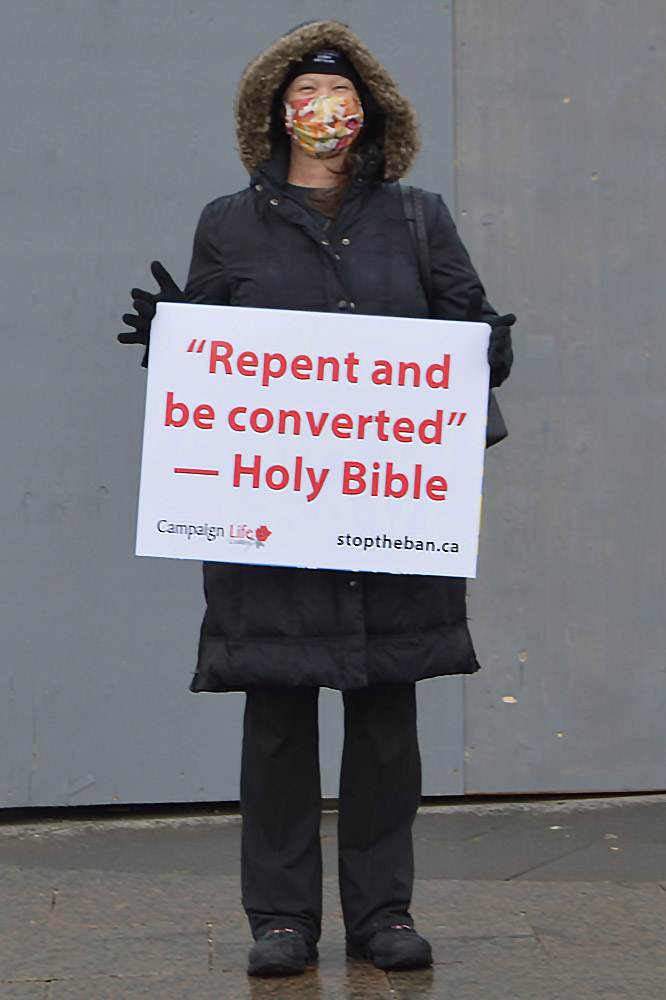 I suspect Trudeau and Lametti are hoping this present COVID crisis will overshadow their efforts to sneak through a radical agenda that will ultimately consolidate their power and criminalize their opponents. You see, Bill C-6 – the "conversion therapy ban" – is more of a ban on free speech and free thought than anything else. It literally "converts" those who hold to traditional, Christian values into social outcasts.
Joining me on our impromptu stage on the Hill were four outstanding guest speakers:
Keith Alexander, a Toronto businessman who had left the homosexual lifestyle.
Dr. Ann Gillies, a retired trauma therapist and expert on sexual orientation change efforts.
Peter Vogel, the deputy leader of the Christian Heritage Party.
George Buscemi, the president of Campagne Quebec-Vie (Campaign Life Quebec).
I also had the opportunity to present our "Stop the Ban" petition to two Members of Parliament – Derek Sloan (Hastings-Lennox & Addington, Ontario) and Arnold Viersen (Peace River-Westlock, Alberta). I handed them stacks of 14,000 signatures representing citizens from all across Canada. I also informed them that over 2,000 more Canadians had signed during the past week – we just didn't have the opportunity to print those extra signatures off before the rally!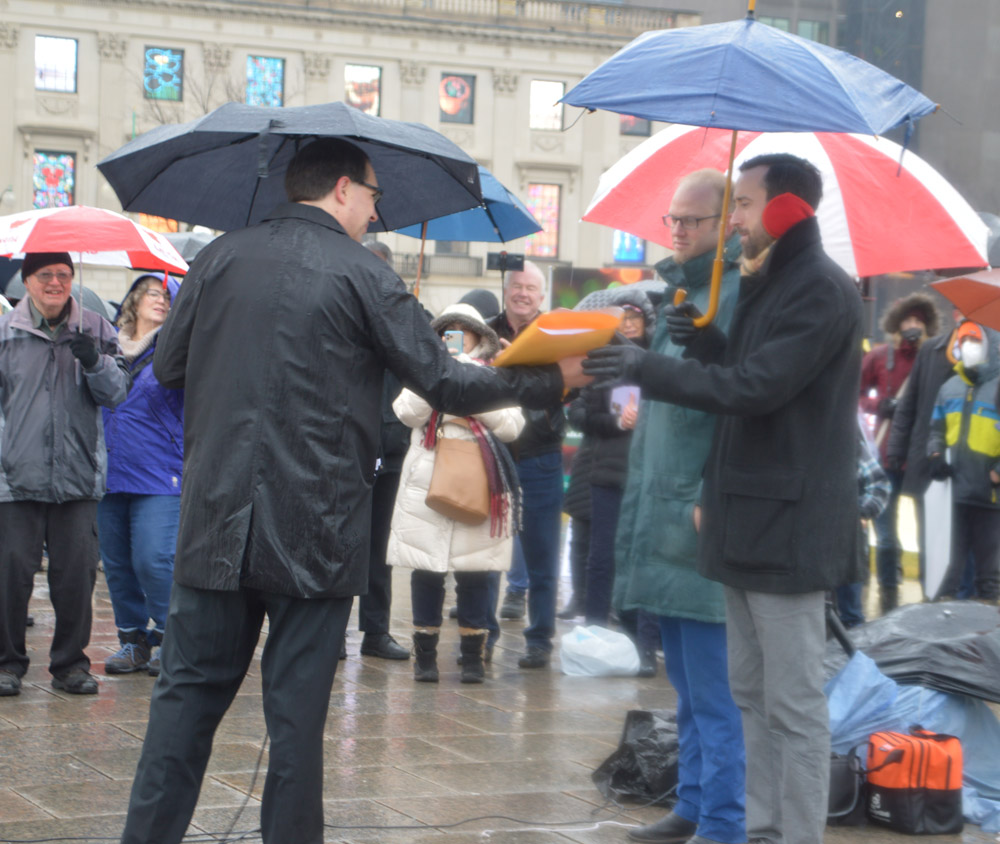 After our gathering on the Hill, staff from the Campaign Life Coalition Ottawa office delivered 119 additional hard copies of our "Stop the Ban" petition to ensure that every Conservative Party (CPC) MP receives one for himself or herself. We chose to focus our efforts on these MPs, as they are most likely to raise our concerns and speak out against Bill C-6 in Parliament.
We also delivered a set of petition signatures to Liberal Justice Minister Lametti, who has been spearheading Trudeau's conversion therapy ban.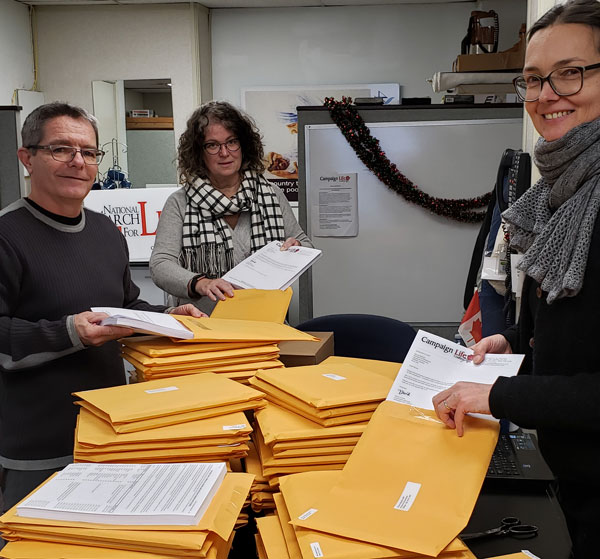 One of the highlights of our rally on Friday was Keith Alexander's personal testimony. Mr. Alexander puts a human face on all of our concerns, being a living example of the power of Christ to convert a life from darkness to light.
Keith recounted the sexual molestation he endured as a child, which damaged him very deeply. He then described the years of substance abuse, depression, and depravity he experienced as he lived a homosexual lifestyle, trying to find meaning and acceptance in the gay bars and bathhouses, but to no avail.
Only God could release Keith from the bondage of his old life and open his eyes to the truth of God's design for his body. However, if Bill C-6 had been in force, it is very likely Keith would never have been able to find the support and encouragement offered to him by his church family.
That's because C-6 would make it illegal to publicly "offer to provide conversion therapy". C-6 would also make it illegal to receive any profit for providing "conversion therapy", which includes money in the church offering plate. Keith's church family would be ordered to remain silent about the power of Christ to transform a homosexual.
Dr. Ann Gillies spoke next, offering some keen insights into the many dangers of Bill C-6. She focused on the harm it will cause gender dysphoric children, who will be pushed into harmful and irreversible "treatments" to try to force their developing bodies to conform unnaturally to the opposite sex. These children will be the biggest victims of this "conversion therapy ban".
Peter Vogel and Georges Buscemi wrapped up our rally by sharing their concerns about the irrationality of Bill C-6 and the threat it poses to freedom and faith.
We are so grateful to everyone who came out to join us for this rally. I know that God will bless them for the sacrifice they made to step out of their comfort zones, brave the elements, and stand up for truth and freedom! We are also grateful to everyone who watched our event on Facebook live, and to everyone who prayed for us!
I am happy to report that God kept the opposition away, and we experienced every assistance from the Parliament Hill police.
If you are interested in watching a recording of our rally and would like to hear our outstanding speakers, please check out our Facebook post.
As Bill C-6 continues to move forward towards a third and final reading, I would encourage you to please use our Action Alert Email tool to appeal to your local MP to "Stop the Ban"! And please pray that God would touch their hearts.
Yours for Life, Family, and Faith,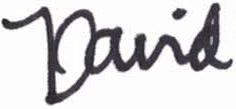 David Cooke
National Campaigns Manager
Campaign Life Coalition
Comments