Pro-life advocate saves baby outside of Saskatchewan hospital targeted for abortion
November 23, 2021 @ 10:10am
SASKATOON, Saskatchewan, November 23, 2021(Campaign Life Coalition) – A young pregnant woman in Saskatchewan decided not to abort her baby after seeing a pro-life advocate witnessing to life outside of a provincial hospital where abortions are committed.
Barney Sullivan, 71, told Campaign Life Coalition that he was standing outside of Saskatoon City Hospital, where abortions are regularly committed, when a young woman who looked to be in her twenties approached him, wanting to speak with him.
At the time, Sullivan was standing just outside the hospital entrance with a large pro-life sign which read: "Unborn babies matter."
"I was just standing there by myself. And this lady wanted to talk to me. And usually, it's pretty negative," said Sullivan, who, for the past two years, has stood outside the hospital entrance with his pro-life signs every day for over an hour, quietly praying.
"And she said, 'Well, I saw your sign and I'm keeping my baby.'"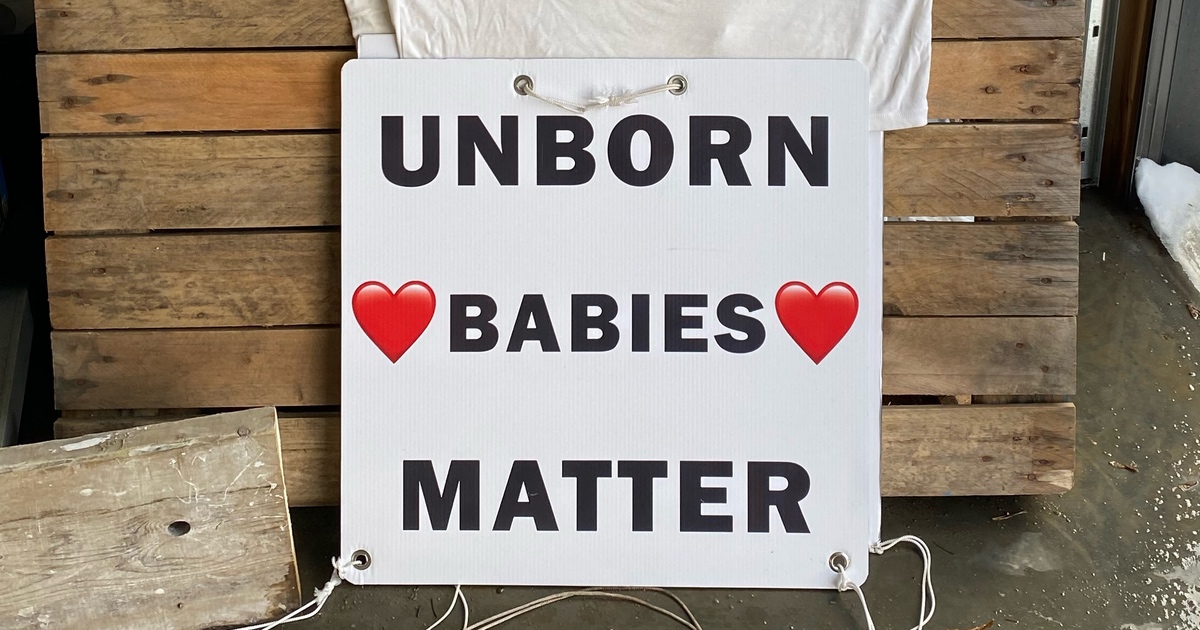 The woman, according to Sullivan, said that she was scheduled to have an abortion, but when she saw the man with his pro-life message standing just outside of the hospital, she interpreted it as a sign that she needed to make a different choice.
"She says, 'You know, I was going in for an abortion, but,' she said, 'this is a sign to me that I've got to keep my baby,'" Sullivan related about his conversation with the woman.
Sullivan said that he was not on hospital property when the encounter took place last month but standing on a public sidewalk at the corner of the turnoff into the hospital, well within 50 metres of hospital property.
Sullivan believes his location of pro-life witnessing was decisive in saving the life of this woman's preborn child.
Earlier this month, the government of Scott Moe put forward a bill that would impose speech-muzzling bubble zones across the province. While Bill 48, The Public Health (Safe Access to Hospitals) Amendment Act, 2021, aims at keeping vaccine mandate protestors 50 metres away from hospital property, the proposed legislation would also criminalize peaceful pro-life witnessing.
The bill is viewed as a major problem for the pro-life movement because it would make it impossible for pro-life advocates to help abortion-minded women change their minds. The bill would effectively ban people like Sullivan from witnessing to life near the hospital entrance.
Sullivan said that had the bill already been in effect last month, it's likely that the young woman would not have encountered his pro-life message and would have gone through with the planned abortion.
"This is not good and something has to be done about it," he said.
Pro-life advocates have many stories like Sullivan's of women who change their minds and decide to choose life for their babies all because of peaceful pro-life demonstrators and sidewalk counsellors who stand vigil outside of hospitals and other locations that commit abortions.
Campaign Life Coalition maintains that censorious "bubble zone" laws that strip Canadian citizens of their rights and freedoms have no place in a free and democratic society. Furthermore, legislation that actively thwarts pro-life attempts to save lives is not good for pregnant women in crisis who are on the lookout for a "sign" that they should choose life for their babies. And, such legislation is not good for preborn babies targeted for abortion, who need a witness to the value of their lives and an advocate like Sullivan.
Take Action: If you are a resident of Saskatchewan, please use our Action Alert tool to tell your MLA to reject Bill 48. Click here.
Image credits: "Unborn Babies Matter" / Barney Sullivan
Main image: Shutterstock.com
Comments