Pro-life priest on victory path to overthrow Ontario law banning pro-life free speech
November 9, 2022 @ 6:00am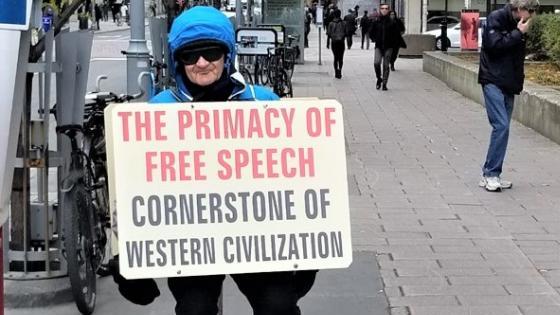 November 9, 2022 (Campaign Life Coalition) – Canadian pro-life hero Fr. Tony Van Hee won a battle at the end of October when charges that he breached the "bubble zone" surrounding Ottawa's Morgentaler abortion mill were dropped by the Ontario Crown. Crown Attorney Meaghan Cunningham provided no exact reason for why the charges were dropped, only stating that it was not in the "public interest" to proceed with the priest's prosecution.
The 87-year-old Jesuit priest told Campaign Life Coalition that while he was initially relieved that the charges had been dropped, his relief changed to disappointment when he realized that he had been stripped of his day in court to prove his innocence. Nevertheless, it's still a victory for the pro-life movement.
"I think dropping the charges has to be considered a win for the pro-life movement. Any time the Crown discontinues to attack free speech on a case they have begun is good news," he told Campaign Life Coalition.
With this first win under his belt, the priest will now focus on his constitutional challenge against the law.
Fr. Van Hee, known for his almost three decades of praying and fasting on Parliament Hill for an end to abortion, was arrested in October of 2018 for allegedly breaching Ontario's newly enacted Safe Access to Abortion Services Act. The bill, passed the previous year by then Premier Kathleen Wynne's Liberal government, banned pro-life activity, including praying, sidewalk counselling, and showing "disapproval" of abortion, within 50 meters of Ontario's eight abortion mills. To date, this law has remained unchallenged by Doug Ford's progressive conservative government.
When Fr. Van Hee was arrested that day on October 24, however, he was not protesting abortion, but the law itself that banned pro-life free speech. That day, he was wearing a sandwich board with messages on both sides that stated respectively: "The Primacy Of Free Speech: Cornerstone Of Western Civilization" and "Without Free Speech The State Is A Corpse." As was his custom, he silently prayed as he slowly walked or stood with his sign.
Police initially charged the then 83-year-old priest with "intimidate[ing] or attempt[ing] to intimidate a person," according to the language used in the act. The charge was then dropped. It was replaced by two charges of "inform[ing] or attempt[ing] to inform a person concerning issues related to abortion services, by any means, including oral, written or graphic means", and "perform[ing] or attempt[ing] to perform an act of disapproval concerning issues related to abortion services, by any means."
The priest's charges being dropped has only energized his lawyers to press forward in their war on the province's abortion mill "bubble zone" law that they are waging by means of a constitutional challenge. The Catholic Civil Rights League (CCRL), representing Fr. Van Hee, maintains that the Safe Access to Abortion Services Act violates Canada's Charter of Rights and Freedoms. The priest remains one of two applicants in the constitutional challenge in the Superior Court of Justice.
"We will continue to advocate that the legislation is over-broad, and an intrusion by the province into the criminal sphere," CCRL lawyer Philip Horgan told Campaign Life Coalition.
Horgan said that even though charges against his client, Fr. Van Hee, were dropped, the law itself remains problematic and must be overturned so that such injustice as was inflicted upon the innocent priest cannot happen to other pro-life advocates.
"The structure of this law is that it affords law enforcement the ability to lay charges against a peaceful, non-obstructive protestor, based on where he/she may be located, so as to intimidate any such protest activity. Perhaps several years later, the Crown can withdraw the charges rather than face an obvious constitutional challenge on the merits," he said.
"Without an adjudication, the process can be repeated to someone else. While the charges are pending, the citizen is restrained and muzzled. That is the reason for a constitutional challenge to the law itself," he added.
Horgan said that many Ontarians who have a problem with abortion are unaware that they can be fined and jailed for standing up for the preborn targeted for murder within 50 metres of an abortion location.
"Prayer vigils and other peaceful expressions of dissent should be allowed. Governments have sought to limit such expressions. In Fr. Van Hee's case, we are seeing the vigorous efforts of the Crown to defend its legislation even as against silent witness or prayer," he said.
The CCRL will now move forwarding in seeking to strike down sections of the Act on the basis that it unjustifiably violates a citizen's right to freedom of expression as guaranteed by the Charter.
Campaign Life Coalition has set up a fundraising campaign to help Fr. Van Hee in his constitutional challenge, raising $30,000 of a $50,000 goal. Please keep Fr. Van Hee and his entire legal team in your prayers, and if possible, please consider donating towards his legal fees. Tap here to donate.
"Fr. Van Hee is very appreciative of the support he has received to date," said Horgan. "He remains upbeat and hopeful for a favourable outcome."
Comments