Liberal 2023 budget earmarks $36M to abort preborn Canadians
April 6, 2023 @ 12:37pm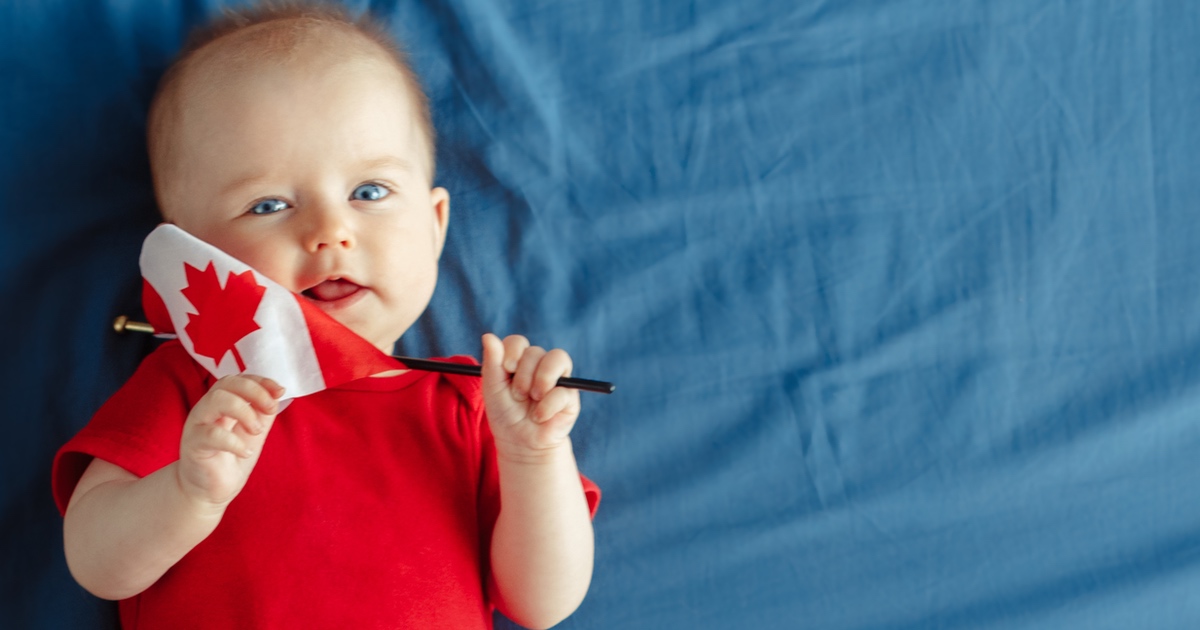 Photo credit: ShutterStock.com
April 6, 2023 (Campaign Life Coalition) – The Trudeau Liberals tabled their budget on March 28, earmarking $36 million to increase the slaughter of children in their mothers' wombs. This adds to the hundreds of millions of dollars this government, the most pro-abortion one our country has ever seen, has in previous years doled out for abortion, both at home and abroad.
The 388-page budget, tabled by Liberal Finance Minister Chrystia Freeland, states that with "the overturning of Roe v. Wade in the United States served as a reminder that we must continue to do everything we can to protect Canadians' access to the full spectrum of sexual and reproductive health care services, including abortion care."
"With a woman's right to choose under threat around the world, the federal government is ensuring that abortion services are accessible across Canada."
Right off the bat, it must be pointed out that this is not budget language, but political rhetoric in a budget document. As editor of The Interim Paul Tuns pointed out: "Budgets should outline the fiscal plan of a government and eschew political rhetoric."
"By this test, the 2023 Trudeau-Freeland budget fails repeatedly, most notably in the short section on abortion. Comments about the overturning of Roe v. Wade and claims that 'a woman's right to choose under threat' globally are not budget items. The same in its insistence that 'abortion is health care.' There is mention of how the government will spend $36 million promoting abortion, only the rhetoric 'justifying' its decision. There is no outline, plan or metrics provided for how this money will be used," he said.
The Liberal government goes on to state that it is committed to ensuring that "no Canadian pays out of pocket to receive an abortion."
"Abortion is health care, and the federal government will continue to withhold Canada Health Transfer payments to provinces and territories that allow any patient charges for abortion services. In Budget 2023, the government is continuing to reduce existing barriers to care and ensuring that Canadians have access to accurate, culturally safe information about sexual and reproductive health care," the budget states.
The budget proposes to provide $36 million over three years, starting in 2024-25, to Health Canada to renew the Sexual and Reproductive Health Fund. This fund, according to the government, "supports community-based organizations that help make access to abortion, as well as other sexual and reproductive health care information and services, more accessible for vulnerable populations."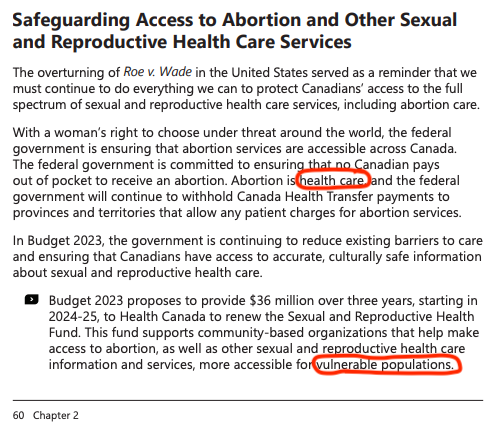 Photo credit: budget.canada.ca
The Liberal government is wrong in holding that abortion is "healthcare."
Health care is the organized provision of medical care to people so that they can maintain or improve their health via the prevention, diagnosis, and treatment of disease, illness, or injury. Pregnancy is not a disease, illness, or injury. Healthcare aims at increasing vitality in the recipient and in no way intentionally ends human life. Since abortion is the direct and intentional killing of a preborn human being living within his or her mother, abortion is not health care.
In this budget, the government is focusing on the wrong "vulnerable population." The most vulnerable population is children in the womb. Abortion targets and kills some 100,000 preborn children annually. Abortion is Canada's leading cause of death, followed by cancer and heart disease.
Children in the womb are fully human, deserving of the same rights and protections that are afforded to every other human being. Children are our country's greatest asset and promise for the future. A country that kills its own children is killing its future and its hope.
The pro-abortion group Action Canada, which is the recipient of a $10.9M funding grant from the Canadian government to "improve comprehensive sexual and reproductive health," praised the Liberals for hearing and acting on its request for more money to kill preborn children.
"Action Canada worked with our partners to advocate for a Federal Budget that supports and protects abortion access," the group stated. "Action Canada is thrilled that the 2023 Federal Budget includes a 36-million-dollar investment over three years in the Sexual and Reproductive Health fund. It shows that the Government is taking concrete action to improve access," it wrote in a report on Monday.
Action Canada also praised the Liberals for their previous Budget 2021 which invested $45 million over three years for "sexual and reproductive" services. "The impact of this fund has been profound. It has ensured that people can access abortion care," it stated.
While the Liberal Party is proudly funding pro-abortion services, it has promised to strip pro-life pregnancy centres of their charitable status. If Trudeau's plan goes through, then, according to current Canadian charity law, these charities must disperse all of their assets, including property, or pay a "revocation tax" that is equal to 100% of the value of all their remaining assets, after they have paid all their debts. This means that every single one of these pro-life charities will suffer complete financial loss and dissolution if they lose their charitable status. If they want to keep going, they'd have to start over from scratch as new non-charities that are not for profit.
Mr. Trudeau is no friend of women in his attempt to financially strangle the organizations that exist to help pregnant women in crisis while funnelling funds to those organizations that want to help women in the murder of their own flesh and blood.
Our country and its leaders are morally sick when the murder of preborn Canadians is pushed in a budget document. What is it going to take for our country to wake up to the terrifying reality that human children are being killed and it's supported by government budgets? The blood of the aborted innocents is crying out from the ground. Who will hear the cry and respond?
Comments